Thursday, August 31, 2006
IN THE LAND OF R&B ...
Amerie

(left) was caught at the VMA gift lounge. I guess being a celebrity does have its peaks after all. On the same day,

Ciara

and

Missy

(right) partied away at White Flash (Dripping In Diamonds). Is it me or is Ciara morphing into

Megan Good?

I am noticing she's been looking a lot like Meagan lately.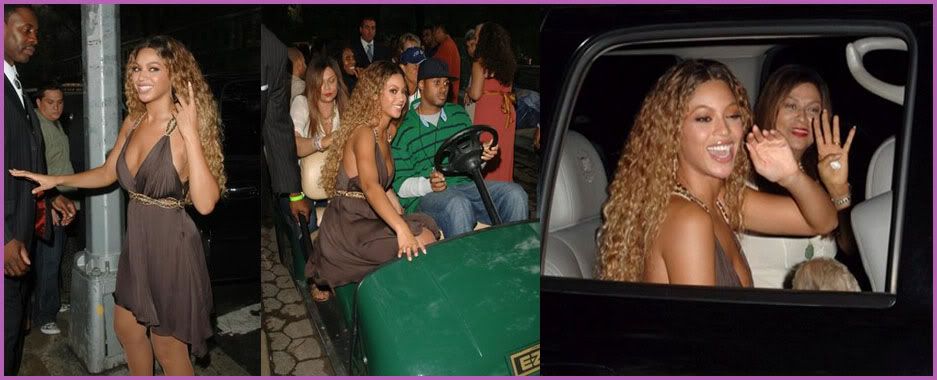 Beyonce looked gorgeous when she was spotted out in New York with mother Tina Knowles. Apparently, she attended a book launch party hosted by her pal P.Diddy. Beyonce has once again come under fire by PETA for taking a promo picture with baby crocodiles who had their mouths taped together. I wonder what mama Tina has to say about that. Beyonce is currently at no1 in the UK chart with Deja Vu.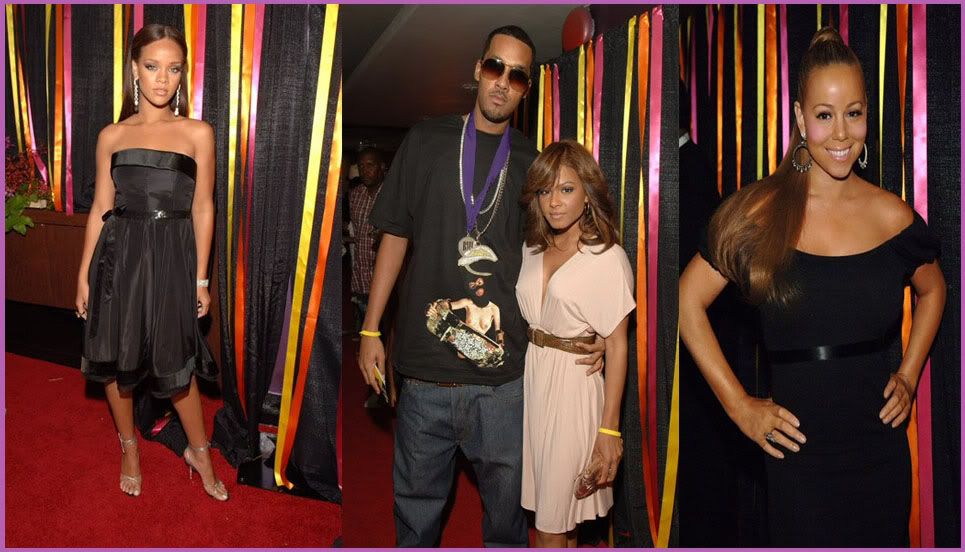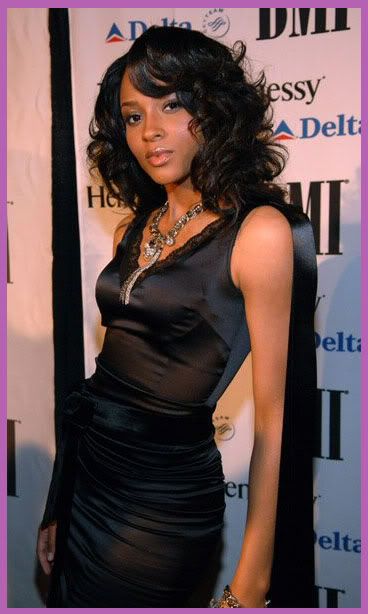 R&B beauties
Rihanna, Christina Milian, Mariah Carey
and
Ciara
all turned up for the BMI Awards. I love Ciara's whole entire ensemble and the hair. Rihanna and Mariah look kind of frumpish. Christina never fails, well, maybe with that bean-faced boyfriend producer
Dre,
who she brought along for the ride. Christina also attended a pre-VMA bash which was held by producer
Timbaland.
Rihanna
performs at the MTV VMA kick-off concert.
~
In other R&B news, Black Voices have just reported that the
Ne-Yo
gay rumours are false and that he loves *cough* pussy. LMAOOOOO! This Barbara person doesn't exist or write for Essence and Ne-yo will NOT be in that issue either. So to you ladies that love his ugly ass, relax!
Letoya Luckett
is set to launch her solo career in the UK. Her video
Torn
is getting heavy rotation on MTV, Kiss, The Box and all the other UK music channels and she is set to fly over 7th Oct.
CONTINUE READING THIS POST ....
posted by Toya @ 7:55 AM |

Wednesday, August 30, 2006
POOR KELIS ...
Above is a picture of Beyonce rehearsing for her VMA performance. She will be performing her crappy new single Ring The Alarm. I can't really say I'm looking forwards to the performance when I can't get into the song. As much as I love Deja Vu production-wise, her BET Awards performance was a hot bumbling mess. Other big name artists expected to perform are Justin Timberlake and Christina Aguilera. In other R&B news, Usher has commented on the lacking magnitude of today's R&B music in his interview with Jet magazine, and with his high-horse comments, he is bound to cause a big upset:


"No, I'm not [seeing progression], and that's unsettling. When I came out with 'Confessions', everyone was shocked by the quality of the record. I got comments like, "Wow, this is actually good!" What was it supposed to be? I'm not like those other throwaway R&B singers that come and go with novelty hits. I make real music, and I try to hold it down for the genre, the best I can. But I do feel like other brothers are slacking in the musical department. Who do we have now, to carry the torches Luther Vandross, Marvin Gaye and Sam Cooke left behind? I'll take it, but why can't anyone else step up? Females aren't doing it either. No disrespect to those who are trying to shine, but it's all so cheap now. People are spitting on this thing called soul. Bring backJanet. Bring back Whitney. There's no authenticity anymore."

Is he bitter because a younger, more attractive, fluent dancer/artist like CHRIS BROWN is getting called the NEW Usher? Or is he trying to refute his so-called rivalry with Justin Timberlake? See, I remember Bobby Valentino saying EXACTLY the same thing regarding his new album Special Occassion. He said something about other brothers not stepping up their game musically. Also, we know Usher doesn't rate Justin Timberlake who was once considered nothing more than just a rip-off Michael Jackson. Well, for this album, he's jacking Prince. Usher DOES mention Prince in the interview. He also paid homage to Prince on his Confessions album with the song Do It To Me. Now I liked the Confessions album. I thought it was a good album and bought it on the day of release but I wouldn't really call it an album that sets the standard for R&B music. I actually liked his 8701 album better. Confessions only sold as phenomenally as it did because of the part false part true gimmick that he split up with Chilli from R&B girl group TLC (true) and the break-up was allegedly down to Usher getting a fan pregnant (false). In fact, the gimmick was sooo huge, press all over the world reported it like it was official, and also, lead single Yeah was a monstrosity. So when you have a controversial theme surrounding your new album and a massive hot new single that got huge, he couldn't go wrong. I think people sometimes confuse album sales with quality. The album was good but not as classic as he'd have us believe. I still can't wait for him to bring out another album though. He is pretty consistent and alongside Craig David, he is few of the male R&B acts that I'm totally feeling right now. Speaking of rivalry, here's a fantastic one. Mya and Ciara are supposedly coming out with new albums in November. They are both pretty with thin voices and whom can dance their assess off so let the competition of the non-singing dancing queens begin. I am looking forwards to Ciara's album especially. Her debut Goodies was hot and I still listen to it. Below, Mya and Jojo celebrate the launch of their upcoming albums.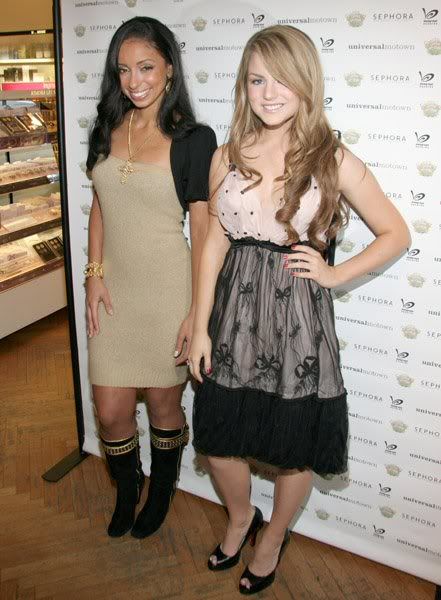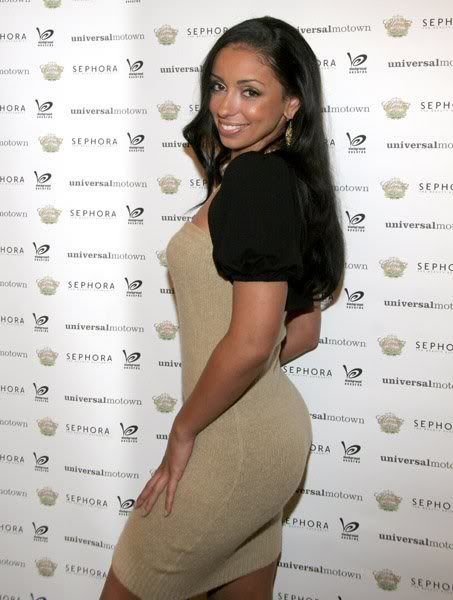 Yesterday, Kelis' new album Kelis Was Here went in at no8 selling a dismal 61,732 copies. Even unestablished acts like the rubbish Paris Hilton and the newcoming group Cherish thrashed her in first week sales. Hell, what's even sadder is that those damn Cheetah Girls debuted higher. Now I know Kelis didn't get much promotion but her album was very innovative and stylish which is everything required in an album when that artist isn't pulling it vocally. But in a way, this is not much of a surprise either. Kelis is not much of a big seller and well, it was already stated that Kelis was going to be pushed to the back. I think out of all the big female acts this year, Nelly Furtado, Christina Aguilera, Beyonce, Fergie, and hell, even Jessica Simpson will all be big sellers. Letoya Luckett also did fantastic too by going gold. I think she deserves the success. Her album was hot, she is motivated as hell and after getting a couple of false starts with her group Anjel, her success couldn't have happened to a more deserving person. As expected, Danity Kane got the no1 album selling 215,733 copies so congrats to them. When hot tracks of theirs was unleashed on reality show Making The Band and then started leaking on the Internet, that as well also anticipated the hype. However as to whether they can carry off their success in continuation without the show is yet to be seen because now, they are no different from the Pussy Cat Dolls, Cherish or any other R&B/pop female group doing it big in the charts. I like all of their music though. Again, another expected entry was Outkast's Idlewild going in at no2 and selling 191,373 copies. In UK chart news, Justin Timberlake is set to knock Beyonce's Deja Vu from the top spot with his latest track SexyBack.

ps

Please stop asking me for albums. I am not a HMV boot-legged store. Unless I say I'm distributing, you have no reason to ask for requests. The new Beyonce, Justin & Jessica can be found at some of my recommended sites. Stop being lazy and venture about. Links are not there to look pretty you know.
CONTINUE READING THIS POST ....
posted by Toya @ 1:36 PM |

MUSIC REVIEW ...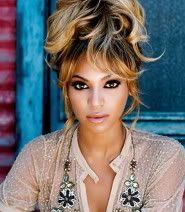 Creole - Beyonce [download: full]
This is a bonus track from Beyonce's new album B'Day. It has an old-skool feel to it but I can't say I'm feeling it much. It sounds a lot like noise to me. I presume the track is paying homage to her mama's caucasian/french/black (creole) heritage but it's a weird concept for a song but that's not new in Beyonce's case. This is possibly one of those tracks that would be fitting for the soul album that she was talking about releasing during her Austin Powers fame. However, the "soul" album was abandoned since the flop of Work It Out era and was traded for a more trendy contemporary Hip Hop and R&B album which became Dangerously In Love. I don't care for this song and I'm glad it wasn't an official cut on the new album.
CONTINUE READING THIS POST ....
posted by Toya @ 9:11 AM |

Tuesday, August 29, 2006
IT'S ALL MICHAEL'S FAULT SAYS JANET ...
In the latest issue of Q magazine,
Janet
reveals that her obsession with her weight became an even bigger issue because of the cruel taunts of her brother
Michael.
She says her weight has yo-yoed because he would call her "fat butt". But as Michael was her brother battling his own physical insecurities, Janet found it in her heart to forgive him claiming that such taunts were due to "issues" with his own body. She says:
"I was made to feel I was a fat kid by Michael. It really affected me, as an adult"
OK, so Michael is STILL to blame for your current yo-yo weight loss Janet? It wouldn't have anything to do with your record label threatening to drop you if you didn't lose the pounds for your upcoming new album hmmm? After all, you look like an elephant when your not promoting an album or touring but when it's time to put out new music, toned up Janet with the super torso is always back in play.
Anyway, here are your latest magazine scans:
Rihanna looking gorgeous as HELL in Hype Hair magazine.
~
~
Christina Aguilera looking mad sexy in Adocate.
~
Yesterday's statistics was a world record for Toya's World. 3,099 visitors in one day! So, I want to thank EVERYBODY for taking the time out to read my blog and leave feedback and I want to say an extra big thanks to all for leaving all those nice messages on my myspace page as well as inbox. Yes I know I'm a bad sport to replying back to everyone but all in due time! I know I haven't logged into my account in days but I will as soon as possible! It is greatly appreciated and all messgaes don't go unacknowledged! Always remember that!
CONTINUE READING THIS POST ....
posted by Toya @ 4:25 PM |

TINA KNOWLES GETS MISS JONES SUSPENDED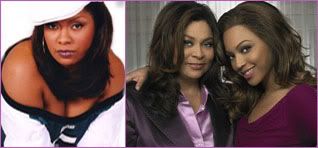 When Miss Jones refused to accept Beyonce's polite kiss on the cheek gesture, it seems the feisty Tina Knowles couldn't accept that and had to intervene. Miss Jones being Miss Jones retaliated and a little dispute erupted! Now Miss Jones is swearing revenge when she gets back on air! This is practically the SECOND time Tina has had to take up for her daughter.

As you've read on my old blog, Miss Tina has a fiery temper as was displayed when she cursed the HELL out of those PETA people when they came over to their table at Nobu and started pouncing a shocked and speechless Beyonce about wearing real fur. Remember when I reported how Miss Jones got fresh with Christina Milian some weeks ago? Well, Christina was waaaay too nice but not everyone is going to take such rudeness lying down.

Miss Jones definetely met her match in the fiery Tina. You can hear DJ's describe what happened (thanks to Hip&Pop). Not as exciting as actually hearing the dispute (which was the case with the Christina Milian audio) but I can't wait to see what happens when Jonesy takes back her stand.
CONTINUE READING THIS POST ....
posted by Toya @ 7:34 AM |

Monday, August 28, 2006
NE-YO COMES OUT THE CLOSET
(the smaller the pic the better!) According to Essence magazine,

Ne-yo

has announced that he likes cock. Peep this:

Singer Ne-yo Announces He Is Gay
Essence Magazine August 23,2006

The newly famed singer/songwriter has came out of the closet and announced that he is gay. The multi-platinum recording artist sat down for the October issue of Essence Magazine last week and announced the shocking news stating, "Yes, I am gay, and I have always been." After several internet rumors have been circulating around the internet. He also said, "You now this world we live in is full of judgement, resulting in one of the reasons why it took me so long to come out of the closet." Earlier this month, a man by the name of

Derrick Johnson

claimed that he had an intimate relationship with the singer during there teen years in high school. He also said that for months the singer and Def Jam has been trying to pay him to keep quiet over the ordeal. Worrying that it would destroy his image. Ne-yo responds saying, that the relationship did occur and he is no longer ashamed of saying that he was deeply in love. Reciting "That situation was what inspired me to write the song Unfaithful. But no one knew it was actually about myself, and our relationship." He told Essence that he doesn't care anymore, he was tired of living a lie and is ready to come clean. Quoting, "the music industry can either except me for who I am, or desert me." The full interview with the magazine is expected to hit stands mid-October.

Barbra Stradoff,
Essence Magazine

Well, I have to actually see this in the article myself because there have been a lot of bogus stories going around lately especially the one about terror chief

Osama Bin Laden

being infatuated with

Whitney Houston

. And plus, the article is badly written. There are a lot of grammatical-errors and spelling mistakes pierced all over it so it does look fishy and not something that was written by a professional. After all, it just seems odd that this story is coming out now when this week, pictures have resurfaced of the singer recieving a blow-job from one of his dancers. Also, doesn't he have a wife and kid? Other stories that have come out last week concerning Ne-yo's tangled sex life is that one female who worked with Ne-yo called up some radio station to say that she had a threesome with him and his wife. Moments later, Ne-yo called up the station to confirm that it was actually true! So I am very suspicious about this story because it just doesn't add up, and well, if he truly does love cock, at least us females are no longer in danger.


Beyonce has just entered the official singles UK chart at no1 with Deja Vu so I'm really happy for the chick because the song is great! Not the best song on the album but it's seeing results so that's all that matters I guess. I was also very happy to learn that R&B producer

Swizz Beats

is also working with

Britney Spears

and

Jennifer Lopez

on the their new albums. He says of J.Lo's upcoming ska-pop album:

"We're putting together some great things, and not what everyone's expecting. Think a little Jamiroquai, a little Sade. It's real feel-good music."

Look forwards to it! Not sure if she'll be able to carry it off. I always thought that hip-pop/R&B music suited her better. I loved On The 6 (my favourite J.Lo album) and J.Lo (hot album). This Is Me ... Then was OK but didn't touch her first two efforts. Her last album Rebirth was a disappointment. I only liked four songs but I love the majority of what she puts out. And about the Britney album he says:

"The Britney stuff, we're creating just for her. It's a lot of tempo, a lot of hard drums, a lot of sonic changes. It's just something that when you hear it, you get goose bumps. She's back for real."

Pictures of Britney going to the recording studio have been unleashed last week. And I'm excited about the new Britney album because she puts out hot music. Her last album In The Zone was fucking brilliant. I also brought her first three albums too. I loved her first album. But In The Zone was definetely an album that you work out to in the mornings.

Cassie

has recently turned 20 so happy birthday to her.
CONTINUE READING THIS POST ....
posted by Toya @ 6:44 AM |

Saturday, August 26, 2006
NEW PUSSY CAT DOLLS VIDEO
~
This is their new video for I Don't Need a Man ... Buttons was a hot video but this one is wack.
CONTINUE READING THIS POST ....
posted by Toya @ 3:07 AM |

DOWNLOAD NEW JANET JACKSON TRACK!!!
Enjoy - Janet Jackson [download: full]

Ironic song title since I actually DO enjoy this. This song is really nice and is more vintage-Janet than anything that we've heard so far from her new album 20 Years Old. It's mellow but sweet and sounds much better than Call On Me and So Excited. Actually, I think it's kind of funny that all of these tracks and albums are leaking at the same time. Next week or the week after, it will be Janet Jackson.
CONTINUE READING THIS POST ....
posted by Toya @ 1:54 AM |

ALBUM REVIEW: FUTURESEX/LOVESOUNDS - JUSTIN TIMBERLAKE
Album Review Written By Toya
Leak date: 24th August 2006

Say what? First Beyonce and Jessica Simpson's album leak, and now Justin's whole album leaks, three high profile albums leaking at the same time. What's going on? Anyway, FutureSex/LoveSounds is a really good album. I'm impressed. The beats are hot and I'm feeling every last minute. I will be chilling to this throughout the whole weekend. I don't even know why the highly retro SexyBack was even placed on the album because none of the songs on this album sound like this so it's kind of misleading and does not represent the album at all. The writing side of the production is also very good. I thought that the brilliant FutureSex/LoveSounds channelled off Prince but Damn Girl is an ultimate Prince duplicate. It's as if Prince came a long and put his stamp on the record, you could hear it in the 70's disco-laced beats and even the vocal arrangement. But the other tracks are hard beat-filled R&B at best (My Love, Chop Me Up, Losing My Way etc) and even the more mellow tracks like What Goes Around, Comes Around, (Another Song) All Over Again and Until The End of Time are brilliantly executed and show that he has vocally stepped up his game.

Rating: 4/5
CONTINUE READING THIS POST ....
posted by Toya @ 1:11 AM |

ALBUM REVIEW: B'DAY - BEYONCE
Album Review written by Toya
Leak date: 24th August 2006

B'Day is a trendy party pooper of a CD. There are a lot of fun tracks on the album, a lot of attitude-inspired songs, but that's all it is. Hot for the moment, but ten years from now it will become a faded art of obscurity. There aren't any masterpieces on the album or anything that can be considered classic. If anything, this is more of an upgraded version of Dangerously In Love, except DIL was a much more polished album and at least the single choices were on point and the video's were hot and masterful. Songs like Freekum dress are ones you laugh at and can't take too seriously but is just there for fun. She did a wonderful job on the very soulful Resentment, power-ballad Listen and the acoustic-driven Irreplaceable which is no surprise that the slower tracks are the ones that mainly stand out on B'Day. Other tracks worth listening to are Kitty Kat (one of my favourites), Upgrade You, Get Me Embodied and Green Light. I wasn't feeling Suga Mama when the 30 second clip was leaked but after hearing the song in its entirety, I love the song because it has the same 70's soul instrumental as Work It Out. The album has its nice moments. However, such attire will expire and quickly so.

Rating: 3/5

Labels: ALBUM REVIEW, BEYONCE KNOWLES


CONTINUE READING THIS POST ....
posted by Toya @ 12:49 AM |

Friday, August 25, 2006
B'DAY - BEYONCE [RETAIL]
Damn, her RETAIL album has just been leaked, as has Jessica Simpson's. Was it suppose to be Sony Leak day or something? Anyway, what do you guys think now that the whole CD is all over the Internet? The album has 14 tracks including the bonus/hidden tracks. If ya'll want my honest opinion, I don't think the CD is that bad and it sounds much better than those clips. She just needs better writing production and have a less of a parody type of album.
~

1. "Deja Vu" (featuring Jay-Z 2. "Get Me Bodied"3. "Suga Mama"4. "Upgrade U" (featuring Jay-Z)5. "Ring the Alarm"6. "Kitty Kat"7. "Freakum Dress"8. "Green Light"9. "Irreplaceable"10. "Resentment"11. "Check on It"12. "Encore for the Fans" (Hidden Track)13. "Listen [From The Motion Picture Dreamgirls]" (Hidden Track) 14. "Get Me Bodied [Extended Remix]" (Hidden Track)
CONTINUE READING THIS POST ....
posted by Toya @ 3:41 AM |

Thursday, August 24, 2006
A TOYA EXCLUSIVE: DOWNLOAD FIVE FULL BEYONCE TRACKS!!!
Kitty Kat *link removed*
Freekum Dress *link removed*
Irreplaceable *link removed*
Upgrade You *link removed*
Get Me Embodied *link removed*

Most of you were right. The album doesn't sound as bad as the clips make out. Kitty Kat, Irreplaceable, Resentment and Upgrade You are absolute winners! But then again, those were the songs I originally liked in the first place. Freekum Dress is growing on me. But Kitty Kat is pure FIYAH! Listen is VERY Mariah-ish but she's singing the HELL out it. Nice song! And to make you Beyonce fans VERY happy, here is a very positive review from Amazon:

History may prove Beyonce's B'Day to be a rare double-whammy of an achievement. Not only is it destined to hold up as one of the thumpingest, most polished-sounding discs of 2006 , it's also bound to loose a new phrase into the popular lexicon: a "freekum dress" (n.), as described on a same-named track halfway through this excellent CD, is a "right-fittin'" garment owned by every woman; "when they act wrong, that's when you put it on." Linguistic hijinks aside, here is Beyonce as the public rarely sees her: fully liberated and artistically fearless. "Ring the Alarm," a big-banging, fire-alarm-clanging wake-up call to a cheating man, finds her seething; "Kitty Kat," a feline-like size-up of a stale relationship helped along by the still innovative Neptunes, shows her spurned; the womanly, fire-in-the-belly come-on "Suga Mama" gets her way, way worked up; and the crackling, vocally volcanic "Resentment" steeps her in Aretha-caliber soul. For all the disc's solo trailblazing, though, where it really soars is on one of two duets with Jay-Z: While "Up Grade U" chugs along entertainingly enough about the good life ("I'm talkin' spa bags and fly pads and rooms at the Bloomberg"), opener "Deja Vu" blasts out a bomp-bomp beat nobody with a head to nod could resist. Cake, candles, and Cristal or no, B'Days rarely get this good. --Tammy La Gorce
CONTINUE READING THIS POST ....
posted by Toya @ 11:07 AM |

MORE R&B NEWS & REVIEWS
This track is hot as hell, even though it sounds like vintage-Prince to me. He wasn't shitting us when he said that FutureSex/LoveSounds is an album that bites off
Prince.
His last album emulated Michael Jackson, this album emulates Prince, what artist will be the theme for his next album? Teletubbies? But seriously, this track is simply outstanding as is My Love. Say what you want about this white boy but he always comes with the heat.
~
~
Resentment - Beyonce
[Download: clip]
OK, here is a brand new Beyonce track that goes by the name of Resentment. Now I mentioned this song in my last post where I stated that the song was originally recorded by
Victoria Beckham
but her Hip Hop/R&B album didn't even see the light of day. Anyway, Resentment is definetely a confirmed track on Beyonce's new album B'Day and it sounds really good. It's a cool laidback slow jam and the song maximises Beyonce's vocals to high capacity. Actually, her album would've been wonderful if she had more slow jams and mid-tempo music rather than have pure shitty upbeat tracks that sound really incongruous and all over the place to the point where you just can't get into them (
Ring The Alarm, Suga Mama, Get Me Embodied
, as prime examples). I know it would've been a risk-taking decision but that's what true artistry is all about.
Madonna
has done it,
Janet
has done it and hell, even
Britney Spears.
It's all about reinventing yourself. She'd have gained si much respect as an artist in my opinion. Now if Beyonce had
Cassie's
material, she'd have been laughing. And it's really sad that a lacking singer has an album which is getting more praise. Anyway, here is another BRAND NEW album sampler with NEW clips. The new clips on this sampler are
Creole, Encore, Listen
and
Resentment
:
[download: clips]
~
Ryan Leslie
is knocked out by the exotic beauty that stands before him, and he can't believe he's standing next to a young woman so beautiful with a thick exoticness that graces her exquisite features. The young woman in question is new R&B artist
Cassie
, and Ryan who is mentoring the gorgeous soon-to-be 20-year-old is enjoying every minute and making the most of his shared surroundings with the latest new R&B sensation. As she struts her stuff for the camera's, she tends to put behind her the latest controversy surrounding her lack of vocal ability and stage charisma and in the aftermath of such events, she hopes she can redeem herself with this latest new single. That said, I love this song and the video looks like it's going to be hot. Also, is it me or is Cassie starting to look like
Christina Milian's
long lost little sister? Anyway, here are pictures from Cassie's new video
Long Way 2 Go
. I love this song and the video looks like it's going to be hot. (click thumbnails to view pictures in full)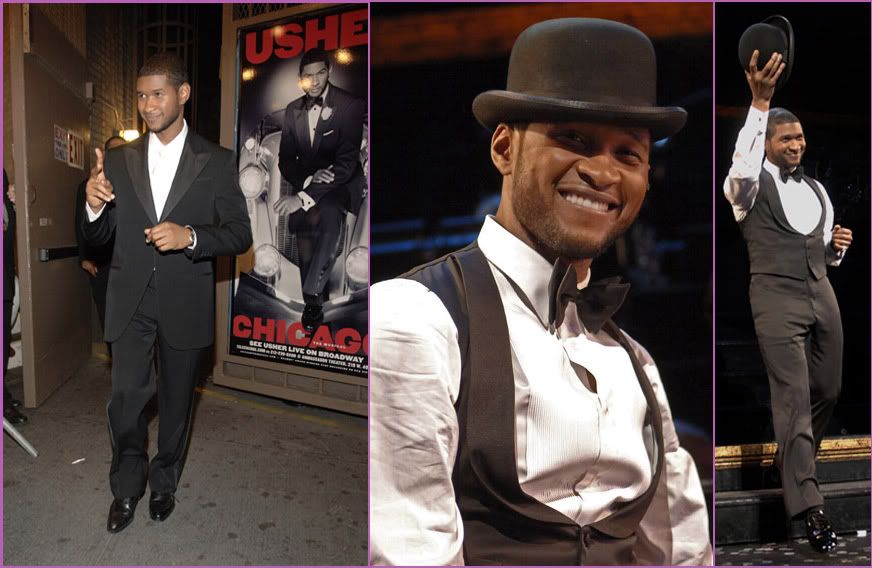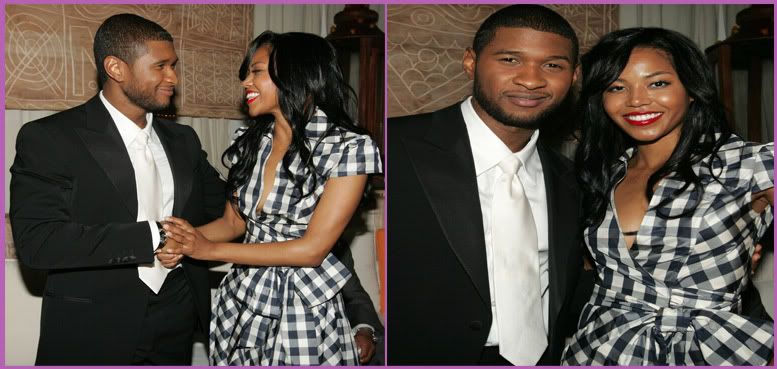 Usher
at his broadway show "Chicago". (left)
Amerie
and Usher cosying up! (middle) Amerie striking that pose and looking adorable (above).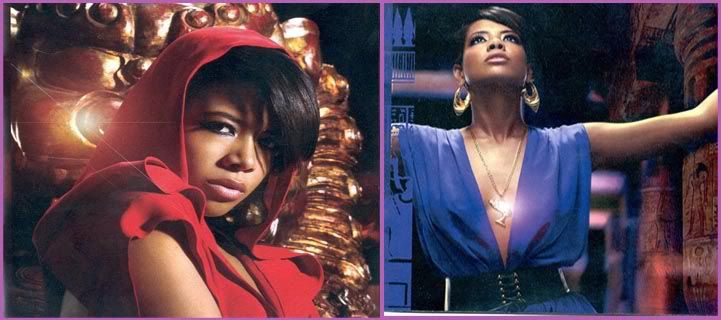 Kelis
celebrated her 27th birthday with husband
Nas
(left) her mother and sister (middle) and she looks ravishing in her album promo pictures (right)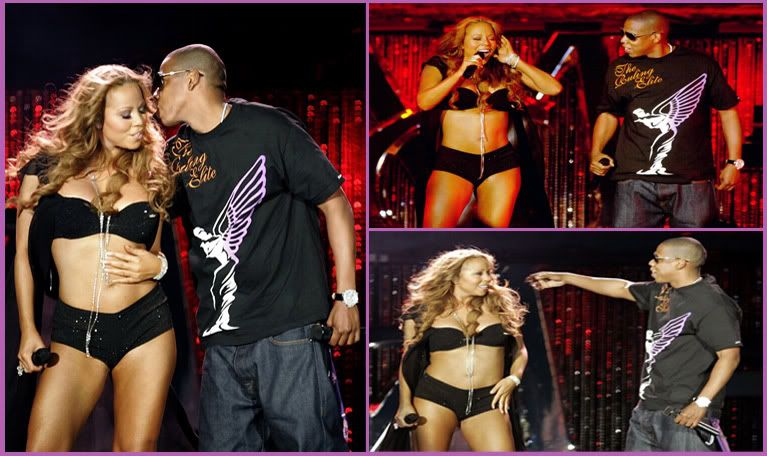 Jay-Z
joined his good friend
Mariah Carey
on stage at her Adventures of Mimi concert. Jay-Z's girlfriend
Beyonce
unleashes another exclusive promo picture from her album
B'Day.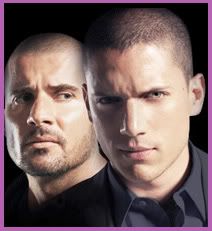 Premiere episode [download] This is for all my British Prison Break fanatics who cannot wait until next month for the show to come back! This is the episode that premiered this week in the US. And let's just say that there is a shock death in store but then again, it was to be expected. The password is: Daffy084.goulag

CONTINUE READING THIS POST ....
posted by Toya @ 5:22 AM |

Wednesday, August 23, 2006
NEWS & REVIEWS!
My boss is weird but in a funny kind of way. She'll hide behind doors and wait to pounce as that person is approaching nearer and nearer. And then "Raaaaagh!" Grown men would be screaming like bitches. I would be dying, pissing myself with laughter. My other co-worker would try that on me and it would never work. He would creep up behind me and yell "boo!" I would never flinch. I guess when you've had that done to you so many times, you build up this wariness that you become spontaneous to it. But then again, no matter how gruesome a horror movie is, it doesn't frighten me either. I was watching House of Wax on cable one night with my mom and two sisters and my mom cringed throughout the whole movie. But to me, if you've seen one horror movie, you've seen them all. The crap music that has been coming out lately is exactly that, one big horror and frighteningly, this is what music has come to. Now that's what frightens me. Murder to the ears? Blood on the dancefloor more like...


Monica reports that the song Resentment which will make

Beyonce's

new album B'Day was originally recorded by former Spice Girl Victoria Beckham. The track was co-written by

Candice Nelson

(Alicia Keys, Jennifer Lopez),

Walter Millsap

(Brandy, Brooke Valentine) and produced by

Damon Dash.

However, the lyrics had been changed so that Beyonce herself could be credited (no surprises there especially since Beyonce claimed to have written Emotion live on TRL when that was in fact a

Bee Gees

cover). In other Beyonce news, X-Factor chiefs have invited Beyonce to be a guest judge by joining

Sharon Osbourne, Simon Cowell

and

Louis Walsh

on the panel and they are waiting for her to say yes!!! I think this opportunity would be fantasic for Beyonce's promo for B'Day and unlike

Paula Abdul

(who was a guest judge on Saturday) she's a talented singer so she should be up on the panel. But this is not the last we've seen of Paula. In future episodes, we will see her scrapping with fellow judge Louis Walsh (who use to manage

Samatha Mumba

, and pop band

Girl's Aloud

and who now manages X-Factor winner

Shayne Ward

and Irish group

Westlife

). The premiere of Saturdays X-Factor was watched by a whopping 8.4 million viewers and ratings are set to skyrocket to an even bigger number if they manage to get

Elton John

and Beyonce on the show.


I was also shocked to learn that

Alesha Dixon

from former R&B group

Mis-teeq

only limped in at a disappointing no14 with her new track Lipstick. I won't front. I don't like the song and don't think that genre of music suits her. I think her voice is better suited to R&B/Reggae
influenced music because she has that urban swagger that's not best suited to rock/pop music.

Polow Da Don

is my current no1 producer right now and I say this because every single track he's produced so far has been hot as hell from

Kelis'

new song Blindfold Me, from

Fergie's

no1 hit London Bridge to

Pussy Cat Doll's

latest single Button's and I'm hearing he's done some work on

Ciara's

upcoming new album The Evolution. It seems like we'll be hearing a lot more from him as artists queue up to have him produce a hit record for them. In other UK R&B chart news,

Christina Aguilera

has shot to no 1 with her album Back to Basics. My blog is 99% R&B-affiliated but I just need to talk about the Prison Break Premiere 2 nights ago. In the UK, it doesn't come back until next month but

Wentworth Miller

is soooo fucking fine. Hmmmm, I would do that boy something terrible. I just needed to get that off my chest *lol* Back to Christina Aguilera. She's on the latest cover of Allure magazine (above).

Above pictures:
Danity Kane
were finalising their promotion on the release of their debut album at TRL.
Sean Paul, Blu Cantrell, Rihanna
and the lovely
Christina Milian
all made appearances at the Teen Choice Awards.
Kelis
outside the CBS studio's. Her new album
Kelis Was Here
dropped yesterday. And below is Omarian's new album cover for 21:
In the UK singles chart,

Cassie

has moved up 17 spots and is now in at no6 with Me & U. She also graces the cover of Rap-Up magazine (left).

Shakira

and

Wyclef

still continue to grace the no1 position with Hips Don't Lie. Christina moves down 4 spots and is now no7 with Aint No Other Man.

Rihanna

moves down 5 spots and is now no9 with Unfaithful, needing to add that her album A Girl Like Me is doing extremely well over here and graced the top 10 album chart for the past couple of weeks now.

Paris Hilton

moves down 10 spots and is now no16 with Stars Are Blind. Oh My. X-Factor contestant

Maria Lawson

limps in at a dismal no20 with Sleepwalking. So that's your latest UK chart news in R&B music. As for the album billboard charts, Christina Aguilera as predicted has grabbed the no1 spot selling 355,598 copies of her album Back to Basics.

Lyfe Jennings

grabbed the no2 position with his album The Phoenix, selling 136,520 copies. Cherish did much better than expected. They sold 91,051 copies with their debut album Unappreciated so a big congrats to all of those R&B acts for getting a top 5 entry this week.



REVIEWS ...


Finally! The HQ of Justin's My Love featuring T.I. I already wrote a review for this when the bad quality leaked and that was a radio rip but now that the HQ is in, I think this latest R&B track is fantastic and more the JT that made me a lover of his music in the first place. The beat is hot and sticks in your head big time. You can also hear clips from the new album
here
.
Made for TV - Omarian
[Download: full]
A slow jam from upcoming new album 21. It is totally different from Electric and Entourage. I like his vocals on this track. I've never taken him seriously as an artist but now I think he's building his own niche and seperating himself even if Chris Brown is the one providing him with competition.
I love this song which is a great surprise to me because I haven't been too impressed with anything thatRihanna has put out as of late. This is a nice laidback R&B track that you can just sit back and chill to. I can't wait to see the video for this song. She looked amazing judging by the screencaps that have been floating around lately.
I'm glad that this is an unreleased track. It's totally irrelevant and is just one of those songs that's there. I don't care for it in particular. It's not the worst offering that I've heard from Rihanna and is definetely filler material at best.


More crunk music from Houston's finest. This song is just as cool as Dope Girl, and it is allegedly one of the tracks that will make her new album Physical Education which has been pushed back to 2007. I have been feeling everything that Ms Valentine has put out. I think her sound is refreshing which is nice because her last album Chain Letter was rubbish so she has definetely stepped up musically.
~
Ex-Sugababe Mutya is gearing herself up to launch her solo career in Britian. Judging by this track, it seems she'll be heading towards the R&B direction and not the pop/alternative route that the Sugababes are notorious for. Mutya was my favourite singer in that group and this song isn't that bad either. Good luck to her.

These aren't necessarily reviews but as I'm one to please my fans, I decided to fulfill a couple of requests and as I have them I may as well share.
CONTINUE READING THIS POST ....
posted by Toya @ 5:45 AM |

Name: Toya
Home:
About Me:
See my complete profile


SUBSCRIBE TO MY RSS-FEED:

Contact Me
Email: toyasworld2007@yahoo.com
Navigation
DONATE TO THE CAUSE:
R&B Hotness!
Previous Post
Archives
Shoutbox
Fansites