Wednesday, September 26, 2007
J. HOLIDAY: BACK OF MY LAC [ALBUM REVIEW].....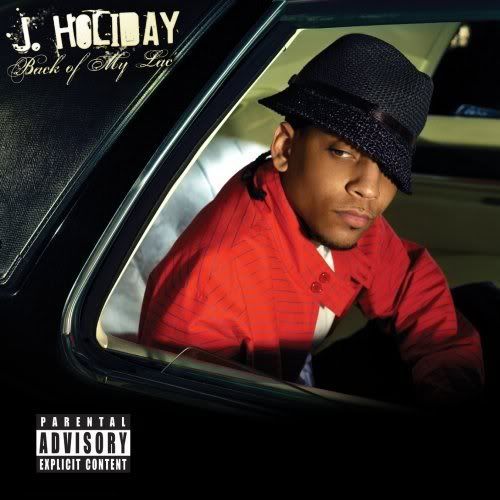 J. Holiday's

RETAIL album

Back of My Lac

leaked today and after listening I have to add that the album is a MAJOR disappointment. I had large expectations after listening to the mixtape and hearing him proclaim to be the saviour of R&B. But the album doesn't offer much insight and is pretty repetitive. He is a very talented vocalist and sounds a lot better than most of these R&B crooners out today but there are a lot of things missing. So where do I start?

The album is in deed very generic and packed with a couple of slow bedroom numbers and his consistent pleas that he's the realest thing to R&B music. However, I wasn't really hearing it on the album. Most of the songs don't have that automatic old-skool appeal which got me drawn to his latest single

'Bed'.

That song is very infectious and got him the success he's currently enjoying. I also noticed that the song concepts were pretty tame (the ghetto, thug and pimp references, you name it).

The very hypnotic

Be with Me

which was actually the first single and failed to lift off is produced by

Rodney Jerkins

and is one of my favourites. It finds Holiday telling us all about the age-old tale of a man wanting to be more than just friends with the object of his affections. Another track that I liked was

Suffocate

which is a pretty slow number.

Without You

also caught my attention because of the 70's backdrop and the soulful horns. Other tracks worth checking out include

Pimp In Me, Thug Commandments

and

Fallin'.



I was a bit miffed that some of the tracks that I heard previously didn't make the album. I was really looking forwards to hearing an uncut version of

Don't Wanna Lose

which was a stunning track to me. As to why it didn't make the album searches me. Ah well. Another one bites the dust. The album is pretty lacking with a couple of highlight tracks here and there. I expected better.

Back of My Lac

drops

2nd October.





Rating: 2.5/5



Labels: J.HOLIDAY
posted by Toya @ 8:49 PM

|
Name: Toya
Home:
About Me:
See my complete profile


SUBSCRIBE TO MY RSS-FEED:

Contact Me
Email: toyasworld2007@yahoo.com
Navigation
DONATE TO THE CAUSE:
R&B Hotness!
Previous Post
Archives
Shoutbox
Fansites