On Sunday night,

Beyonce

looked nice as she was spotted departing from LAX. The bootylicious singer may even have plans: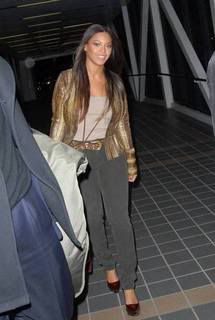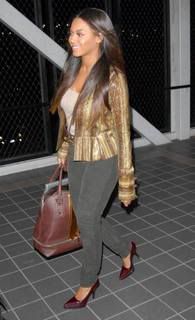 .... as her rapper boyfriend

Jay-Z

turns

38

today. Two years short of 40 and Jay-Z is one of the highest paid rappers in the industry not to mention being one of the biggest business entrepreneurs around. Well, you know Beyonce is going to do it big for her man.
Usher's

wife is tired of folks bad-mouthing her -- especially black folks!

Tameka Foster

believes that a lot of the negative criticism she's been receiving is based on African-Americans not being able to get along with each other:
Tameka tells Essence magazine, "We (black women) don't like ourselves. If I were Hispanic, Usher would have the sexiest wife alive. If I were mixed, he'd have the sexiest wife alive. But he has a black girl, and it's like, 'She's horrible and she's ugly!' OK, maybe I don't fit the cookie-cutter standard - 25 and a size two - but this is who he loves!"
Foster went on to say that people who have been dissing her should find better ways to spend their time. Usher's wife said, quote: "There are women getting raped in Darfur, young girls being turned out every single day right here in Atlanta. We have bigger issues to worry about than two people in love with each other."
LOL! Looks like somebody got a complex. Plus she sounds ignorant as hell generalizing like that. So because people think she's unattractive means they think this way about ALL black women? Maybe she'd get less flack if she looked a different way, I don't deny that. But not all mixed/hispanic chicks are cute or being mixed doesn't automatically equate to being beautiful. Rapper

T.I's

girlfriend

Tameka 'Tiny' Cotter

and

Nicole Murphy

are both biracial and um, they don't even touch the beauty mark on the scales. No where NEAR. Being black is not a curse. It's a beauty. Yes, you're a black woman. Just NOT a pretty one. Point. Blank. Period. For the record, when we get to gossip about a celebrity, sometimes its good to take away the focus of the harsh realities that's going on in our lives and other areas. Not to say we forget about those problems or brush them under the rug completely but to have a moment of escapism, even if it's just temporarily. Besides, this is what comes with being married to a superstar. This is the life she chose so she should learn to deal with it. Usher loves her ass and that alone should be enough.
Labels: BEYONCE KNOWLES, TAMEKA FOSTER