Yesterday,

Mariah Carey

performed to a crowd of up to 5,000 fans at the
One Mighty Party
in Paris, France - an exceptional concert given at Disneyland to help the

Elton John Foundation's

fight against AIDS. During her performance of

Heartbreaker

it was raining which is what caused her to rock the umbrella (for a minute I'd have thought she was paying a tribute to

Rihanna,

lol):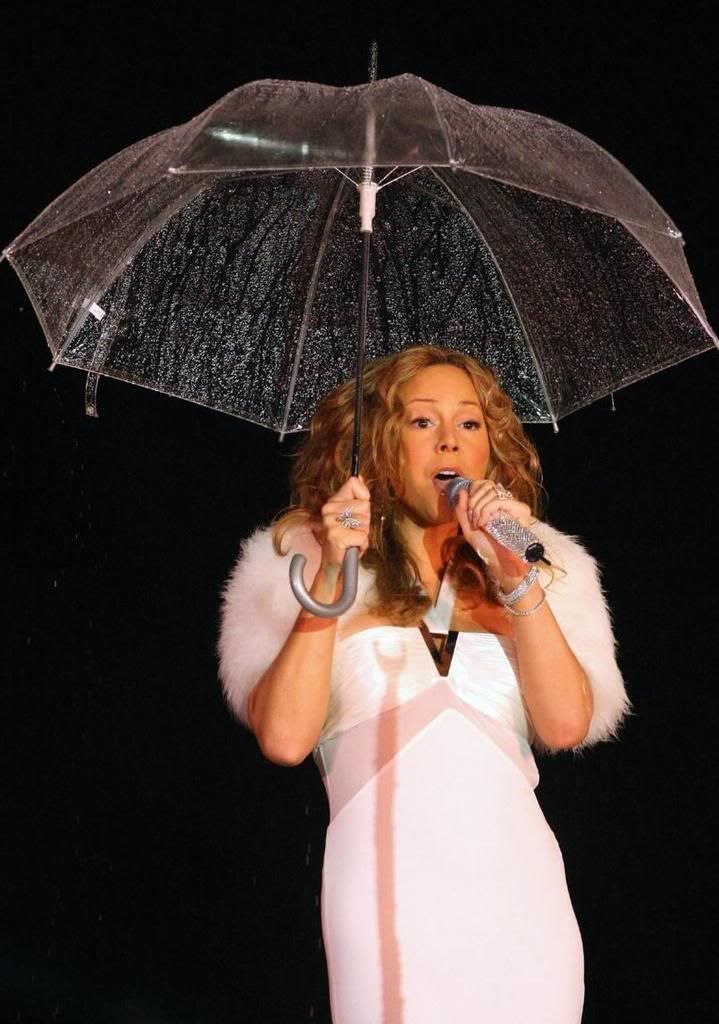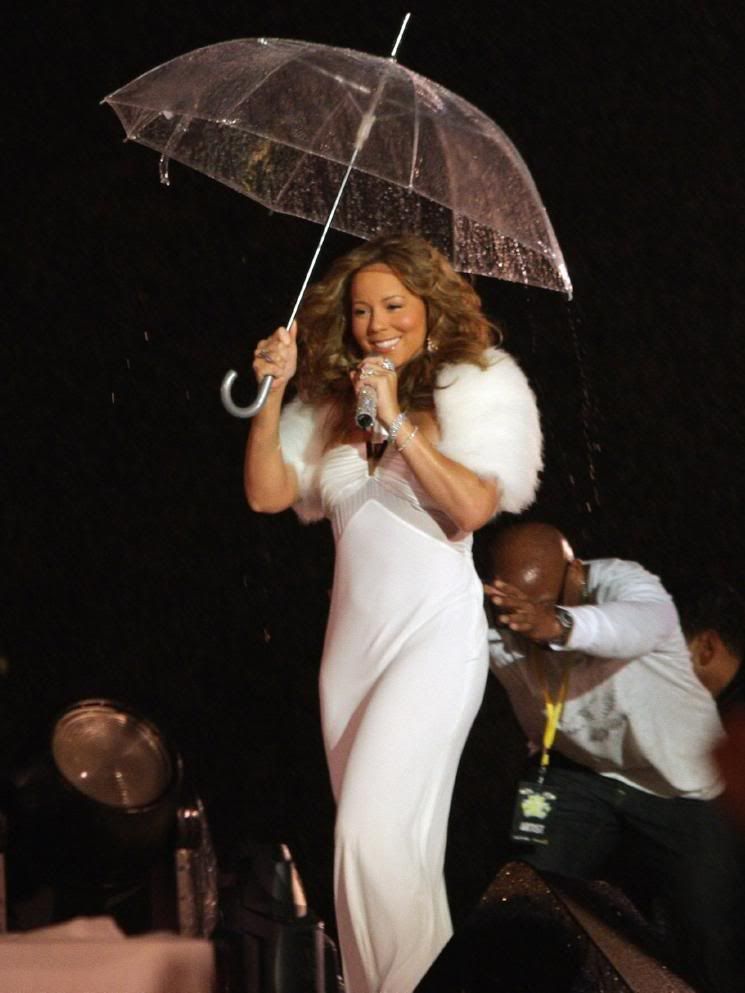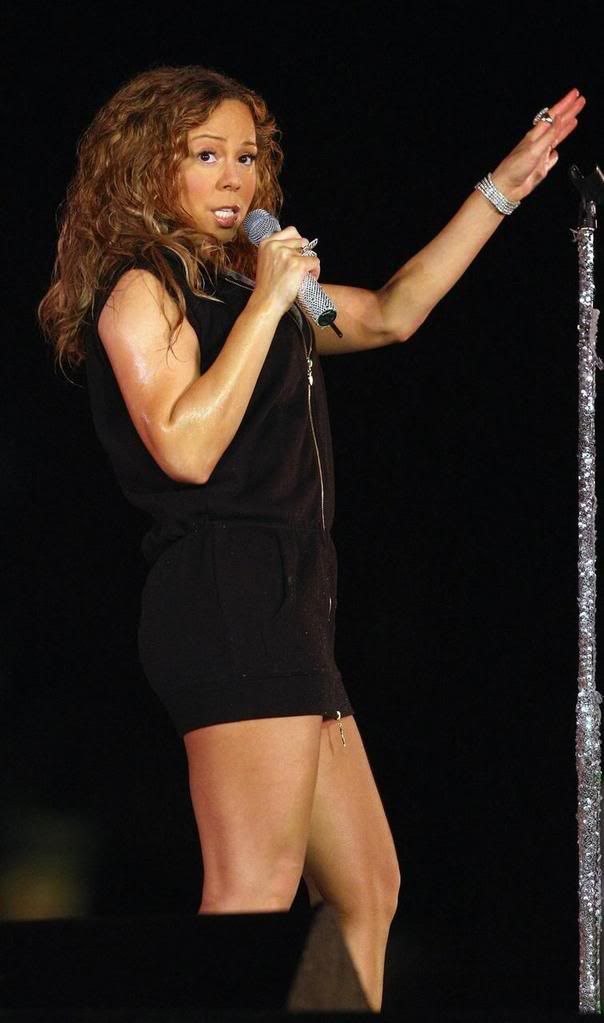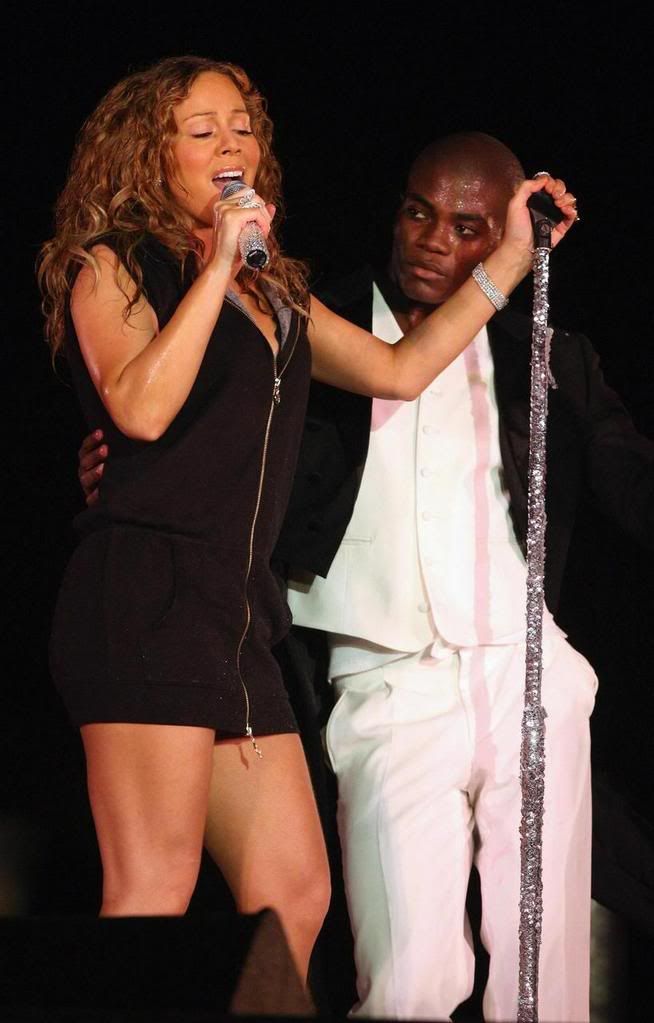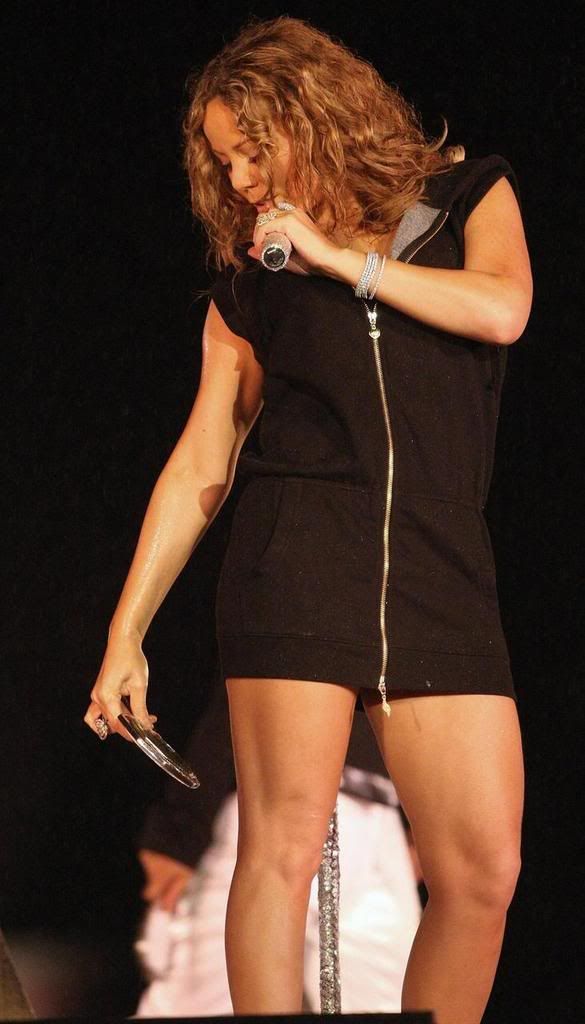 Joking about the unfavorable weather, the singer said some witty remarks, and was cheered on by the audience, most of whom participated in the "Pride Walk" that was scheduled earlier in the capital:

"Okay, it rains, but it's okay, I'm dropping the umbrella and what a pity for my hair,"

said Mariah, in a hooded mini-cardigan dress, before hitting the notes in

"Heartbreaker."
"Wow, I have to warm things up!"

she said, putting her breasts back to their place, they were obviously too tight in the outfit.

"Because I'm a diva, I gotta check what's going wrong," she joked again, watching herself in a diamond mirror a dancer gave her. "Well, it is a total and complete mess,"

she added.

"Next time I'm gonna do 'Singing In The Rain' instead."

Ha. Ever the humourous diva that Mariah continues to be. At the concert, Mariah sang remixes to

"Dreamlover"

and

"We Belong Together."

But she took the time to change her outfit between each song. So Mariah ended up leaving the stage all wet, saying goodbye to the audience as fireworks lightened up the sky above the castle.
Yesterday,

Rihanna

was spotted at an LA gym as she took the time out to tone up:
I absolutely love her sneakers. I need those in my life. RIGHT NOW!!! I wonder if her

Umbrella

single will make it a 7th week at the top in the UK charts. Umbrella is on course to be the BIGGEST selling single in 2007. And props to her too.

Beyonce

(as much as I love her) isn't the only sista who knows how to rule the world.
You've seen the absolutely hot-tastic

Gotta Work

video and

Amerie

still manages to spread her hotness in the pages of male magazine

FHM

(July 2007 issue):
I am going to flick through this today just to get a glimpse of the photoshoot and once I get hold of it, I will surely post, but Amerie right here is a BAD bitch.
Earlier today in London, Princes

William

and

Harry

attended rehearsals prior to

The Concert For Diana

at Wembley Stadium where they chilled with

Joss Stone:
Other urban acts who will be performing at the concert include

Nelly, Fergie, Pharrell Williams

and

Kanye West.

Concert for Diana,

the musical celebration of the life of Princess Diana, can be seen in its entirety on

VH1 Sunday.
The following event was definitely an R&B haven.

Tatyana Ali, Letoya Luckett, Keyshia Cole, Ashanti, Chrisette Michele, Lil Kim, Tyrese, Ray J,

Diana's boy

Evan Ross, Tiny

and her man

T.I

attended the

Atlantic Records 60th Anniversary

this week:
This week,

Kelly Rowland

performed

Like This

with

Eve

on

Jimmy Kimmel Live

earlier this week:
She also performed

Dilemma.

It was okay but you just can't deny that Kelly has been looking really hot over the past couple of weeks.
Anyway, here's a final round-up of the

pre-BET Award

parties, starting with

Solange.

Never realised she was THIS pretty. Until I spotted that new nose. Nice job.
This week,

Janet Jackson

and longtime lover

Jermaine Dupri

were spotted leaving a coffee shop in Beverly Hills after having an early breakfast: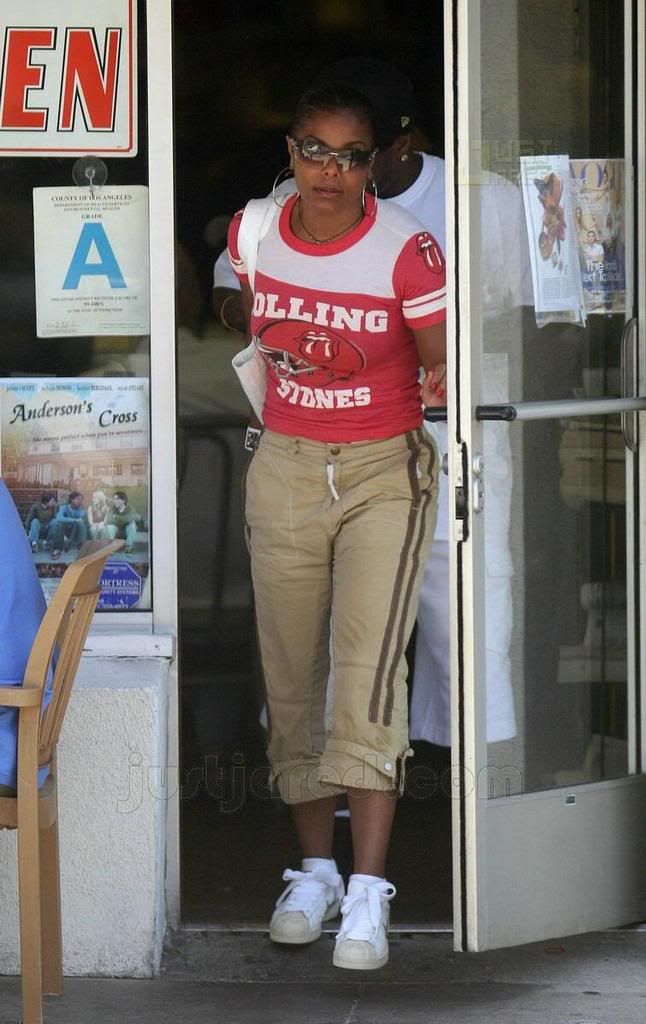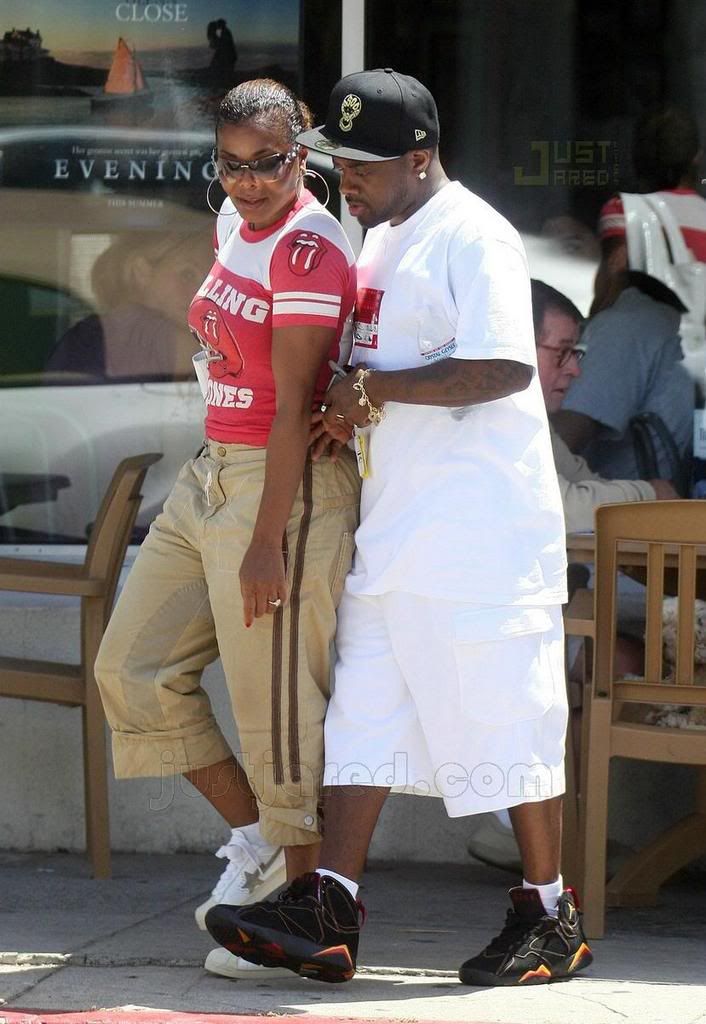 Janet looks great with very little make-up. I wonder how she has managed to keep the weight down for so long.
R&B Bites
1. Alicia Keys will be performing on Fashion Rock this year which air sometime in September. Her new single is supposed to go to radio in August.
2. Keke Wyatt will be releasing her sophomore album this year.
Read more.
Labels: ALICIA KEYS, AMERIE, ASHANTI, JANET JACKSON, JOSS STONE, KEKE WYATT, KELLY ROWLAND, KEYSHIA COLE, LETOYA LUCKETT, MARIAH CAREY, RIHANNA, SOLANGE KNOWLES, TATYANA ALI, THE CHEETAH GIRLS