You can now read a couple of excerpts from

Usher

and

Tameka's

interview with

Essence

magazine, by
HEADING OVER TO THE SITE.
I don't feel like cuttin' 'n' pasting: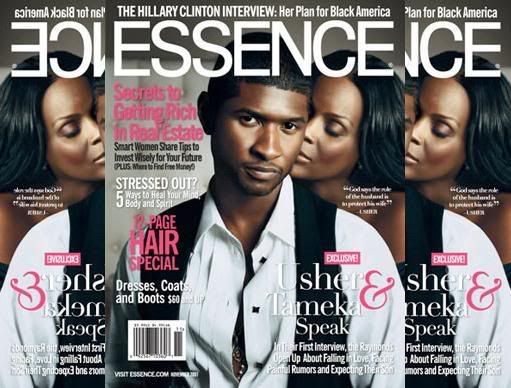 But for those that don't feel like clicking, here's a watered down recap. He addresses the negative reaction of bloggers and the media regarding his relationship and marriage to Tameka. Apparently, the world sees what his mama sees. Usher is the only one who can't see shit, because he's too blinded by his love. Yes, love and parenthood is definitely a thing to celebrate but his behaviour has been very unbecoming as of late. We've seen a side to Usher that is not liked. He is now tied to this woman who appears to be controlling and extremely insecure which is what caused the rift between Usher and his mama when these two use to be thick as thieves. And now his new album may not even see the time of day because the controlling Maneka wants Usher to exert all of his energies into HER and the baby instead of concentrating on his career. Bitch please. If Usher wasn't filthy rich and they were in a working class environment, she'd be PLEADING with her man to go out there and bring in an income to support the family but she knows her bread is BUTTERED on BOTH sides, which is why she stays carrying on. But then, you can't blame her. You have to blame Usher for acting like a true pussy that bleeds every once a month. Anyway, he talks about becoming a father for the first time, their relationship, why they're so uninhibited with one another, same ole same ole.
Labels: TAMEKA FOSTER, USHER