Mariah Carey

really did make her presence felt this week. Not only did she put in an appearance on 106 & Park to plug her new fragrance, but she also plugged

'M by Mariah Carey'

at the

Today

show as well:
She may be a true diva but she always stops for the fans to say hello and sign autographs. There are more Mariah (unflattering) flicks after the cut.
Again, Mariah's choice of attire is very questionable: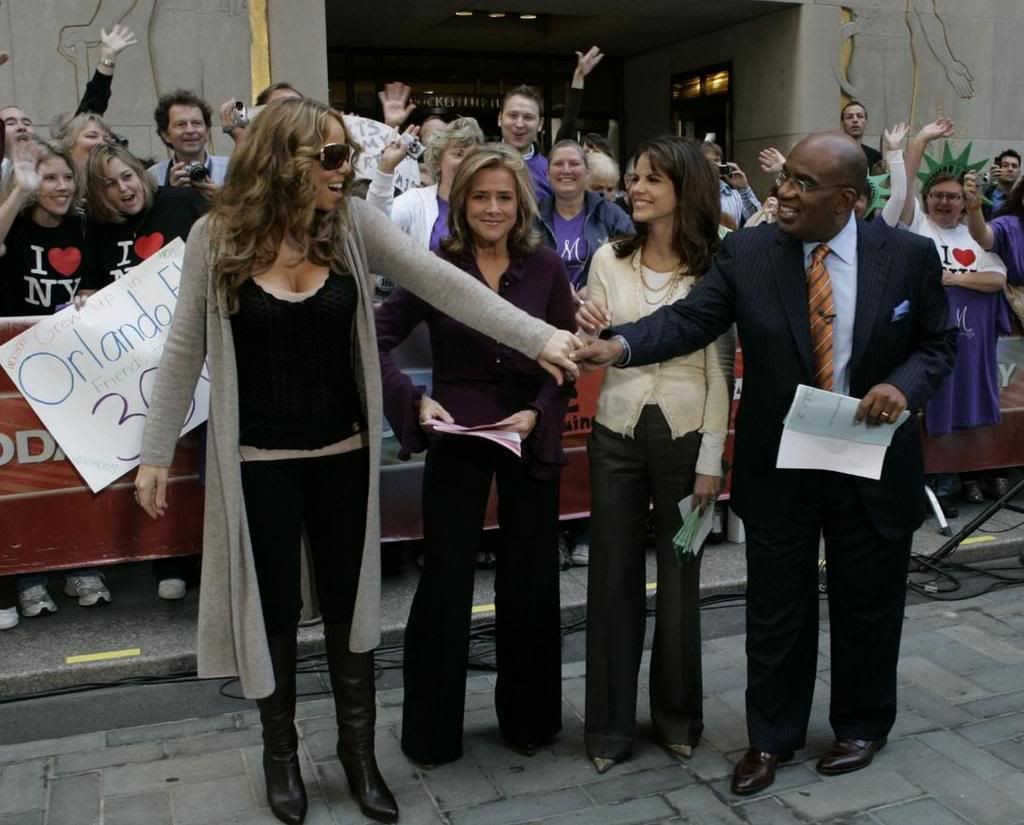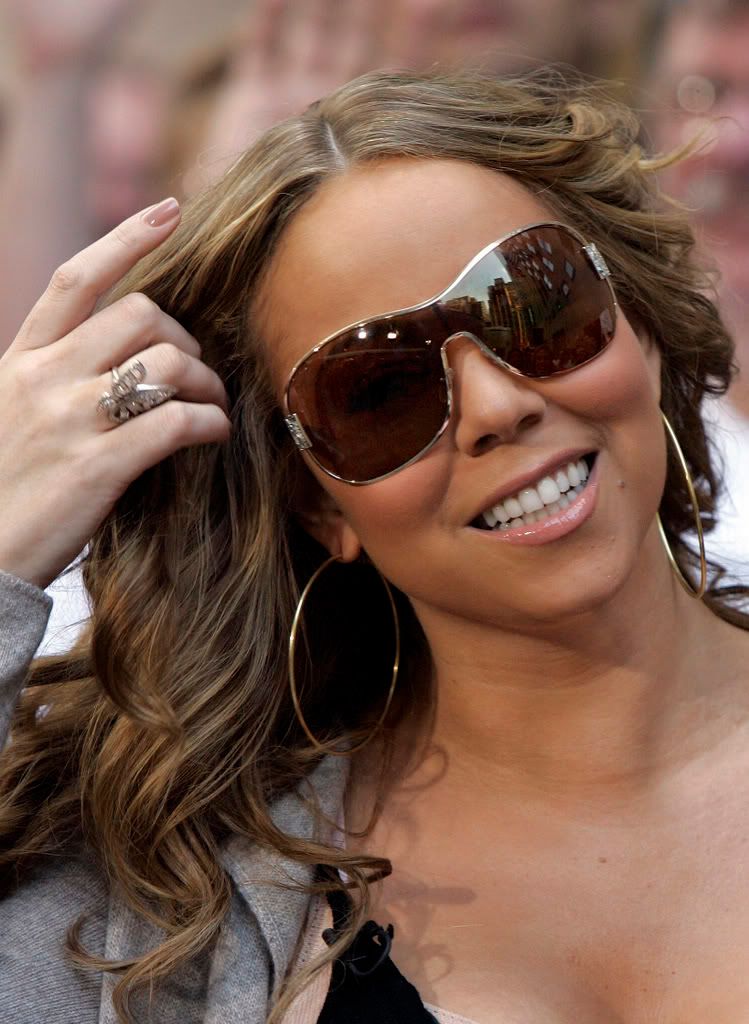 But what shocked me most of all is how puffy her face has truly become. Her face looked really bloated and the tonne of foundation on her face just made things even worse. Mariah certainly wasn't looking that great. It's easy to see why she heavily relies on airbrushing when it comes to promo photoshoots. I mean, if that

Emancipation of Mimi

CD is not the most overly airbrushed shit I've EVER seen ....

After her 106 stint, Mariah was spotted cruising the streets of New York:




Her body looks weird in that tight purple dress. She is not shaped right to be rocking that outfit. In no means is Mariah "fat". She is thick, and she also strives to make it a mean habit of wearing clothes that puts her thickness into full glare or have this tendency to make her bigger than what she truly is. I do think she'd look a lot better if she shed at least 7lbs though. Let's hope she keeps it together when she's ready to put the album out.



Rihanna

was spotted leaving

Cafe Med

in LA yesterday: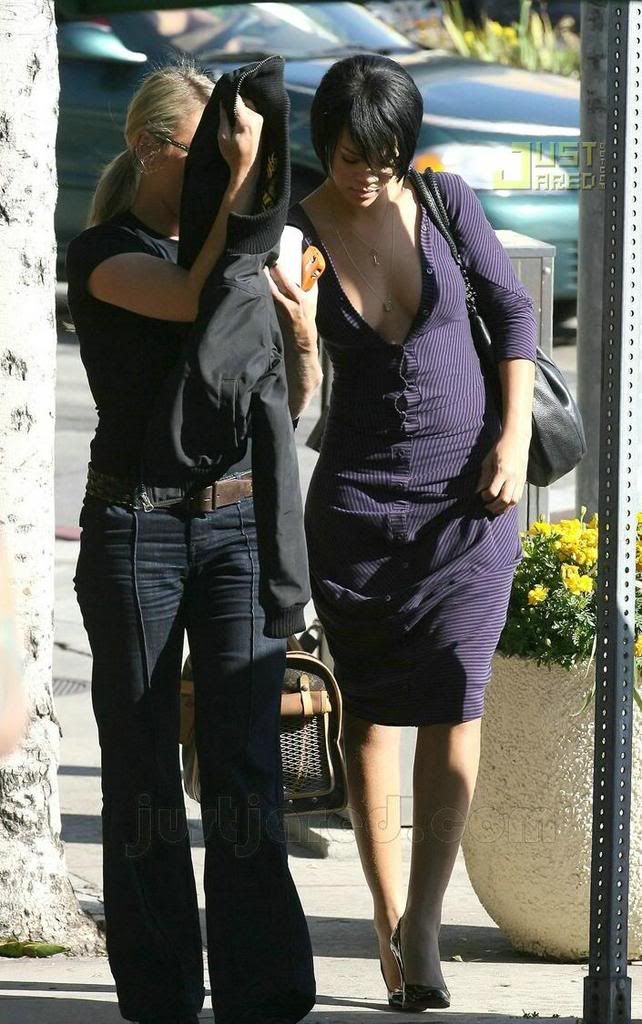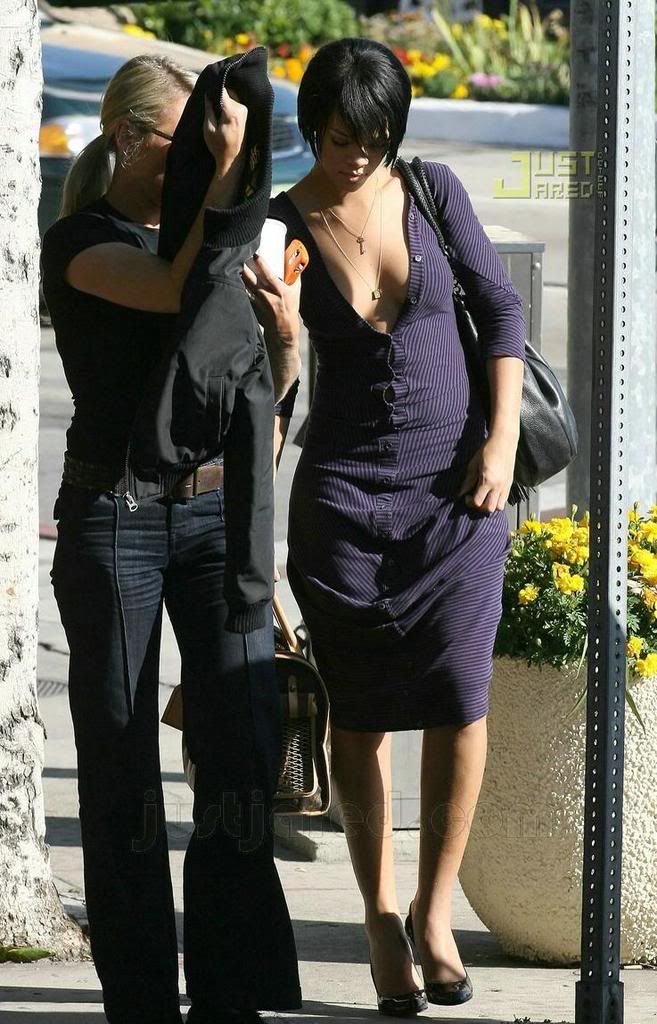 [SPOTTED @ JUST JARED]
She almost suffered a nip slip in a daring but plunging neckline dress. It's a surprise that she wasn't spotted with her beloved dog
DJ
this time round.
Also, yesterday she performed at
Power 99 FM's Powerhouse Concert:
Still doing it big. Her alleged boyfriend actor

Josh Hartnett

was grilled yesterday about his encounter with the

Umberella

singer.

Mike Jerrick

from the television show

The Morning Show

with

Mike and Juliet,

interrogated him about reports that he was seen kissing Rihanna. But he refused to confirm anything only adding:

"I can't really respond to things like that because if I start responding to them everybody will want a response on anything. 95 percent of the stuff written about me is not true."

Hartnett was on the show to promote his film 3

0 Days of Night.

Rihanna and Hartnett were seen at the

Pink Elephant

nightclub on

October 11

in New York kissing.




Janet Jackson

attended the

Hollywood Film Festival's 11th Annual Hollywood Awards: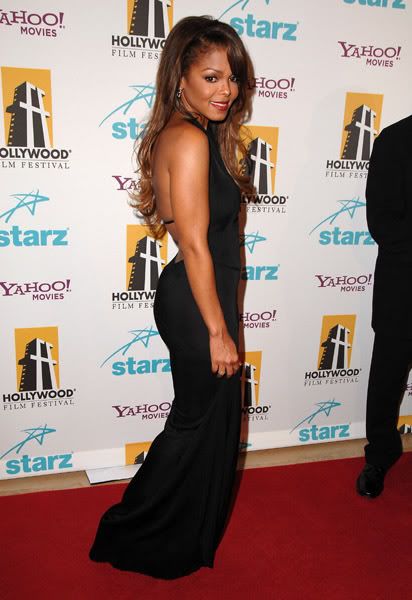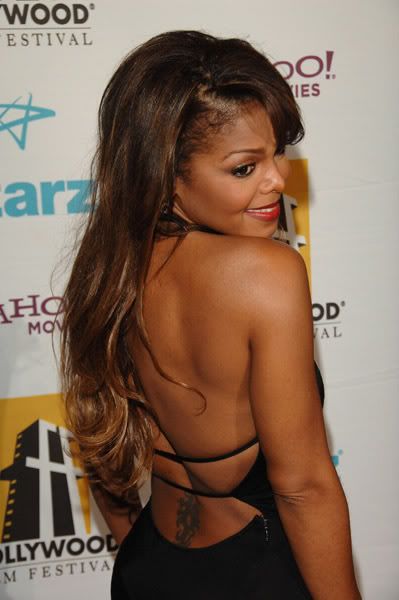 She also presented and looked nice. I just wish her features weren't so artificial. She is starting to look like a darker version of her sister

LaToya.





Beyonce

has completed her

Ethiopian

concert and she is now in Romania. Here she is at a

Romanian Press Conference

yesterday: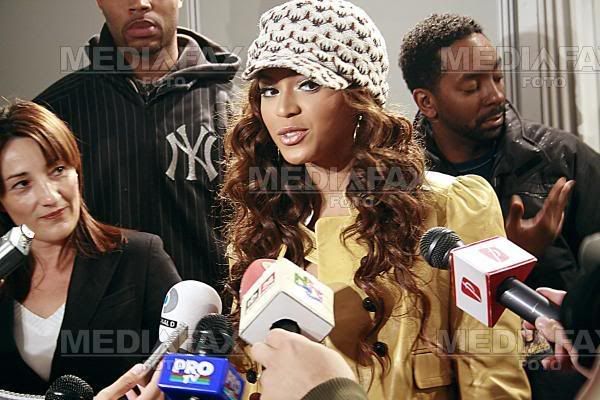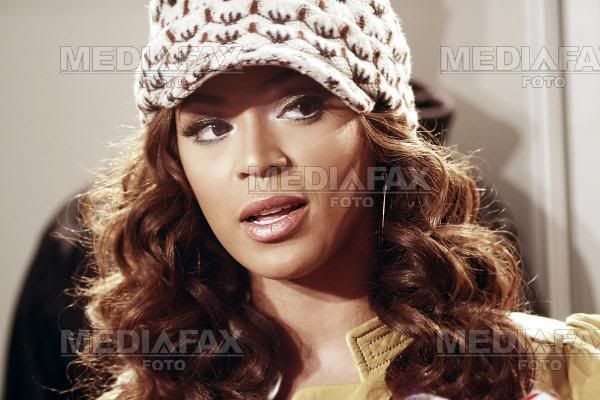 She looked cute.

Anyway, her

Istanbul

concert has been cancelled out of respect for 12 soldiers killed in a Kurdish rebel attack, a football club that was organising the event. I like that hat. It looks comfortable:



Beyonce was to give a concert in Istanbul on Wednesday (tomorrow), as part of her world tour. The Turkey leg of her show was being organised by soccer club Fenerbahce to mark its 100th anniversary. Bey began her world tour in front of an audience of 5,000 adoring and hysterical fans in Ethiopia, a country usually unimpressed by Western music.



3LW/Cheetah Girl

singer

Adrienne Bailon

and R&B crooner

Marques Houston

helped socialite

Kim Kardashian

celebrate her

27th

birthday: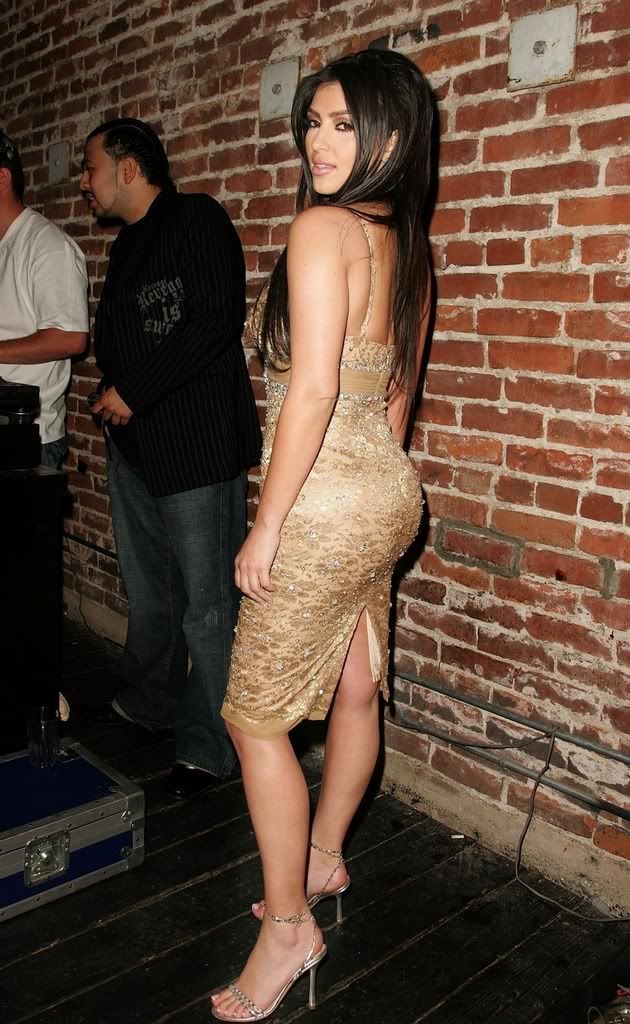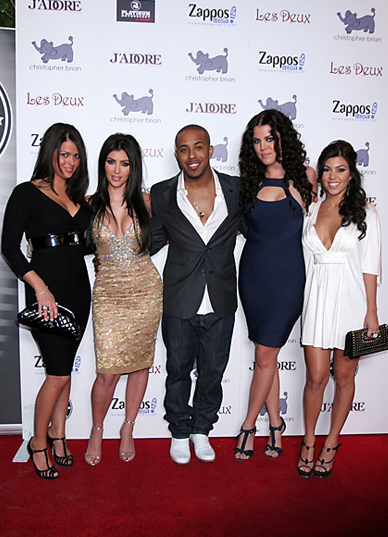 Kim might be a whore for D-List black Hollywood, but that heffa is fierce!

OK, non-music related but I take great pleasure in posting these pictures of UK

Big Brother

bitch

Charley Uchea

getting jumped by a gang of girls at some London nightspot: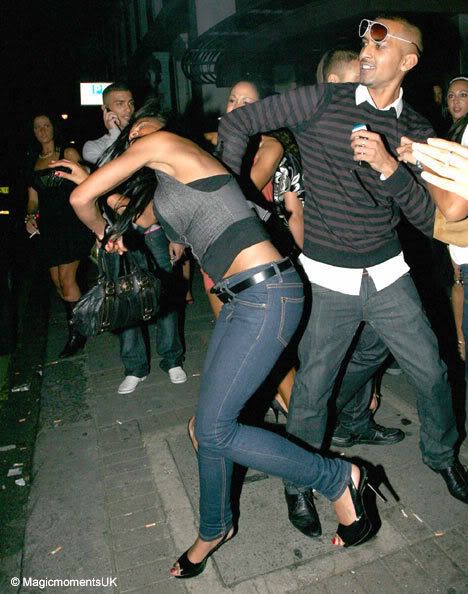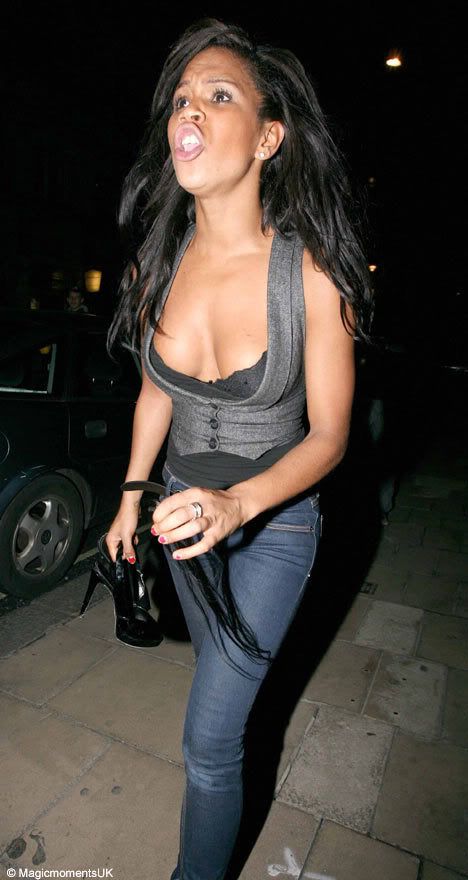 Sorry to sound mean. I just can't stand the ugly bitch. She got what she deserves. In the last pic she is clutching pieces of her pulled out weave which got ripped out of her scalp. Couldn't have happened to a more deserving person. Stay tuned.
Labels: ADRIENNE BAILON, BEYONCE KNOWLES, BIG BROTHER 8, JANET JACKSON, MARIAH CAREY, MARQUES HOUSTON, RIHANNA