As we come to the near end of 2007, it had to go out in style with one of music's biggest and glitziest award ceremonies. And the line-up at the

2007 American Music Awards

was pretty impressive, dare I say. Some of the presenters included

Ashanti, Lyfe Jennings, Sean Kingston, Solange Knowles, Jordin Sparks, Usher

and

Ryan Seacrest.

And then we had R&B's most extravagant performers such as

Beyonce, Alicia Keys, Rihanna, Chris Brown, Mary J Blige, Nicole Scherzinger, Fergie,

and the list is endless.
My MAIN question is - what happened to

Mariah Carey

who was also named as a performer? Nevertheless, I'm sure she'll be putting in an appearance at all the award shows next year when she's ready to release that album. I noticed how it was also an

American Idol

haven because a lot of the runner-ups were there as well including

Kelly Pickler

and

Chris Daughtry

(who won a gong), and then the main American Idol winners such as

Carrie Underwood

and

Jordin Sparks.

Carrie cleaned up last night. Chris Daughtry may have won an award but American Idol winner

Fantasia Barrino

lost out to

Rihanna.
So let's talk performances.

Chris Brown

performed his no 1 hit single

Kiss Kiss: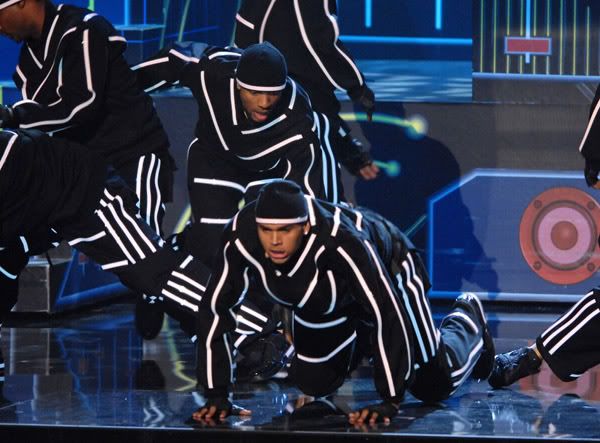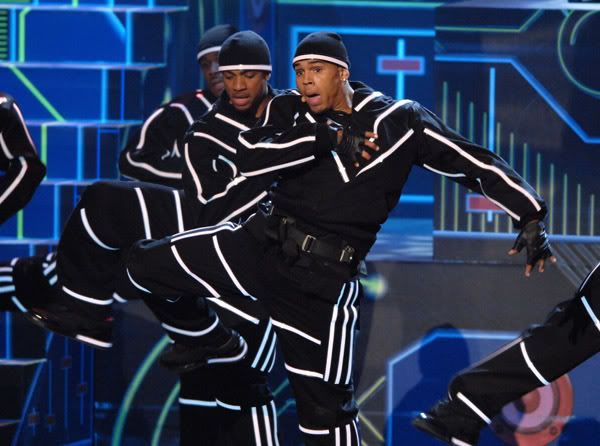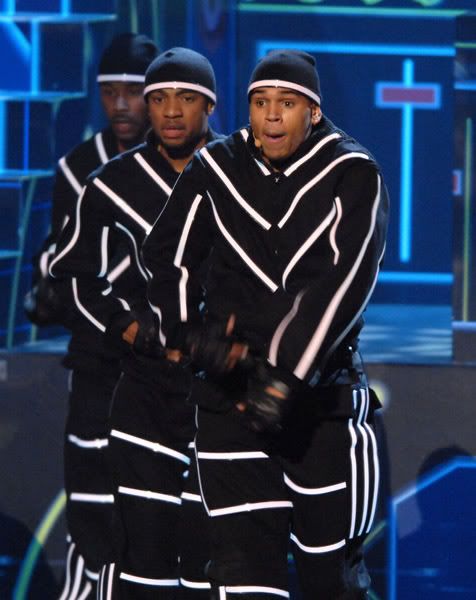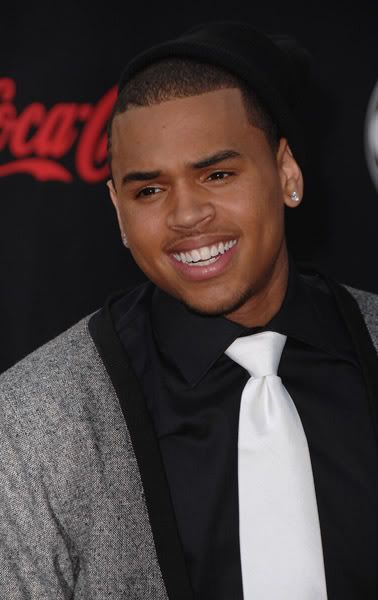 I thought his performance was good. The end part where they were dancing upside down was pretty cool, and I liked the beginning. However, the strenuous choreography and the lip-syncing is starting to leave me baffled. His idol

Michael Jackson

sang AND danced at the same time and that's a technique Chris is going to have to learn if he's planning to develop himself further as an artist.
Now for my girl

Alicia Keys.

Alicia performed a dancehall rendition of her smash hit single

No One: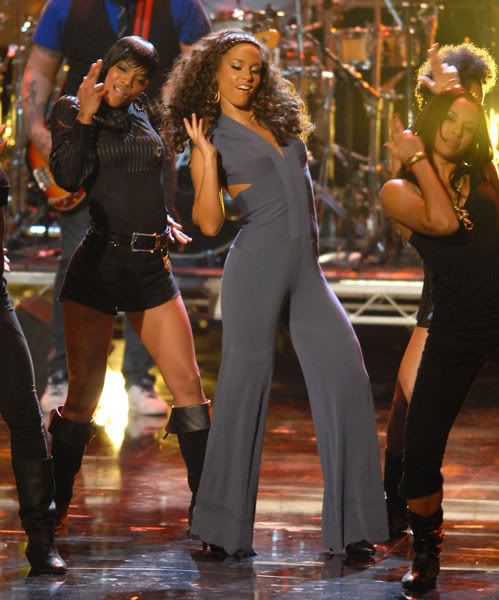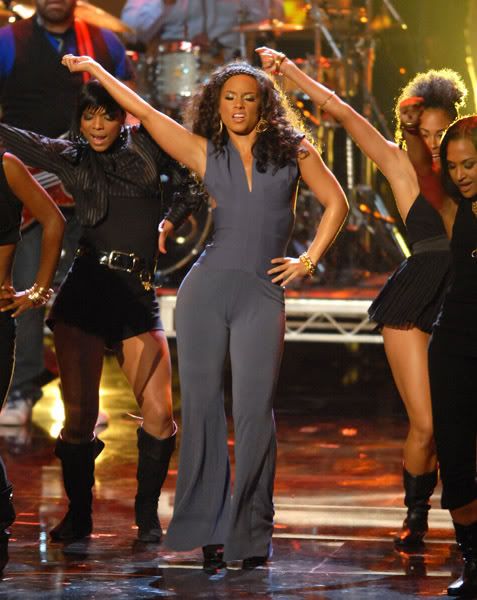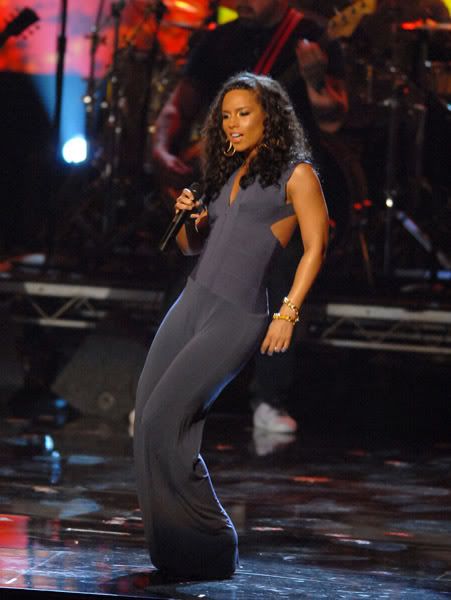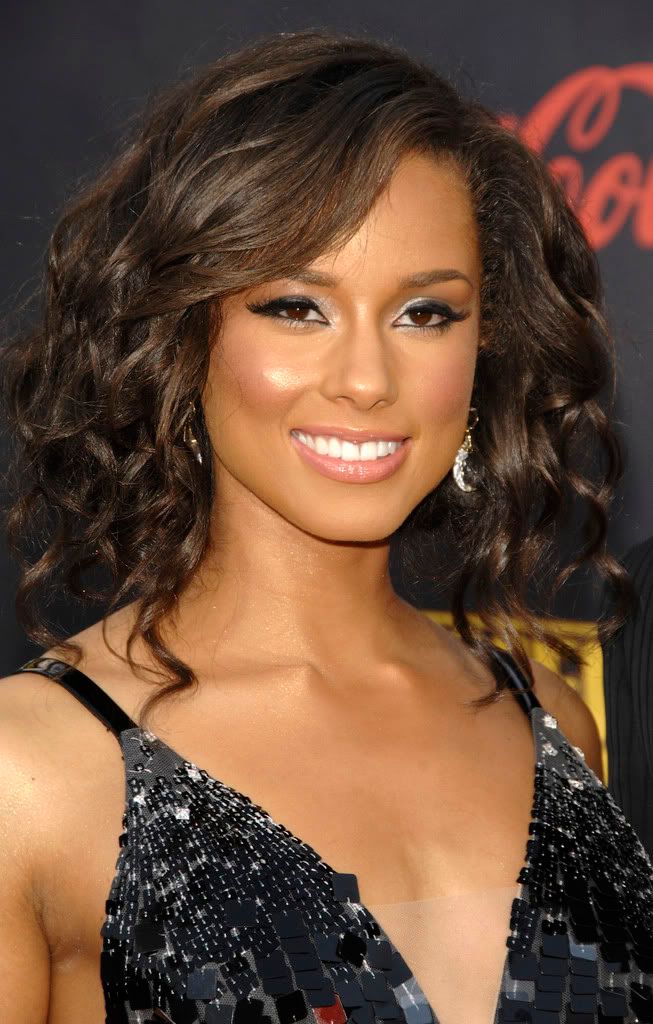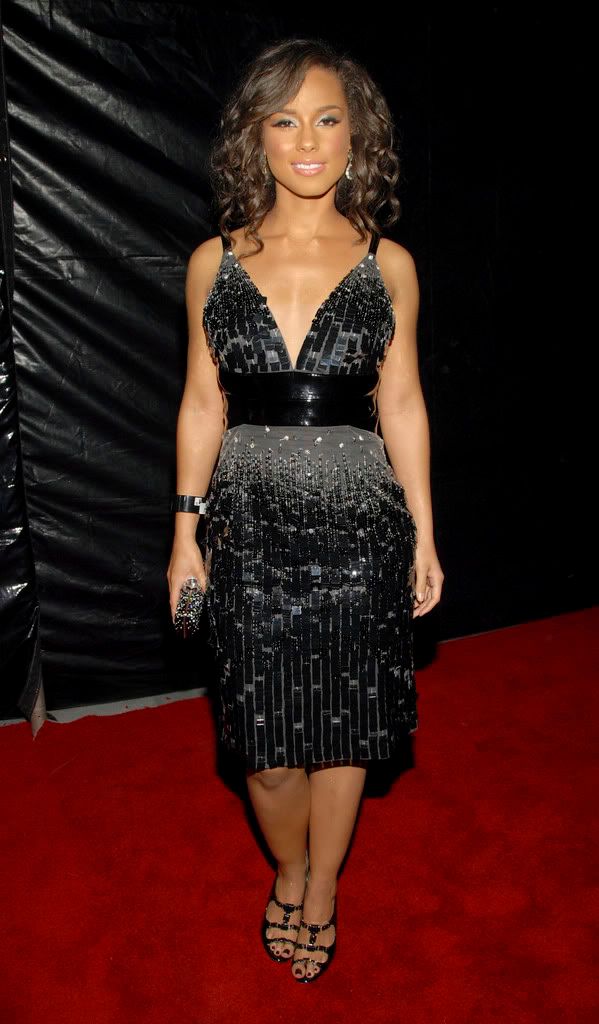 She was joined on stage by Jamaican dancehall artists

Chaka Demus & Plius

and

Beenie Man.

It was good seeing her remove herself from the piano to do a dance routine but it looked like she was counting the steps in her head. I didn't like the reggae rendition of her song but I did enjoy the performance. It was fun and Alicia was getting down but she doesn't have much rhythm. Aw bless her though, she tries! But watching Alicia dance is like watching

Mariah Carey.

It's like watching a white girl trying to dance to reggae music.
Ashanti

was there to present an award: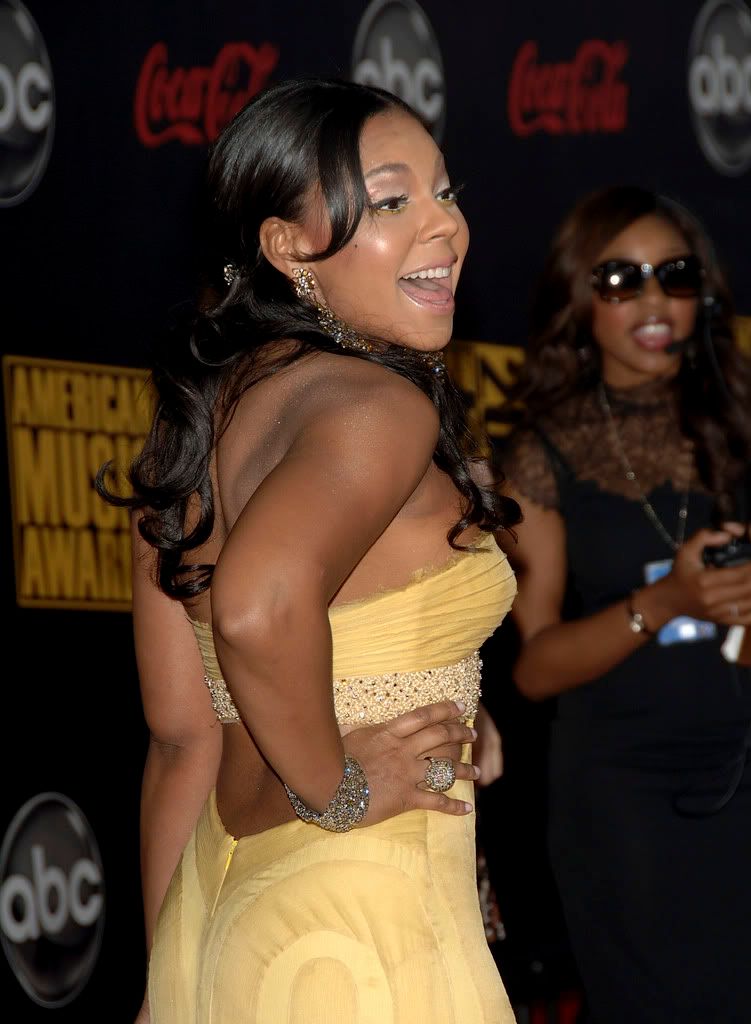 She looked cute.
Beyonce

looked great. I was totally feeling her dress. It accentuated her curves really well. She was definitely the golden girl last night, from head to toe: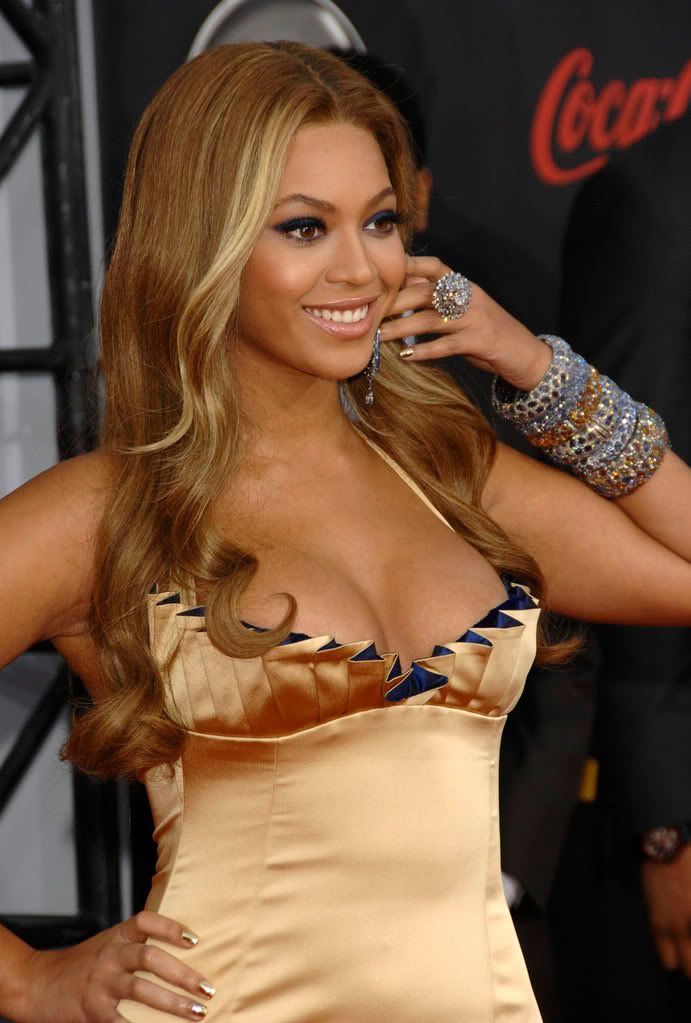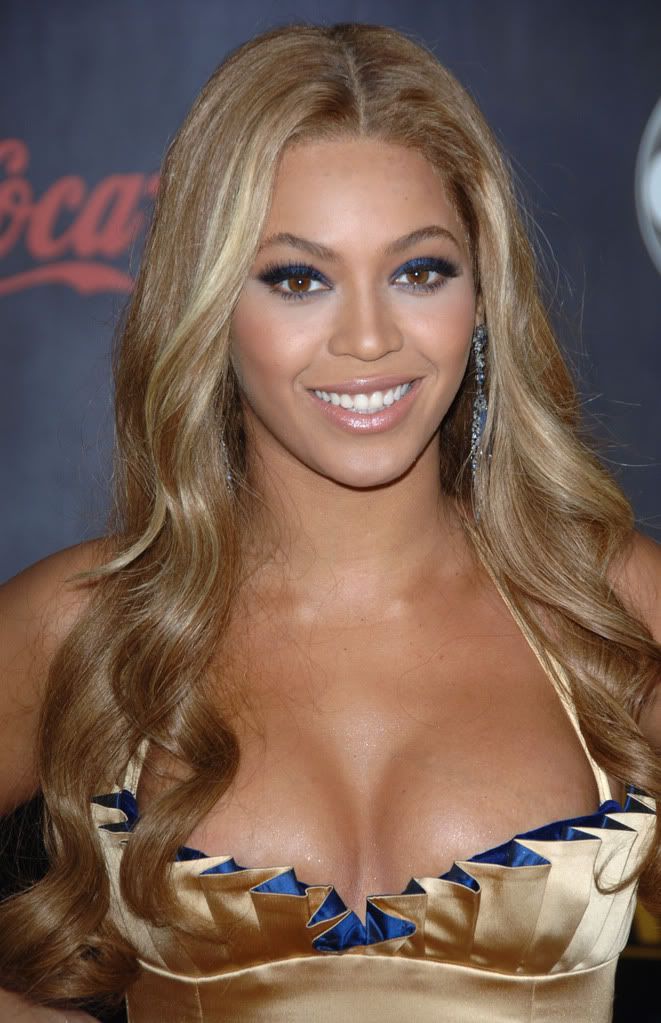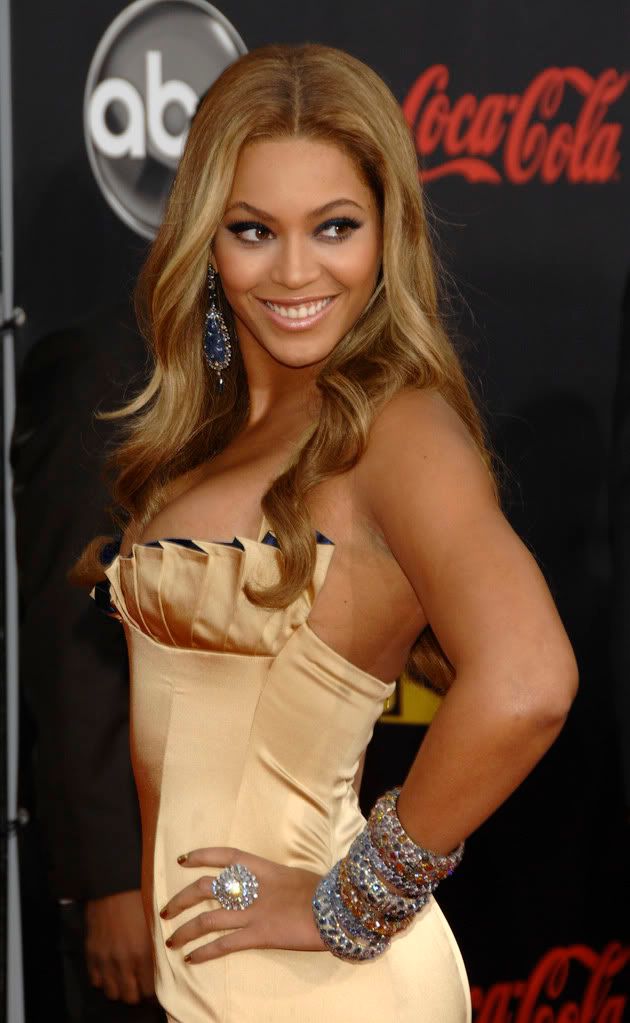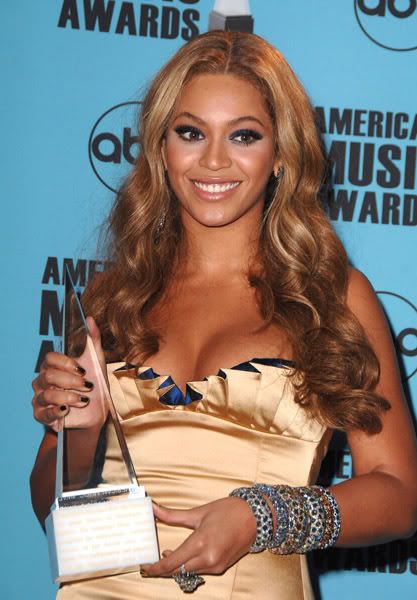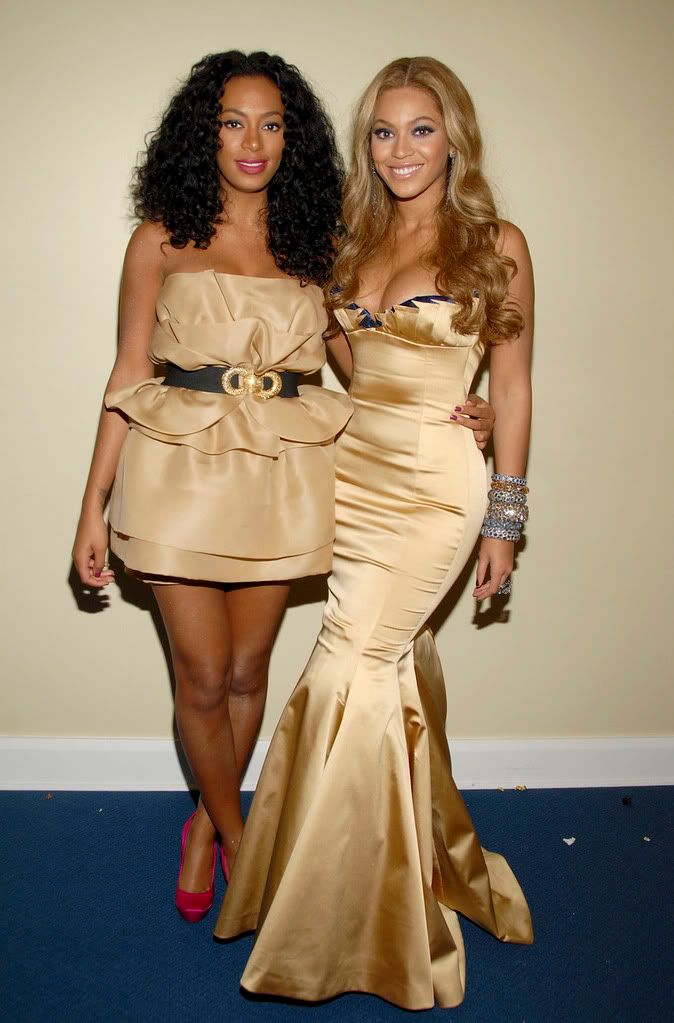 Beyonce was recognised with the

International Artist Award of Excellence.

And I'm not trying to hate. She's had a very fulfilled, high-flying music/acting career for the past 10 years but

Mary J Blige

should have received the award before Beyonce. I don't think she's at legendary status just yet. The

Bootylicious

star joins pop legend

Michael Jackson

who has been a past recipient of the Award.
Usher

presented her with the legendary Award: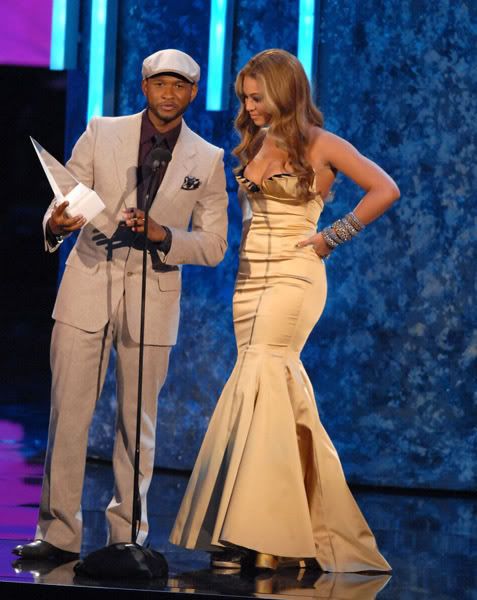 Usher looked a shadow of his former self. He must've watched

Chris Brown's

performance and silently weeped.
Check out Beyonce's

December 2007

cover of

Harper Bazaar: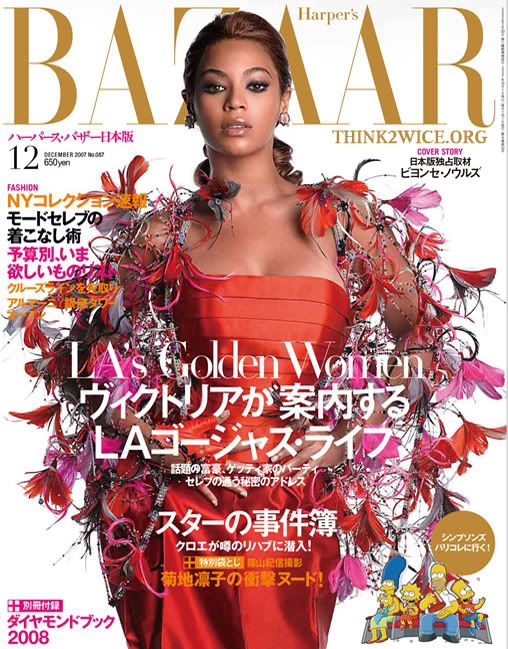 This is one baaaad ass cover and I mean that in a really good way. Always thriving in her photoshoots.
However, her country version of

Irreplaceable

was quite a shocker: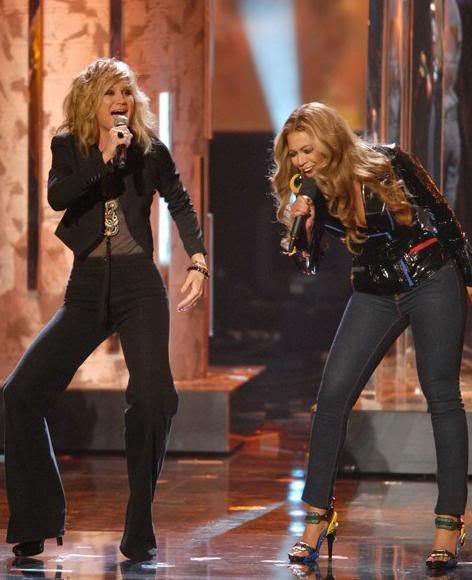 She performed the song with country act

Sugarland.

When I first saw this performance, I was like hell naaawww! WTF is this shit? But my disappointment was nothing compared to some of the guys I know. They were expecting to see some pussy-popping, but didn't get it. I was hoping for a more energetic performance. Lawd, Beyonce will pimp out ANY genre of music just to appeal to a diverse demographic. I am starting to get scared about this new album of hers. Be very afraid. Soon enough, Beyonce will be hitting us up with a Bhangra version of

Deja Vu.

She's done EVERY genre possible. Last night on the AMA's, it was stated that Beyonce has sold

150 million

albums worldwide. And that includes albums with

Destiny's Child.

But 150 million? Yeah right.

Matthew Knowles

and that camp are a damn lie. If that's true, I can shit money.
Anyway, her lil sister

Solange

was there to host: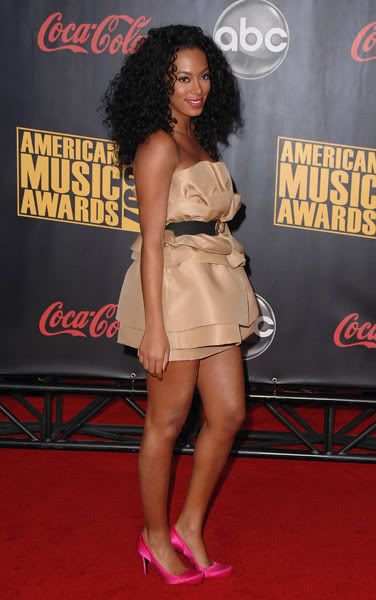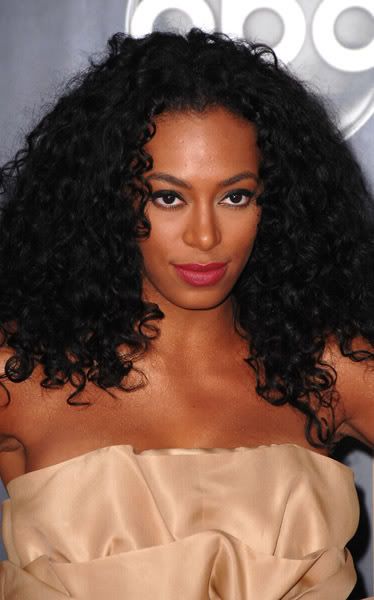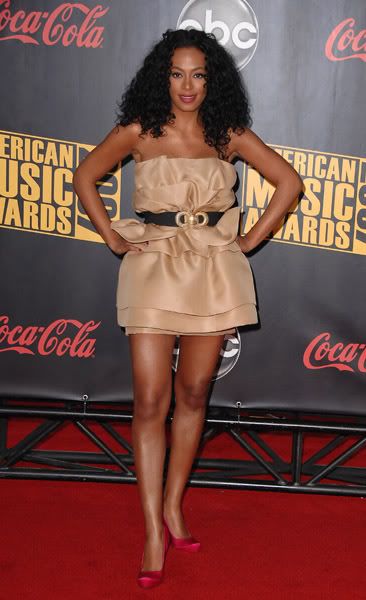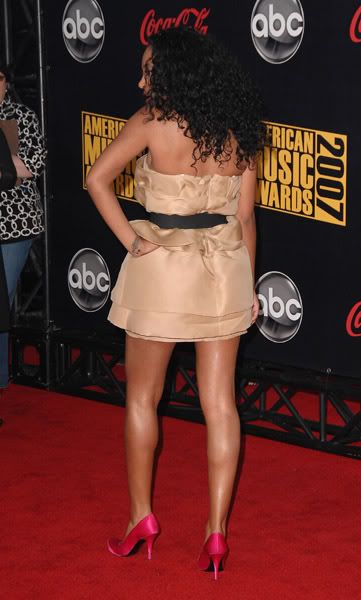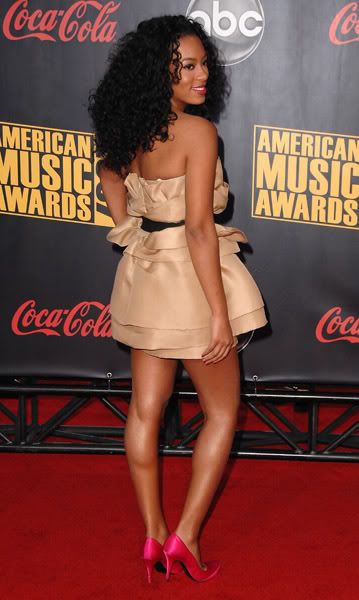 Her dress was so unflattering. The big hair didn't work in her favour either.
Now, I think I'm about to set a world record on

Toya's World

and say that

Rihanna

didn't look good last night. Her red carpet outfit was absolutely atrocious: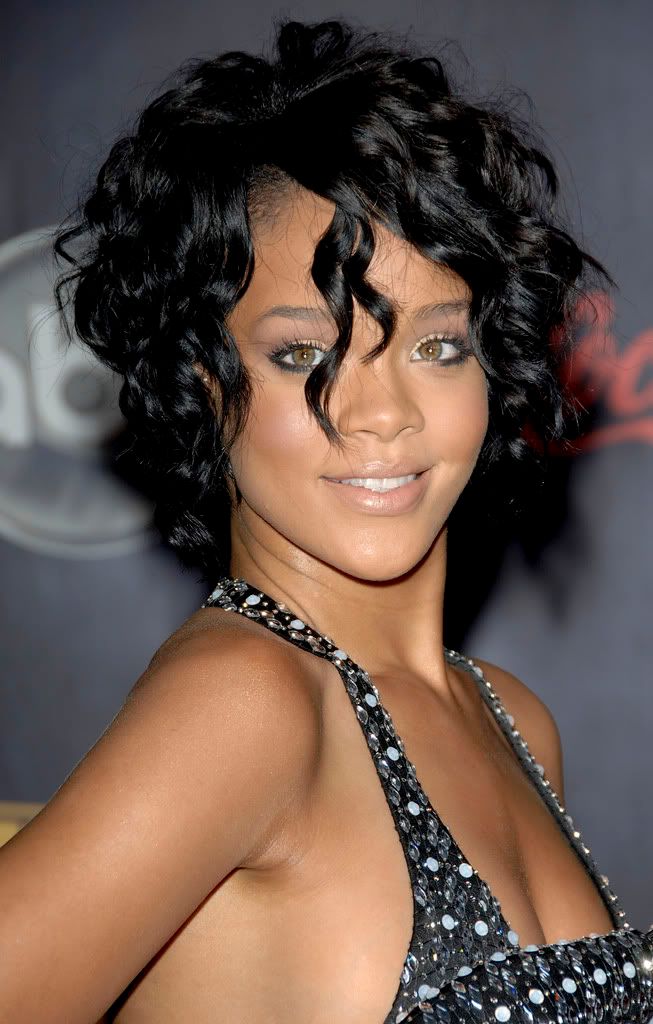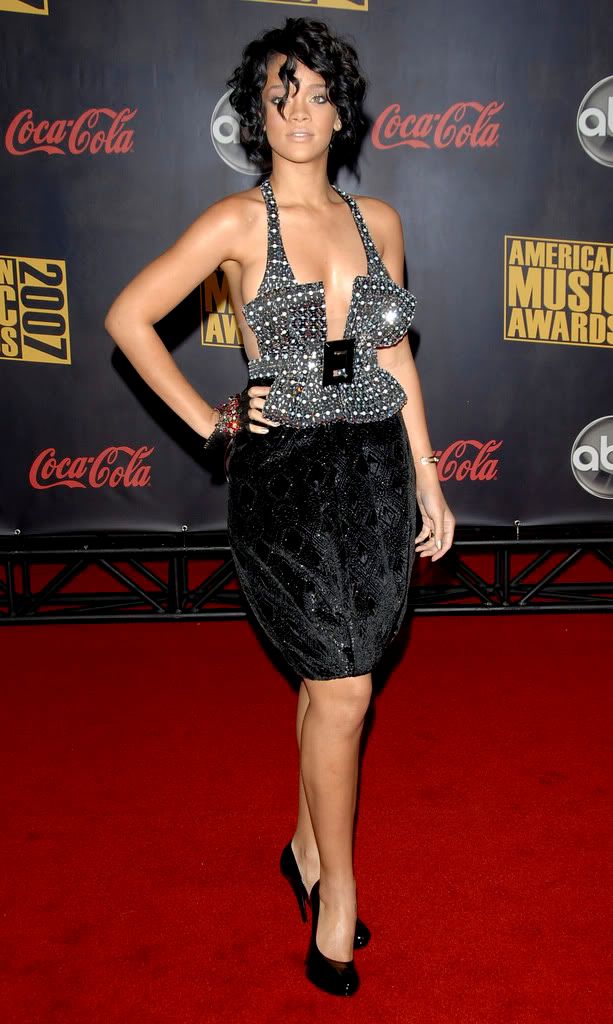 No! She's ruined the title as being the artist with the most consistency on the red carpet. Who chose this?
However, her stage get-up was a vast improvement. She sang her latest hit

Hate That I Love You

with

Ne-yo: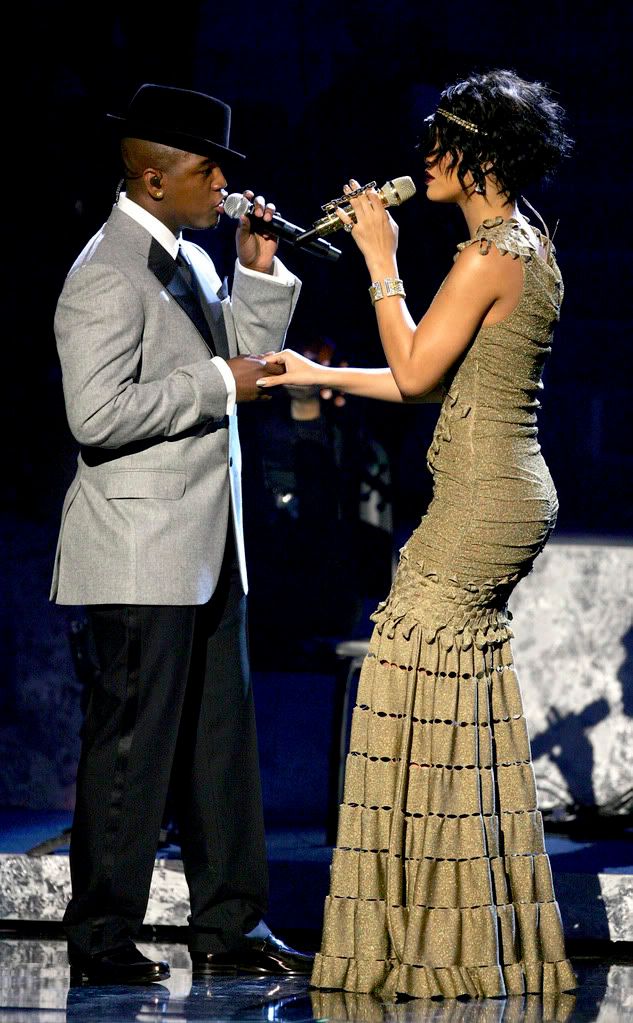 .... and won an Award for

Favorite Female Artist.

Her performance was just okay to me. There weren't much chemistry between her and Ne-yo. But I will give her much credit and say that she ALWAYS sounds like the record no matter what.
Mel B

was there too, and hosted: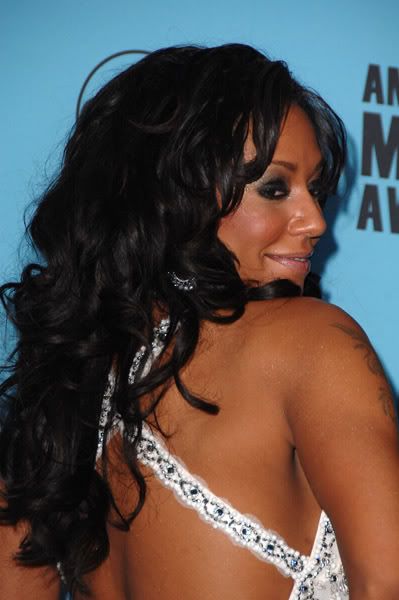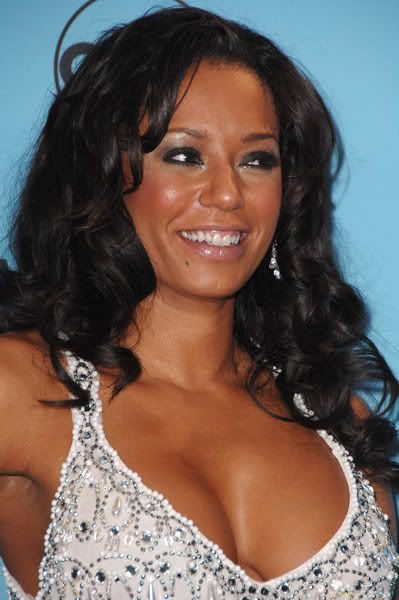 Glitter appears to be a girl's best friend.
Anyway,

Mary J Blige

also took to the stage when she performed her latest new single

Just Fine: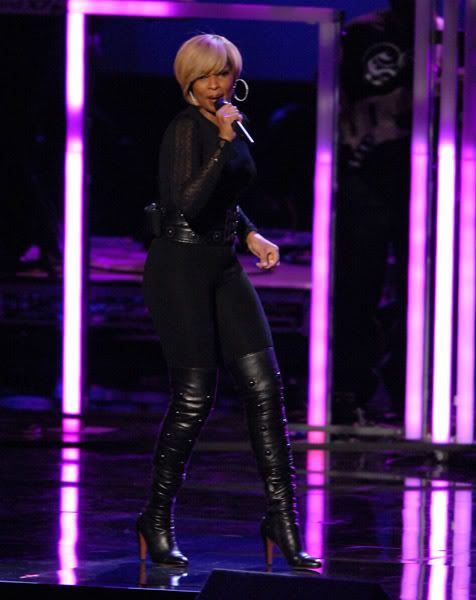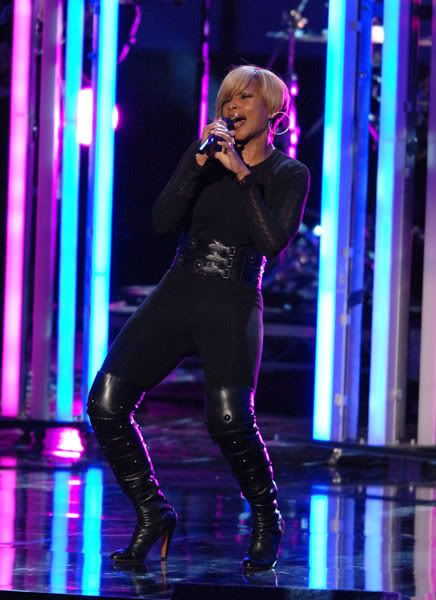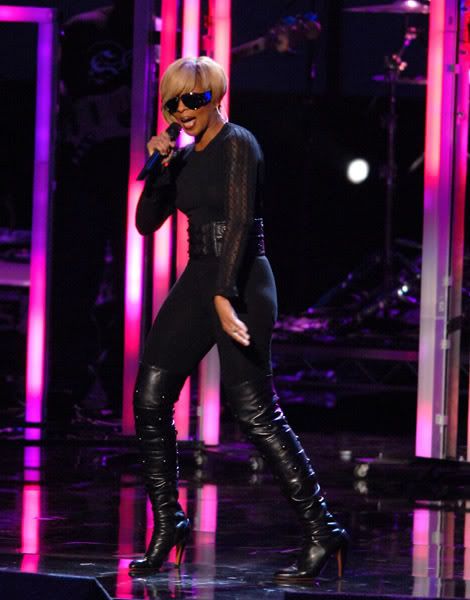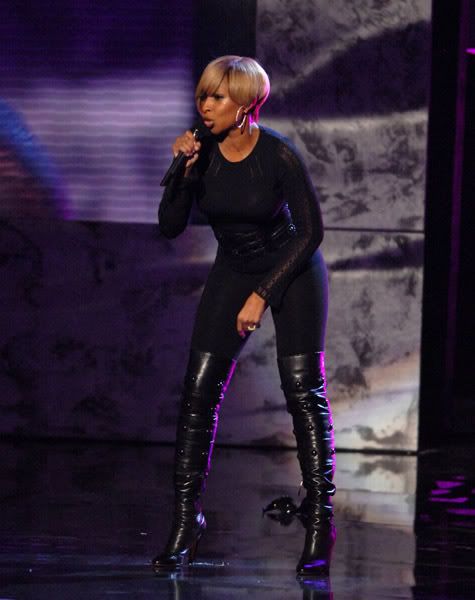 I enjoyed her performance.

Just Fine

is my muthafucking song. She was working it. She's not a dancer by any means but she was feeling her performance, also showing us that you don't need a herd of background dancers for a lively performance. She was looking a lot like her old self, which is good. But if her new album doesn't live up to the hype, her hubby

Kendu

should start slapping her about which would make up for good song content. That said, I look forwards to the album.

The Breakthrough

was hot.
Anyway, she was spotted out and about again: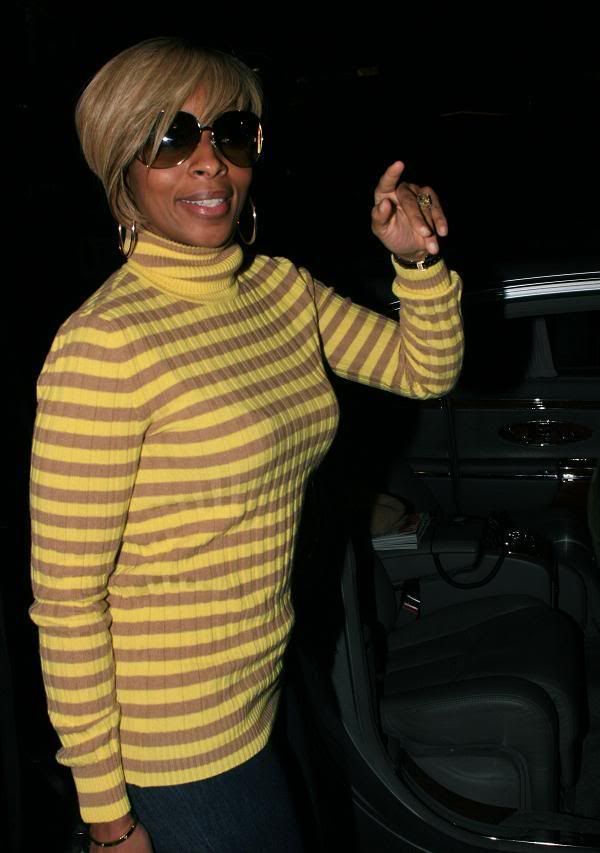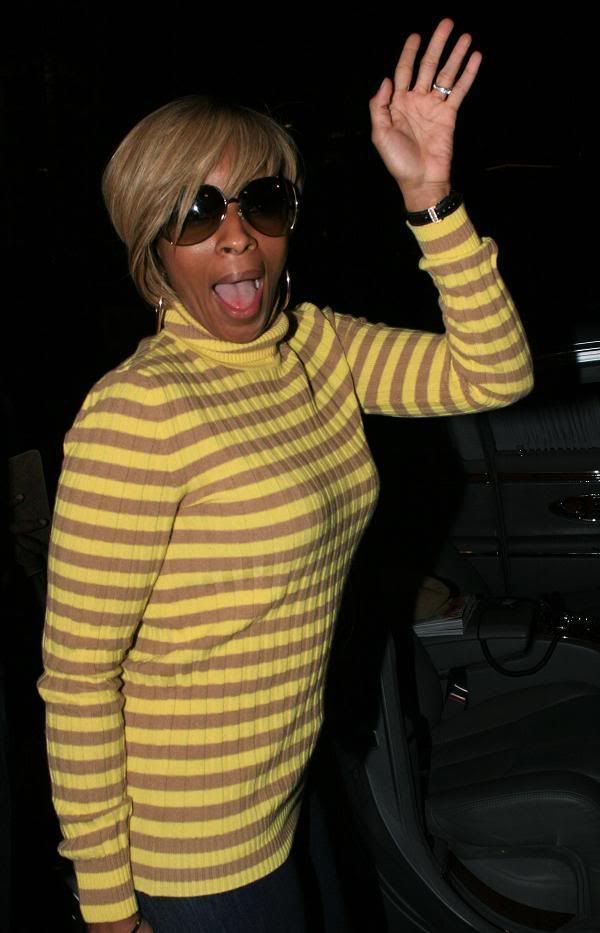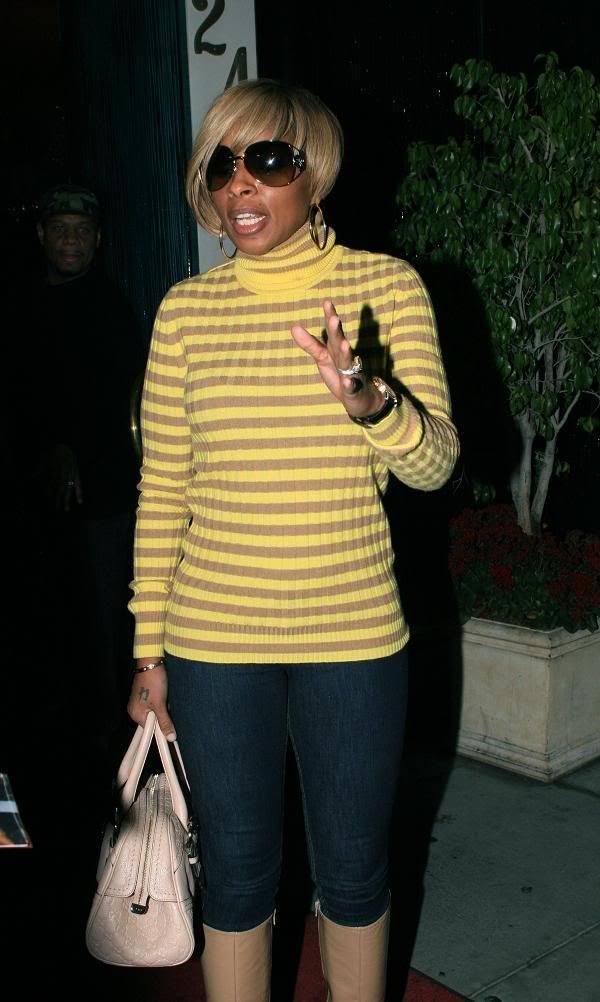 ..... looking deranged. And why does so much oil make it a habit of leaking from her pores?
Fergie

performed

Clumsy

at the AMA's: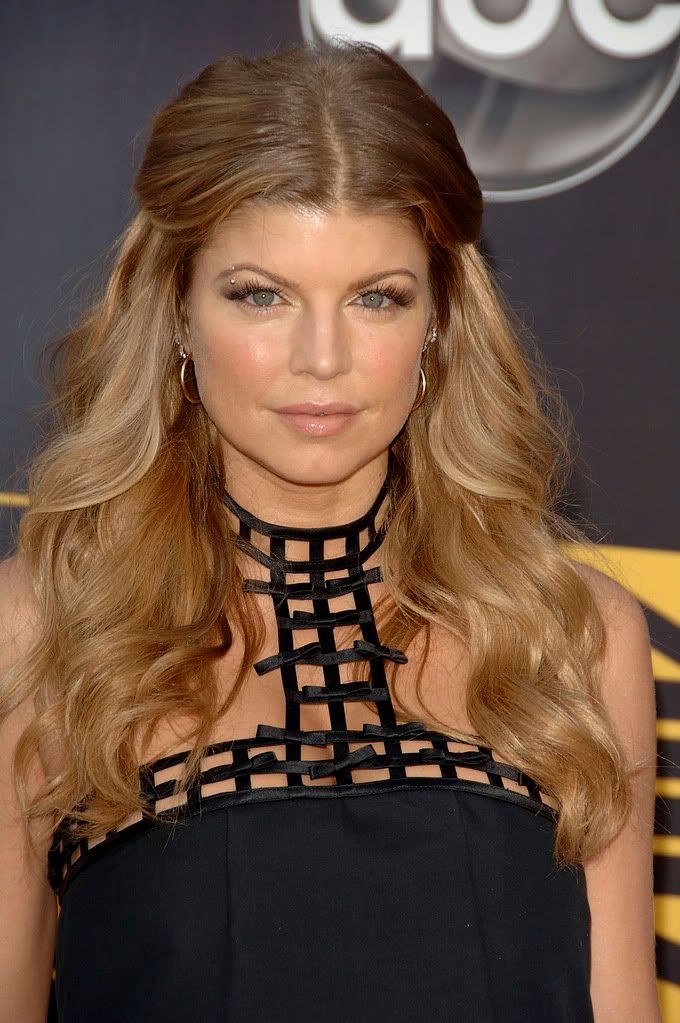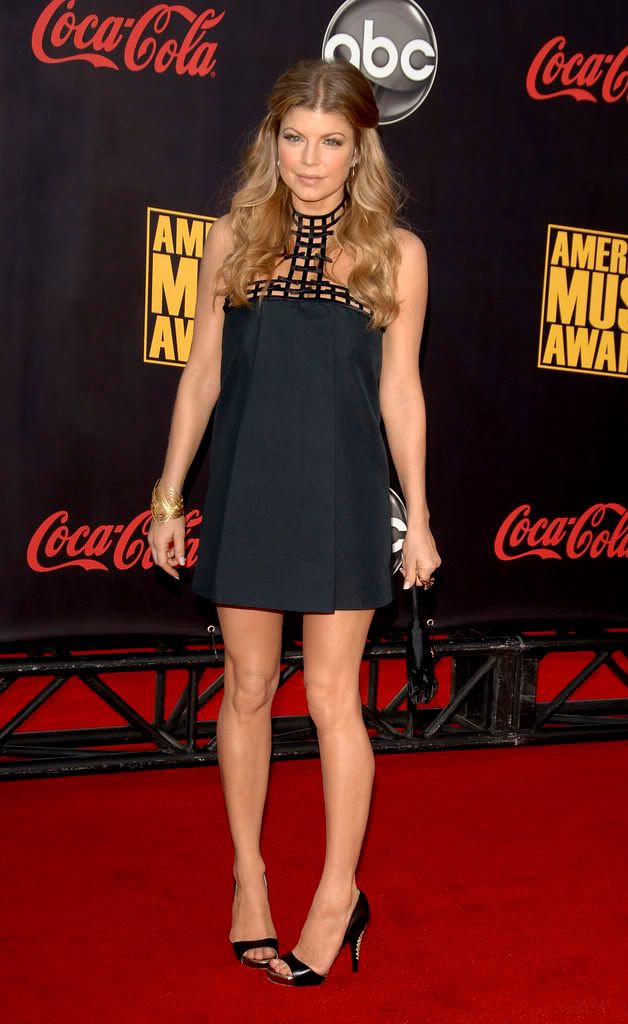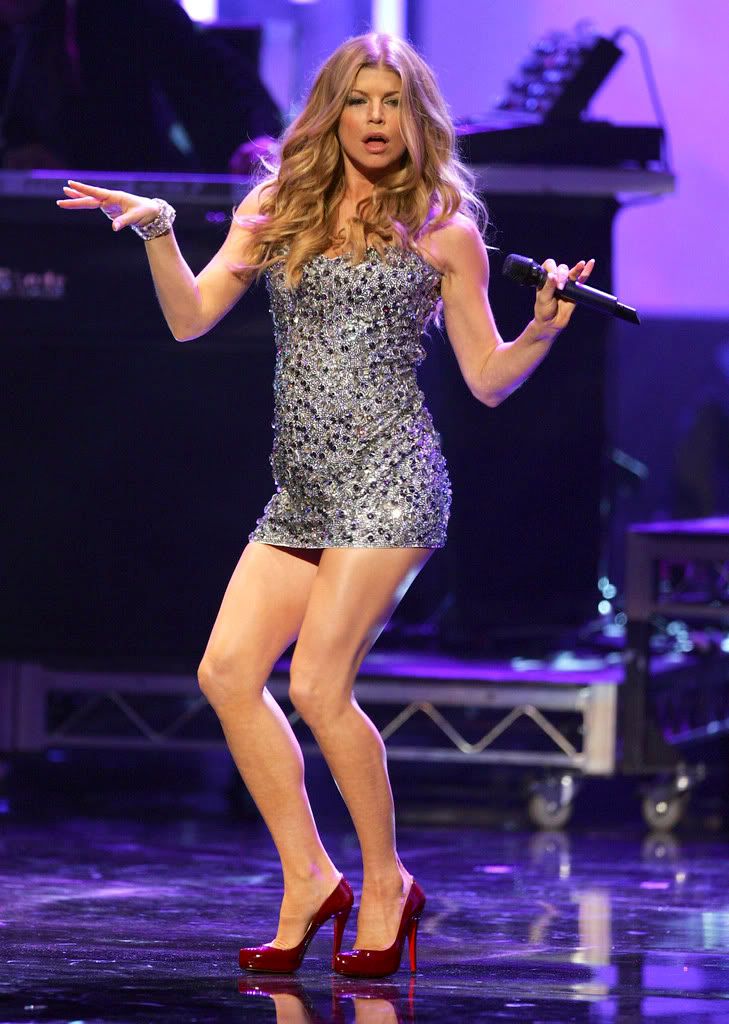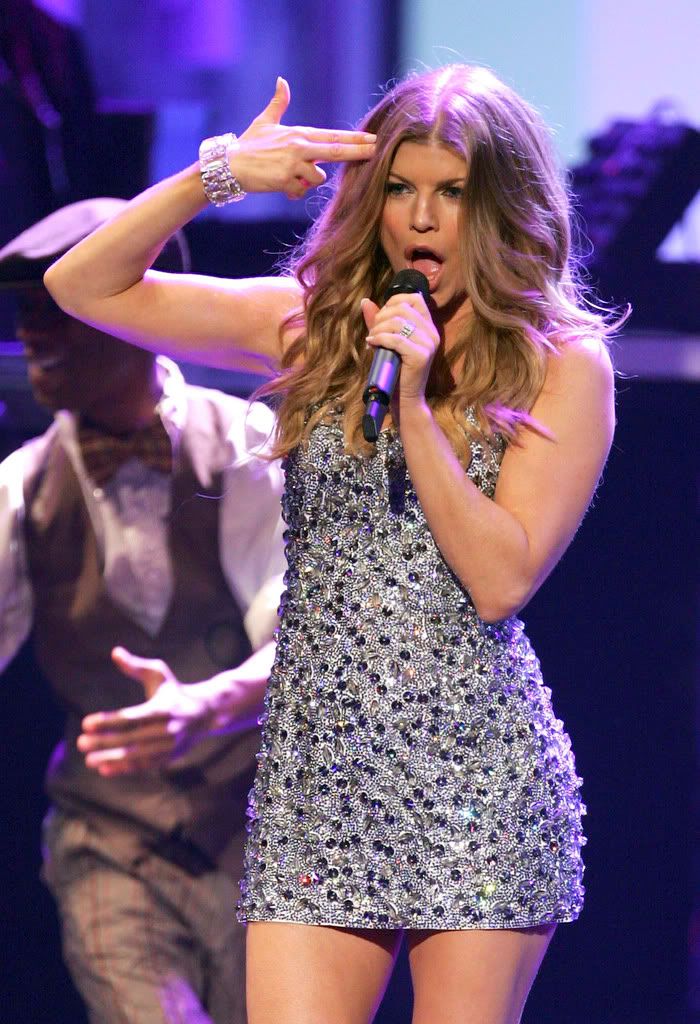 Ironic. Clumsy performance. I wasn't feeling it at all. But her face was looking a lot less meth-possessed.
Nicole Scherzinger

performed latest flop

'Baby Love':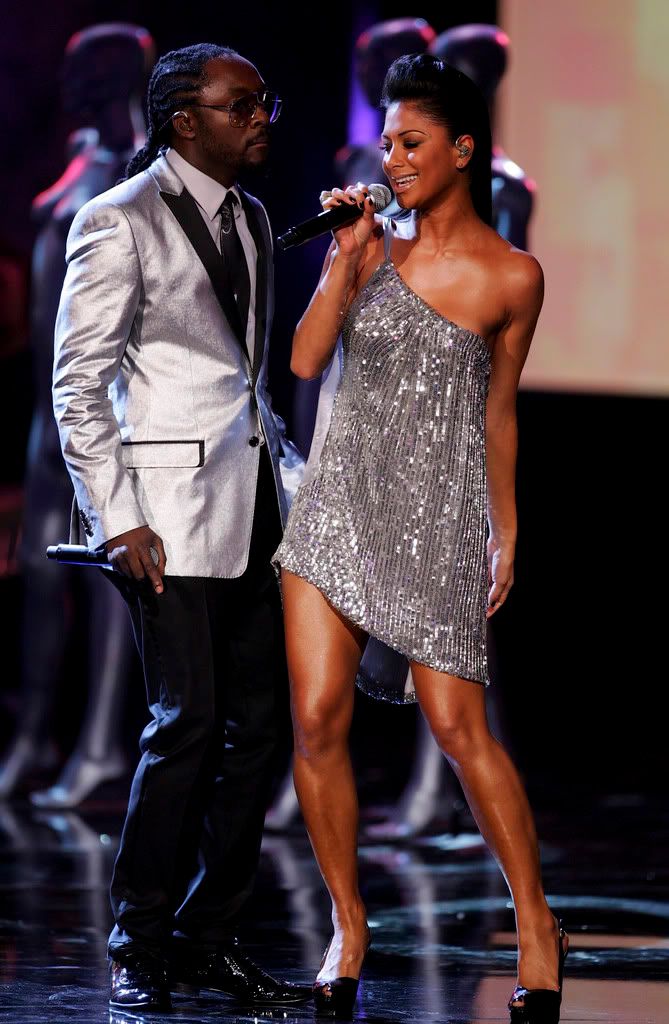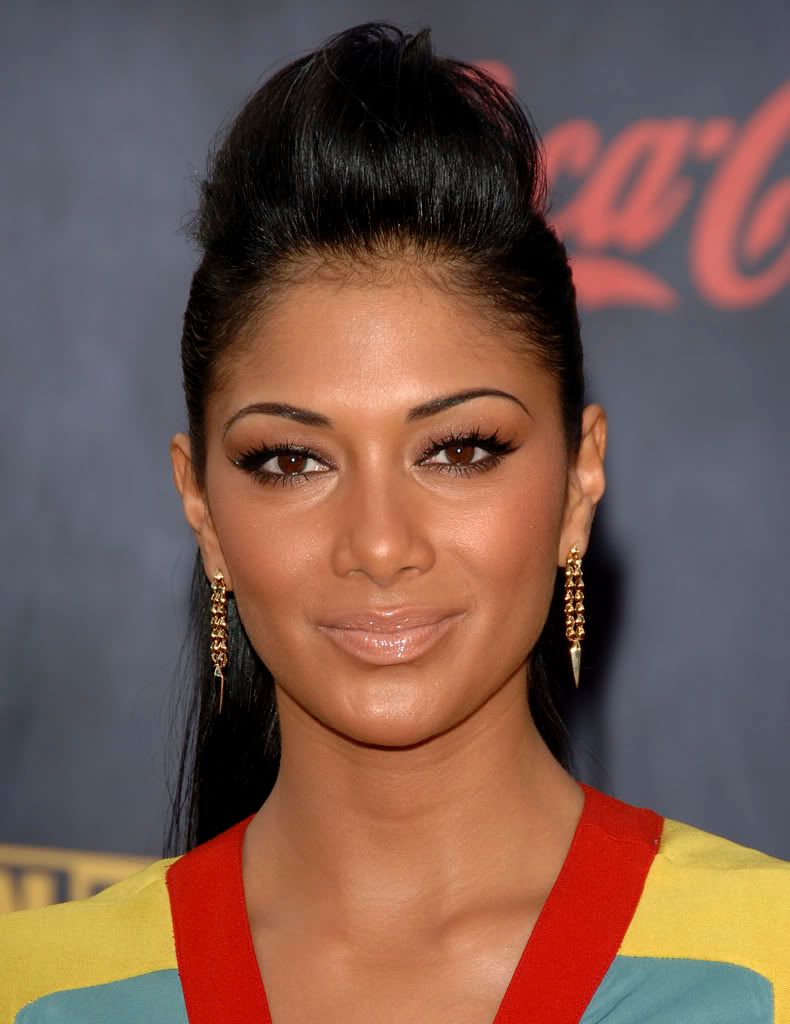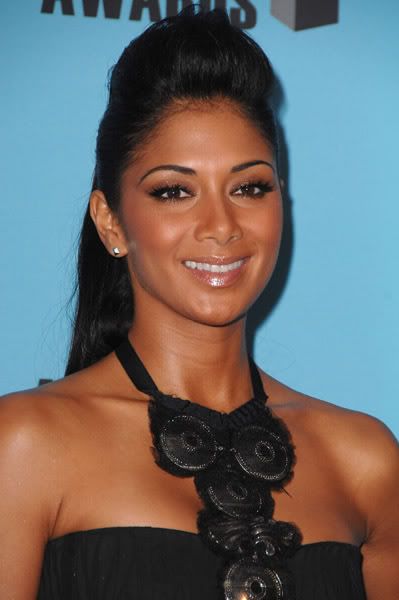 Her fashion sense was also a disaster. In fact, her whole presence was just irrelevant. Her performance bored me senseless, and her vocal wasn't hot at all.
American Idol

winner

Jordin Sparks

showed up: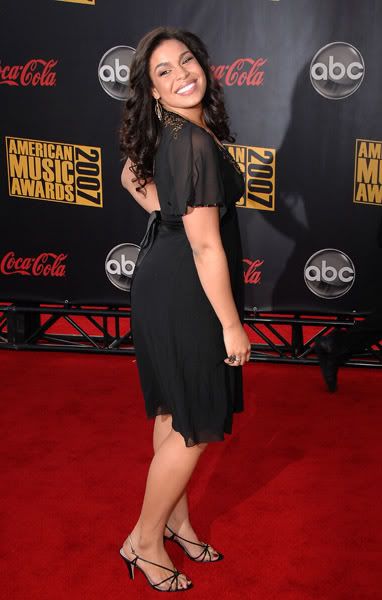 She looked nice. And I downloaded her new album, retail version, a couple of days ago and it's not that bad at all.
Alicia Keys

had a special event this weekend where she performed tracks from her new album

'As I Am'

at

Bellavardo Studios: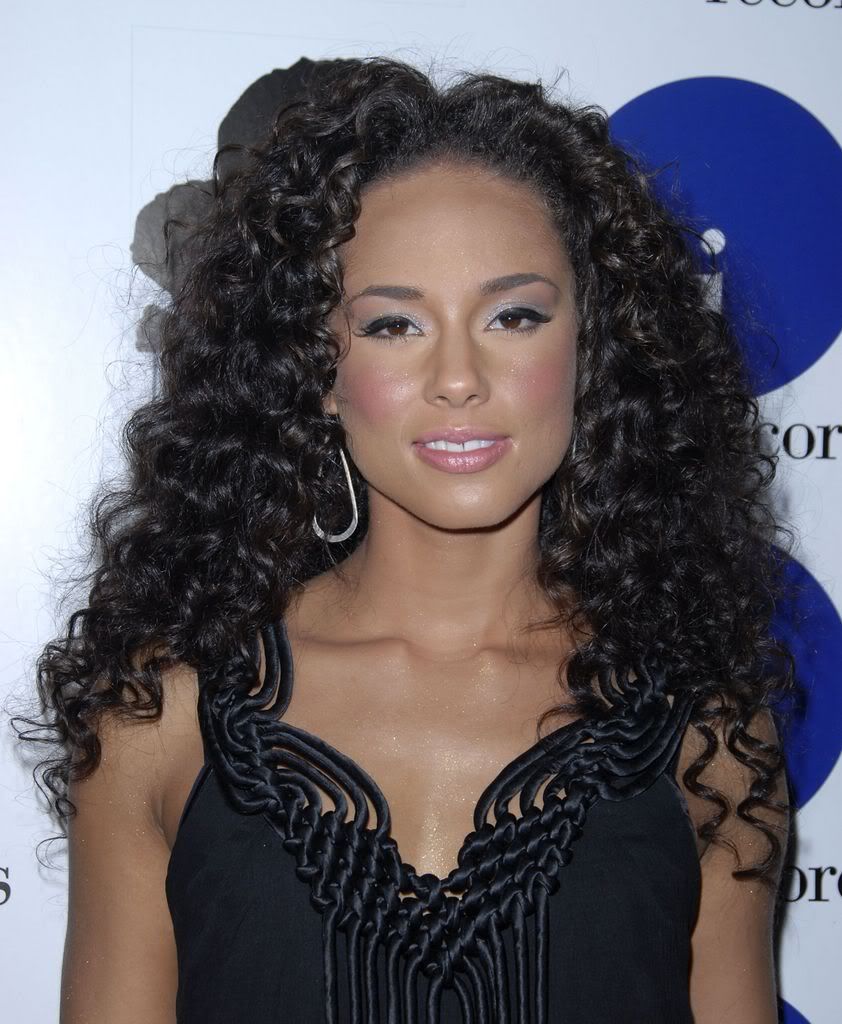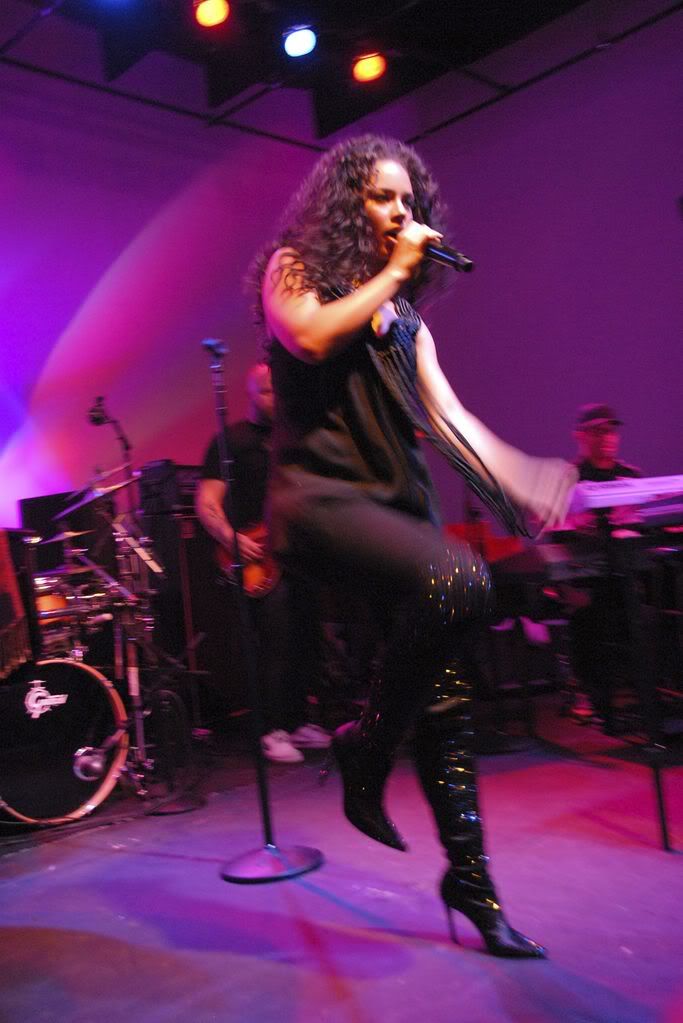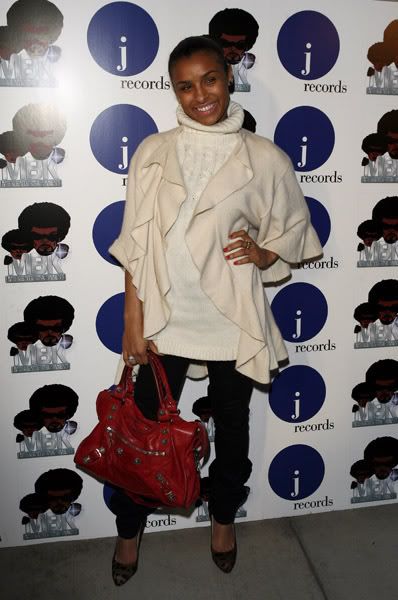 ....

Pussycat Doll

Melody Thornton

attended the event.
Former

B2K

members were spotted together this past weekend. Their music was quite a catch. I really liked their

Pandemonium!

album: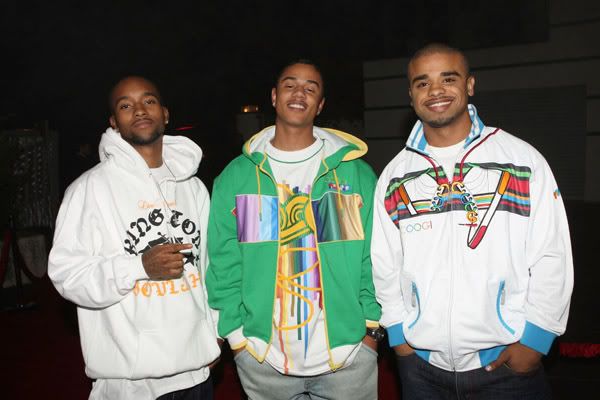 I use to have a mad crush on

J.Boog

back in the day. Now he's a father to a beautiful little girl. The guys also have a reality show called

'Life After B2K'.

Interesting.
John Legend

and his girlfriend were spotted shopping on

Robertson Blvd.

on November 18, 2007: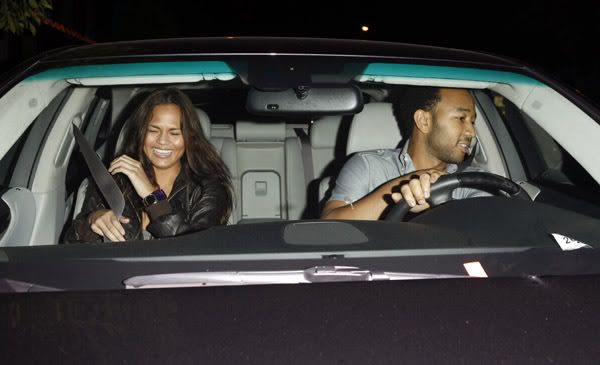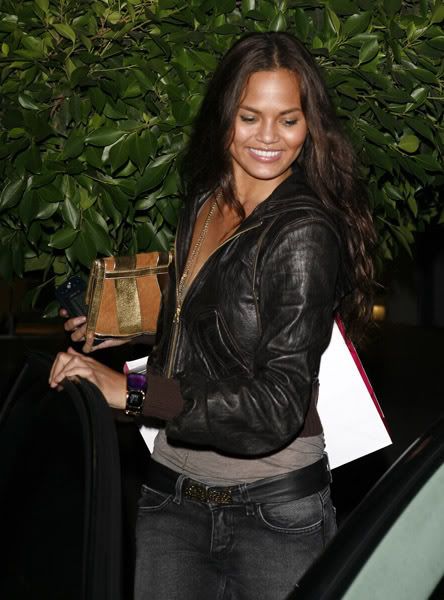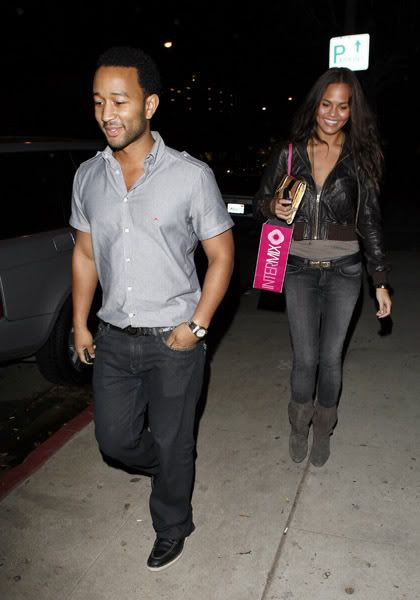 She's pretty.
Over the weekend,

Chrisette Michele

performed at

BET's Rap-It-Up and Hip Hop 4 Life Youth Empowerment Week: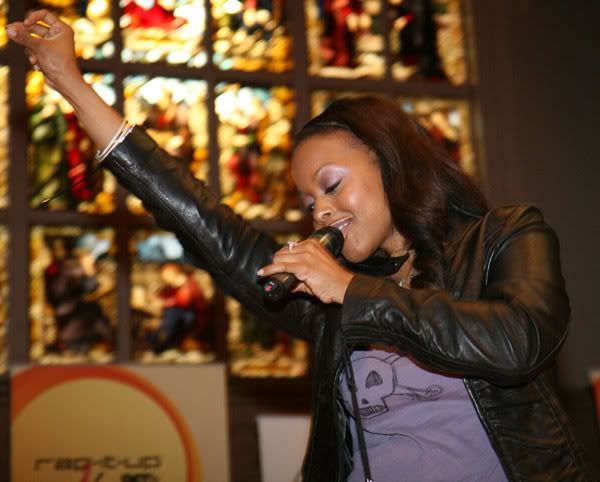 Chrissy stays doing her thang.
Amy Winehouse

is going bald. Either she's doing it herself by ripping out her hair (she's been consistent with the self-harming lately so this isn't so farfected) or she is suffering alopecia due to severe traumatic stress. The state of Amy's mental and physical health appear to worsen especially now that hubby

Blake

is in prison. Amy looked troubled as minders hustled her out of a

British Airways

airport: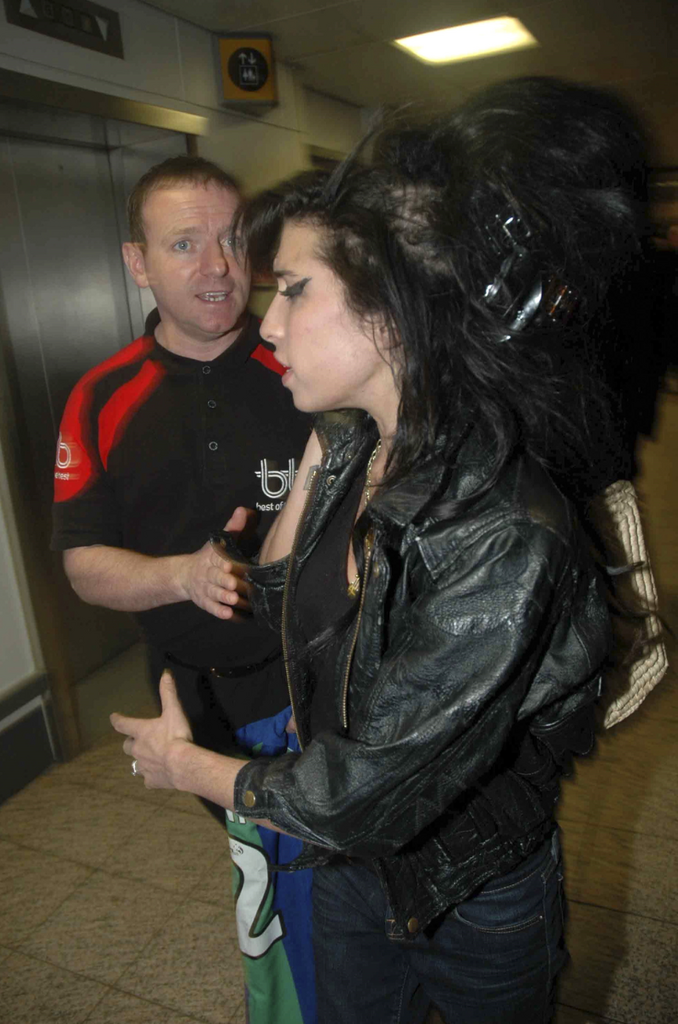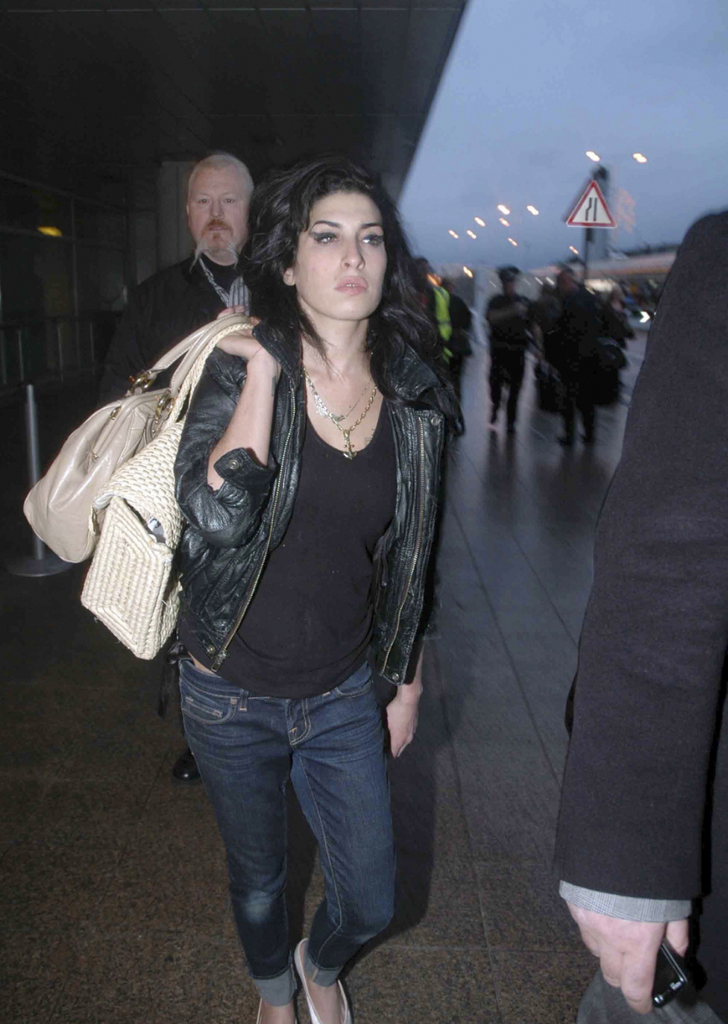 .... and when a fan asked her for an autograph, she told the girl to "fuck off". She needs help ASAP, cos it doesn't look like things will end well. Keep it locked.
Labels: ALICIA KEYS, AMY WINEHOUSE, ASHANTI, BEYONCE KNOWLES, CHRIS BROWN, CHRISETTE MICHELE, FERGIE, JORDIN SPARKS, MARY J BLIGE, MELODY THORNTON, NE-YO, NICOLE SCHERZINGER, RIHANNA, SOLANGE KNOWLES, USHER