Friday, November 23, 2007
ALICIA KEYS: WOOFIN' GIRL PHOTO SPREAD....
The gorgeous

Alicia Keys

graces the

December 2007

issue ofJapanese magazine

Woofin' Girl

and looks absolutely stunning. Check out her spread:
Her new album

As I Am

has done phenomenally. I wonder if she'll be PLATINUM next week. That will be awesome. Thanksgiving week was definitely a good move to release her album but it would have done great all the same because the production was rock solid. Have a nice weekend everyone!
Labels: ALICIA KEYS
CONTINUE READING THIS POST ....
posted by Toya @ 6:48 PM |

CELEB SPOTTINGS: R&B SINGERS OUT & ABOUT ....
Can't a chick catch a break? Every time

Rihanna

is trying to eat a light snack, the paps are always in her face. This week, she was spotted having a pre-Thanksgiving lunch, with pals at a

Hollywood

eaterie:
It also looked like she rolled out of bed. Must feel nice and free to not feel obligated to look all glammed up at every opportunity.
More flicks: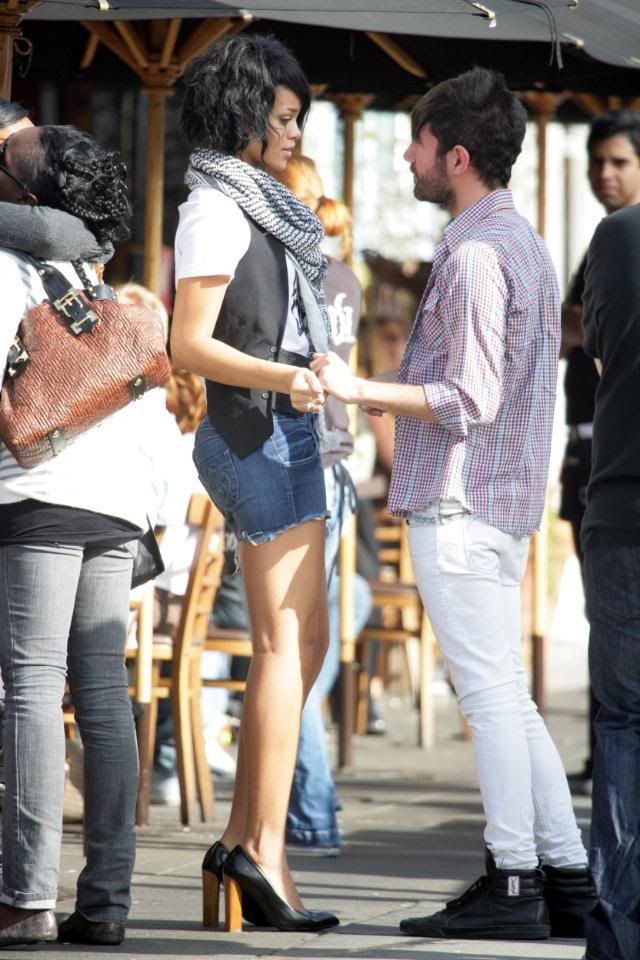 Daggone. She is tall and has great legs. Forget Amerie. It's Rihanna who should be insuring her legs. After all, Venus Breeze DID present her with the

"Celebrity Legs Of A Goddess"

accolade.



Jordin Sparks

debut album was released on Tuesday and she celebrated its release by riding in the

Macy's Thanksgiving Day

parade:




She looked adorable. I wonder how she'll do sales-wise. We will soon find out next week.



Spice Girl

Mel B

and her hubby

Stephen Belafonte

were spotted leaving an

LA

nightclub this week: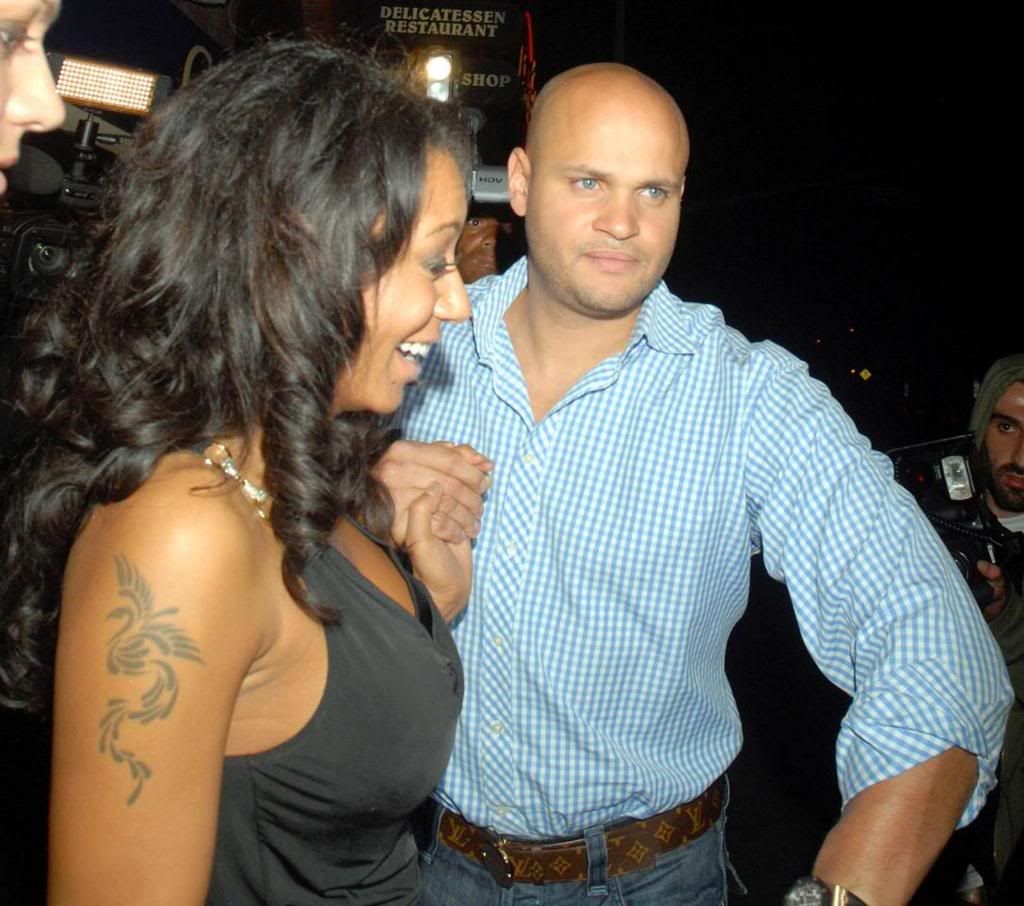 She looked fantastic. Mel has a body to die for. Reportedly, her rehearsals for the

Dancing With The Stars

final have thrown the Spice Girls tour preparations into chaos. Mel made final three after her stunning waltz and paso doble routines and scored top marks on last week's show. But because she's desperate to win the show, her dance commitments mean she won't be ready for their big comeback tour – which kicks off just six days after next Monday's final. Apparently, she is not rehearsing enough with the Spice Girls and is spending all her rehearsal time with her dance partner

Maksim Chmerkovskiy.

I hope she wins. She's worked so hard for it.



A week ago, the

Cheetah Girls

attended

Disney's

Enchanted

premiere: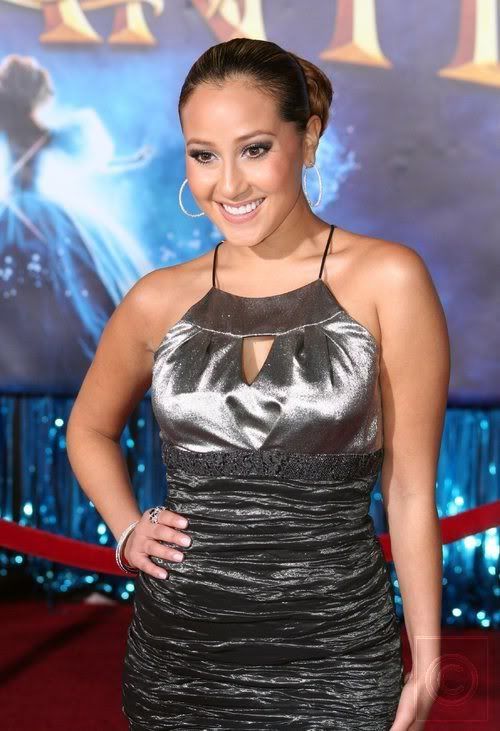 It's good they are collecting their Disney cheques and get to attend all the Disney events but isn't

Adrienne

starting to outgrow Disney a bit? She turned

24

last month. Keep it locked.
Labels: JORDIN SPARKS, MEL B, RIHANNA, THE CHEETAH GIRLS
CONTINUE READING THIS POST ....
posted by Toya @ 5:32 PM |

ASHANTI: STAR SPANGLED BANNER [PERFORMANCE] ....
Earlier today,

Ashanti

performed the US national anthem

'The Star Spangled Banner'

which took place at the

NFL Thanksgiving Game

(The Dallas Cowboys vs. The New York Jets):
She sounded terrible. Her rendition was pitchy, off-key and all over the place. She is also tone-deaf as well. Don't mistaken loudness with range because there's a difference with the two. And that last note was ear-cringing. I personally thought she did slightly better
the first time round.
Labels: ASHANTI
CONTINUE READING THIS POST ....
posted by Toya @ 5:16 PM |

Thursday, November 22, 2007
MARIAH CAREY: ON THE ELLEN DEGENERES SHOW....
As I reported yesterday,

Mariah Carey

was interviewed when she attended

"The Ellen DeGerenes Show"

on Wednesday:
She was on the show to do more promotion for her perfume

"M by Mariah Carey".

Parts two and three are after the cut.
PART TWO:
PART THREE:
Labels: MARIAH CAREY
CONTINUE READING THIS POST ....
posted by Toya @ 8:03 PM |

BEYONCE: ATTENDS DR DONDA WEST FUNERAL....
Beyonce

and her man

Jay-Z

attended the funeral of

Dr. Donda West

who was laid to rest at the

True Vine Ministries Chapel

on Tuesday in

Oklahoma City, Oklahoma
[SEE MORE]:
Other big named music stars who attended included

John Legend

and

Anita Baker

who performed at the funeral.

Kanye

wore a dark suit, dark glasses and a black glove at the service. But it was the famous faces that attracted many attendees as if they were attending a concert of some sort. One asshole who was interviewed at the event vibrantly chirped:

"I was just so lucky and excited to be in the funeral with so many celebrities".

Dr. Donda West died on

Nov. 10

in

Marina Del Rey, California

after suffering complications from cosmetic surgery, according to the Los Angeles County coroner. More flicks and Beyonce news after the cut.
KANYE was also spotted at his mother's funeral: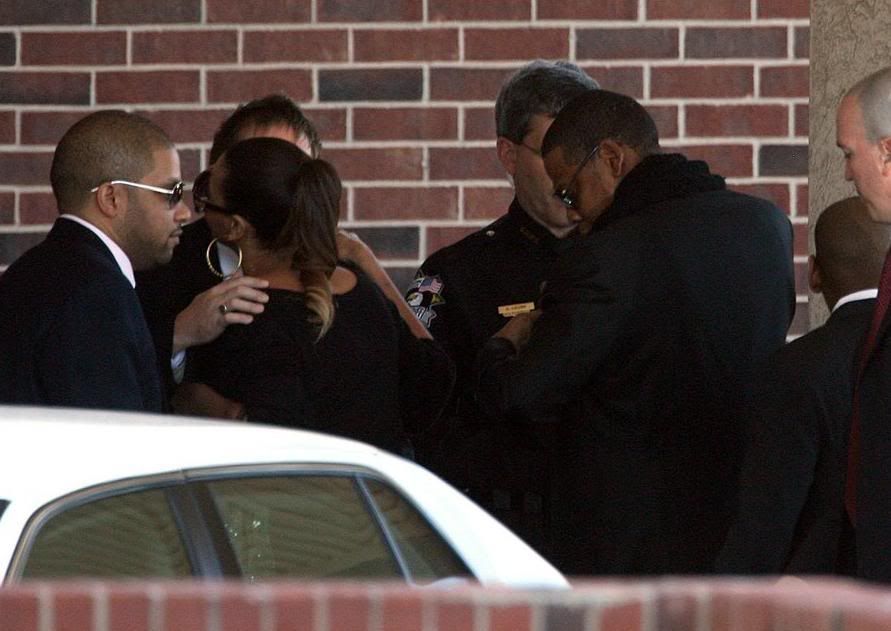 In other Beyonce news,

The Beyonce Experience

DVD was released this week, but MANY American viewers can now save their money and watch the concert for free because

BET

is airing "The Beyonce Experience" tonight on BET from

8 - 10 p.m.

for those interested. I hope someone uploads all of the concert to

stage 6

so I can download it and burn it to DVD.

Labels: BEYONCE KNOWLES
CONTINUE READING THIS POST ....
posted by Toya @ 6:16 PM |

MARQUES HOUSTON: ENGAGED TO JENNIFER FREEMAN....
According to

Bossip

and a couple of other sites, R&B singer

Marques Houston

is engaged to actress

Jennifer Freeman

of

MY WIFE AND KIDS

fame.
They were last seen last month hand-in-hand attending the
premiere for his movie 'Somebody Help Me' in LA.
Jennifer has been passed around the TUG family like 3rd hand furniture. She also dated both

Omarion

and

Lil Fizz

of

B2K.

Aw, Marques is getting the left-overs. She may be beautiful but that's not a good look Marques. I'd have said

Raz-B

is next but rumours suggest he likes cock whereas

J.Boog

is already in a serious relationship with his baby mama. But if they truly love each other, good luck to them.
Labels: JENNIFER FREEMAN, MARQUES HOUSTON
CONTINUE READING THIS POST ....
posted by Toya @ 5:17 PM |

ALICIA KEYS: BEATS MARY J BLIGE'S RECORD + MARY'S IPOD COMMERCIAL....
On Tuesday, I reported that

Alicia Keys

sold

723K

of new album

As I Am

in her first week. However, chart sales aren't finalised until

WEDNESDAY

so those first week sales weren't accurate:
The reality is that Alicia's finalised numbers have her as selling

742,000

copies (confirmed by

nielscan/Billboard

), breaking

Mary J Blige's

record for highest first week sales for a female R&B artist. I know Mary fans must be seething now that Mary has lost her record. Who knows, she may even reclaim it when she drops new album

Growing Pains

on

Dec 18.

But I wouldn't count on it. There just isn't that much hype surrounding this album like last time as much as I'm looking forwards to it. You can check out Mary's

iPod/iTunes

commercial after the cut.
MARY J BLIGE: IPOD/ITUNES COMMERCIAL:
Labels: ALICIA KEYS, MARY J BLIGE
CONTINUE READING THIS POST ....
posted by Toya @ 4:10 PM |

BEYONCE: ALLEGEDLY DECIDES TO PIMP OUT COUNTRY MUSIC FOR NEW ALBUM....
On Sunday night,

Beyonce

performed a country version of

"Irreplaceable"

at the

American Music Awards.

So inspired by the performance that she has supposedly decided to put out a country album instead. Apparently, she has decided she wants her next album to feature just country and western songs. Beyonce is reported to have contacted

Amanda Ghost

earlier this week, the songwriter behind

James Blunt's

smash hit single

"Your Beautiful"
[READ MORE]:
First it was reported that
Timbaland was to produce a large bulk of Beyonce's album.
Then it was reported that
Beyonce's new album will take the euro pop/dance route
and now Beyonce's new album will be Country one instead.
If Beyonce abandons her R&B fanbase she will fl

op. How are you going to abandon the very fanbase who put you where you are today? R&B is what Beyonce stands for. She has the voice for it and she has put out some extremely catchy R&B songs.

B'Day

wasn't as good as

Dangerously In Love

and previous

Destiny's Child

records (

The Writings On The Wall, Destiny Fulfilled

), but Beyonce has proven she can carefully put together a well crafted, infectious R&B number. Take

Crazy In Love

for instance. They still play that at the clubs, more than any of the joints on the

B'Day

album. I'm all for a light change, but I can't respect an artist who will pimp out a sound just because it's favourable especially if she's not notorious for producing music of that genre. Leave country alone to those who have a severe passion for it and for whom it suits -

Leann Rimes, Carrie Underwood,

etc.
Labels: BEYONCE KNOWLES
CONTINUE READING THIS POST ....
posted by Toya @ 2:03 PM |

Wednesday, November 21, 2007
CELEB SPOTTINGS: R&B SINGERS OUT & ABOUT ....
Last night,

Mariah Carey

did a signing at the

Glendale Galleria

in

California

for her fragrance

M by Mariah Carey: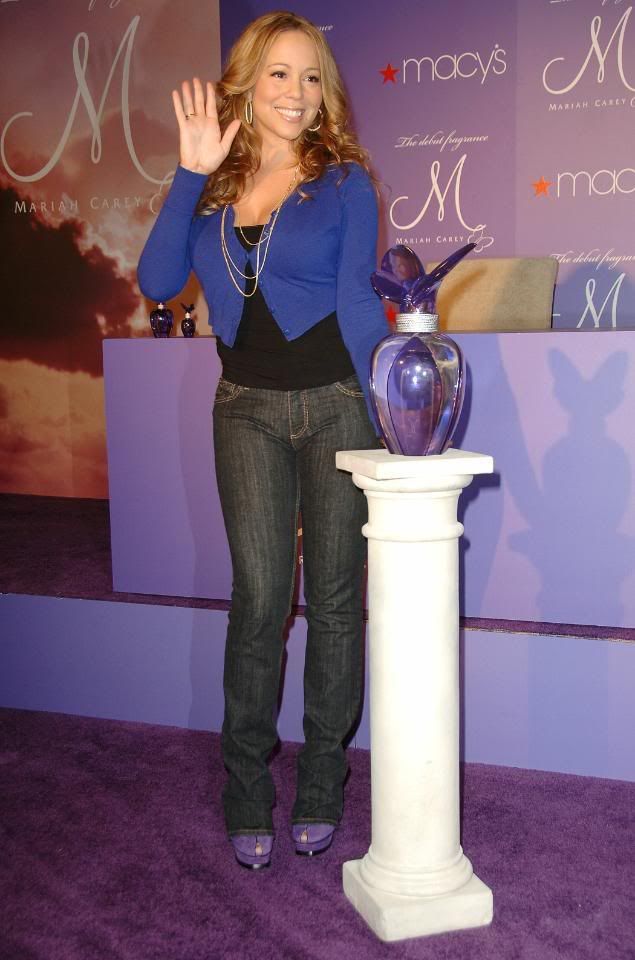 Earlier today, the super diva put in an
appearance on The Ellen Degeneres Show,
where she plugged her perfume some more. Mariah looked great. It's amazing what losing 8lb can do for someone. But more importantly, she wasn't rocking her usual hooker attire.
More flicks: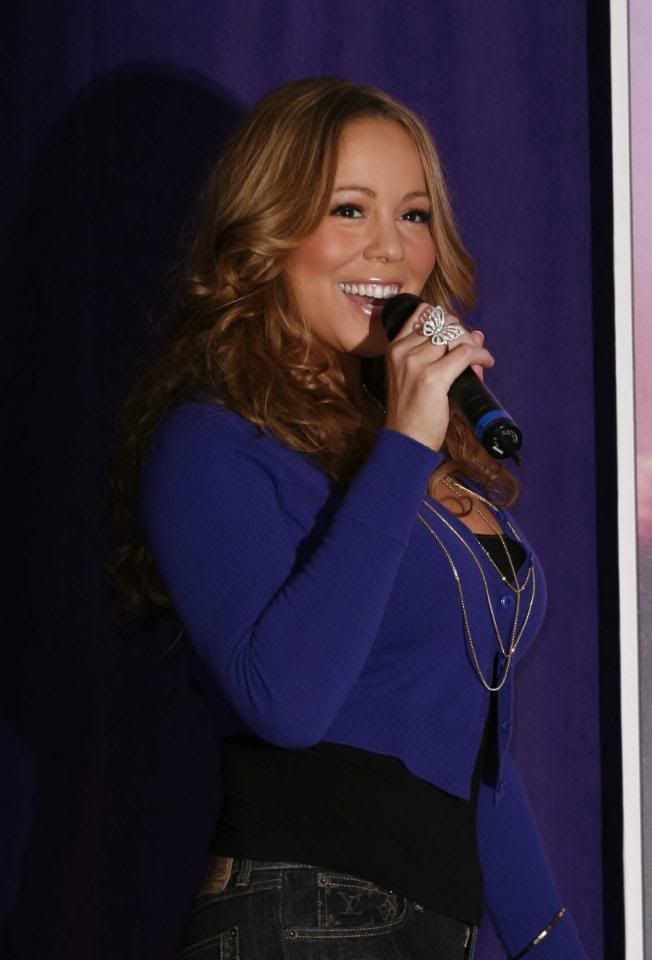 Who cares about a shoddy perfume? Everybody and their mama are putting out perfumes. I am waiting on that album.



Rihanna

was spotted out and about in

LA

doing shopping: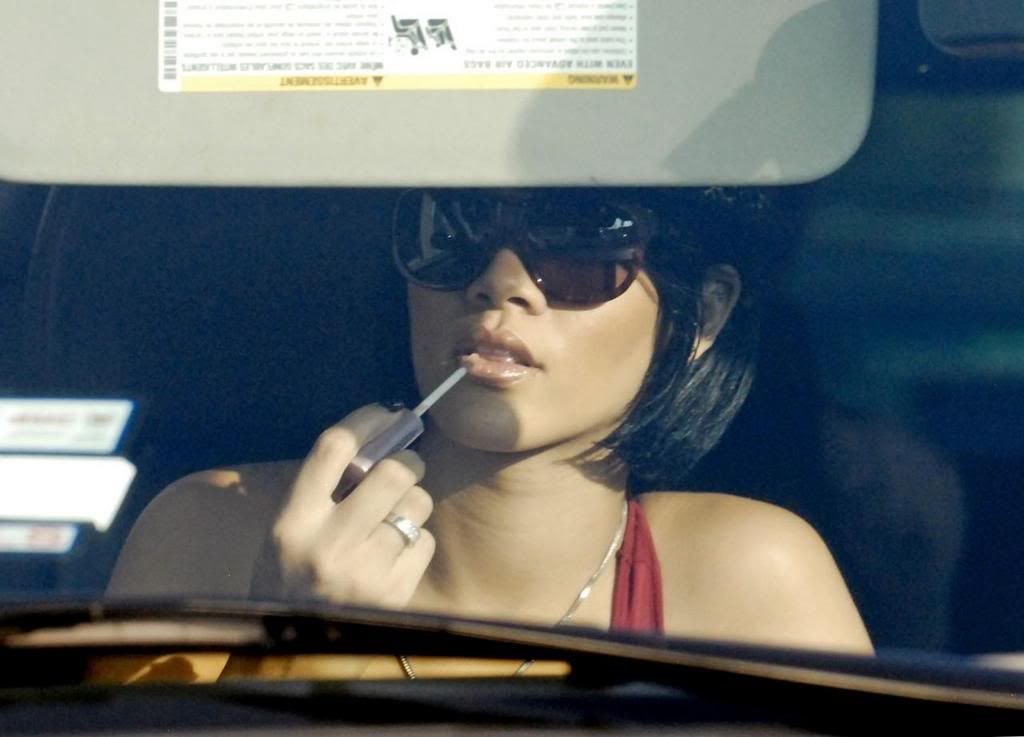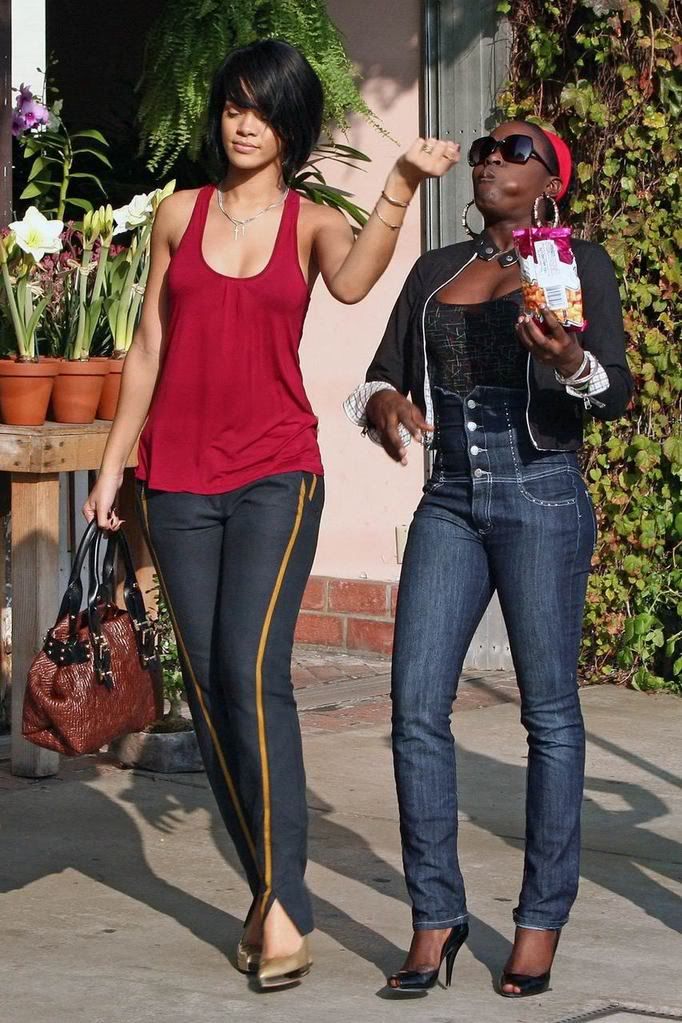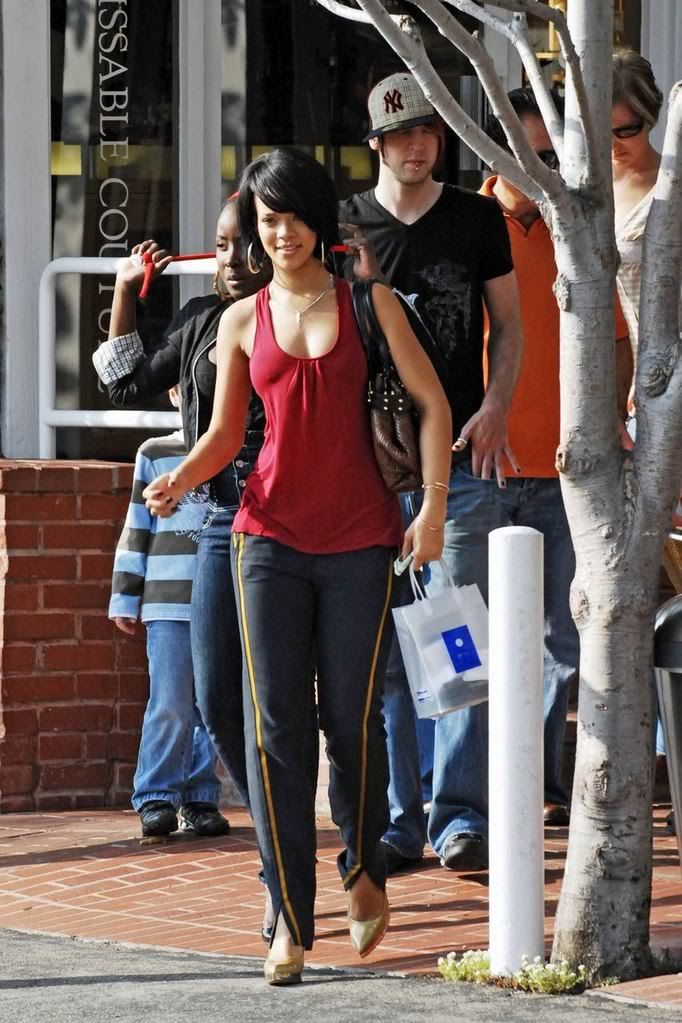 Her manager

Evan Rogers

has just announced that after

July 2008,

Rihanna will concentrate on movies. And there are two more songs to be released from her

Good Girl Gone Bad

album. Wowsers. Is she going to release every song off the album? I hope they release

Breakin' Dishes.

The Bajan beauty is currently in the middle of a European sold-out tour (yup that's right - SOLD OUT) and she is also set to visit Africa, South America and Japan early in the new year, and then do a major United States tour from May to July.


Yesterday, Alicia Keys performed to a massive 4000+ strong march down Hollywood Blvd. After selling 723K in first week sales with new album As I Am, Alicia currently has the #1 album in the country: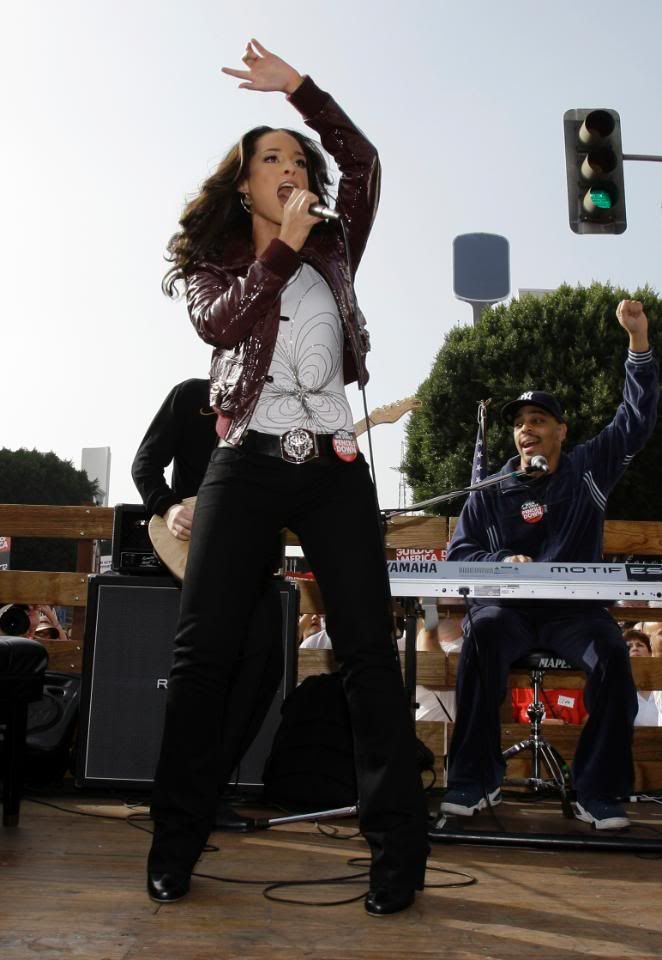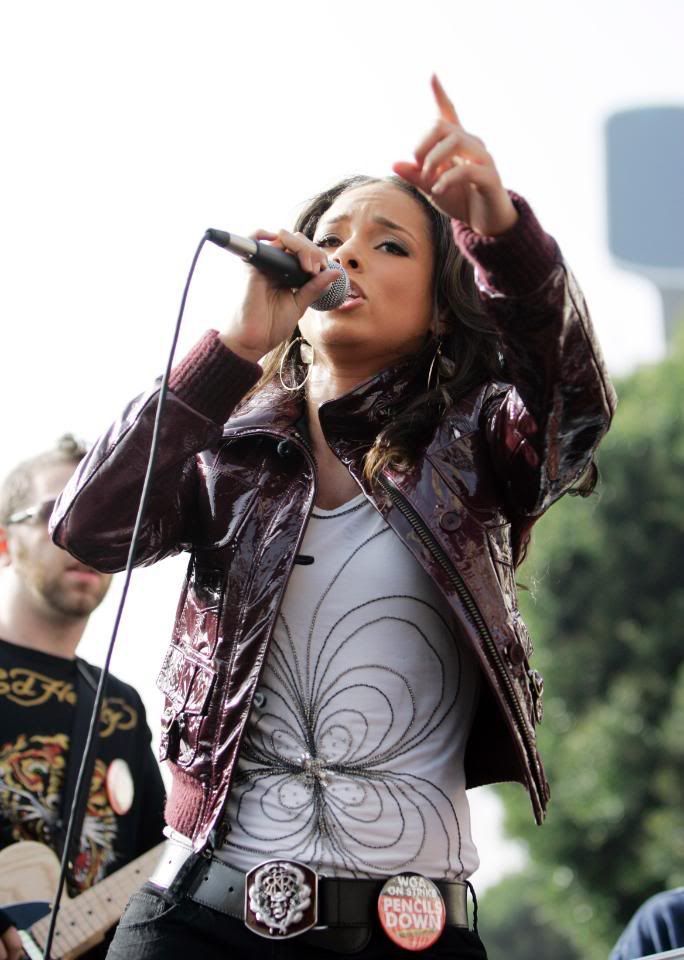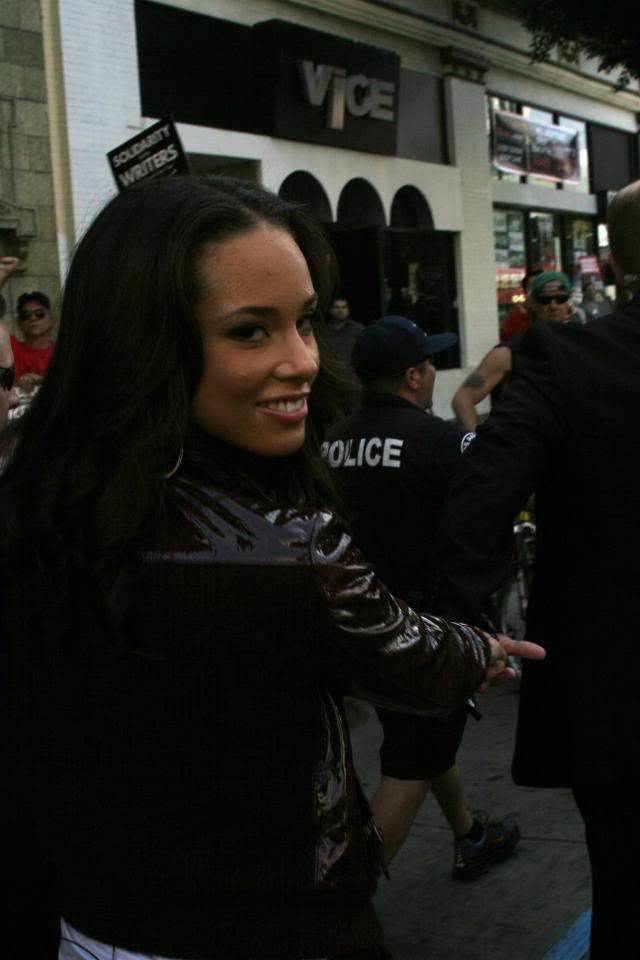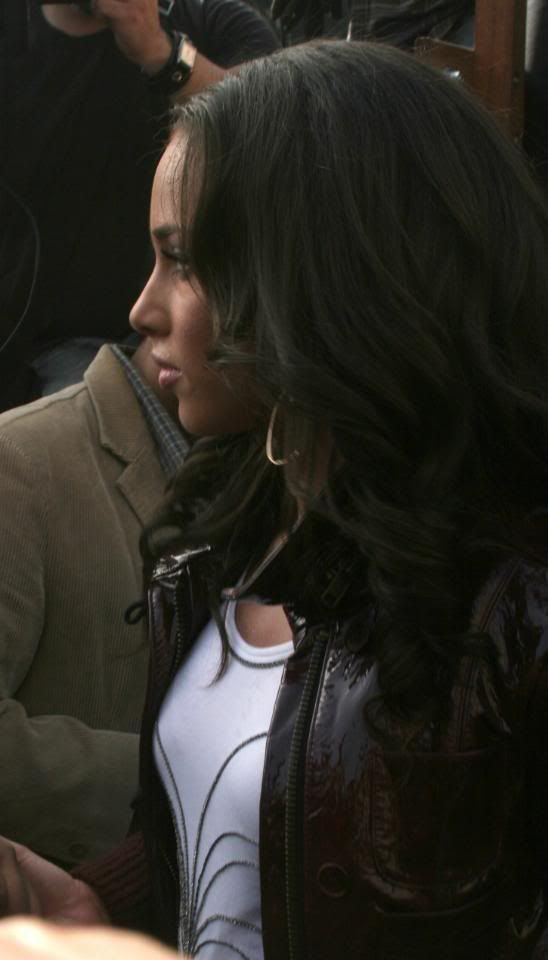 At the event, she was quoted as saying the following:

"As a SAG member and a writer, I am there to support the cause."

After performing As I Am tracks

No One

and

Go Ahead,

the red army took to the street.

Tuesday night saw

Mary J Blige

perform at the new

Nokia Theater

in

Los Angeles: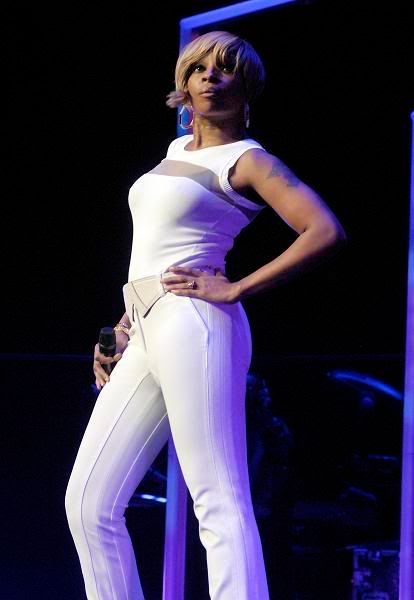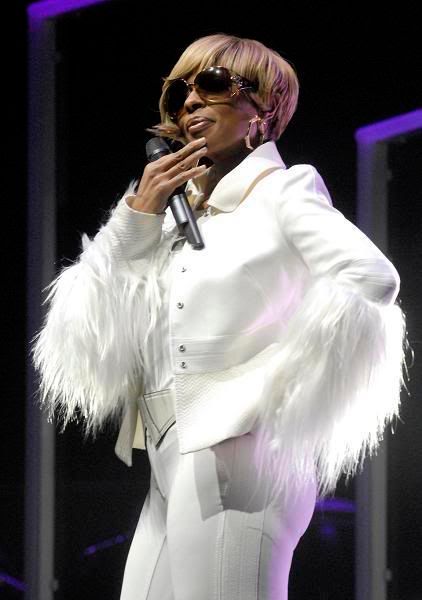 Mary is the REAL ghettofied diva and until you've challenged a journalist to a fight,

Keyshia Cole

ought to start taking some notes.

The

Cheetah Girls

attended the

High School Musical 2 DVD Premiere

on Monday: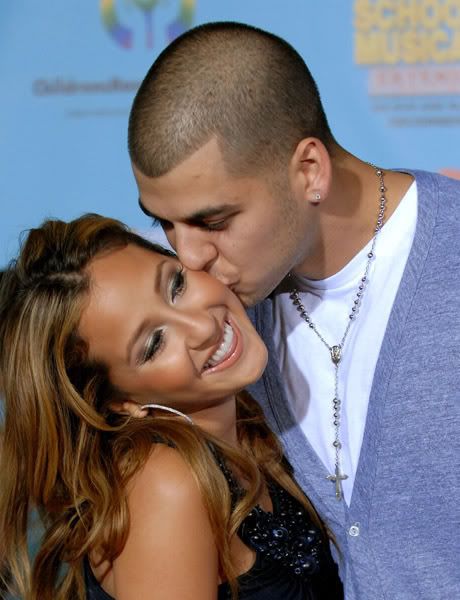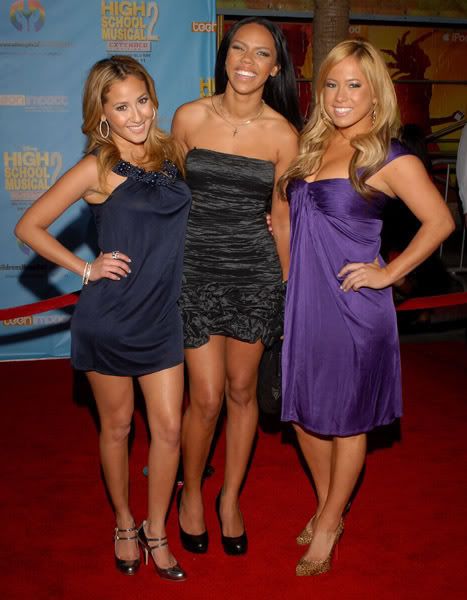 Adrienne Bailon

was spotted getting close and personal to

Kim Kardashian's

younger brother
Robert.



Christina Aguilera

did a

Britney Spears

and had a vagina malfunction when she was spotted out and about in

LA

earlier this week: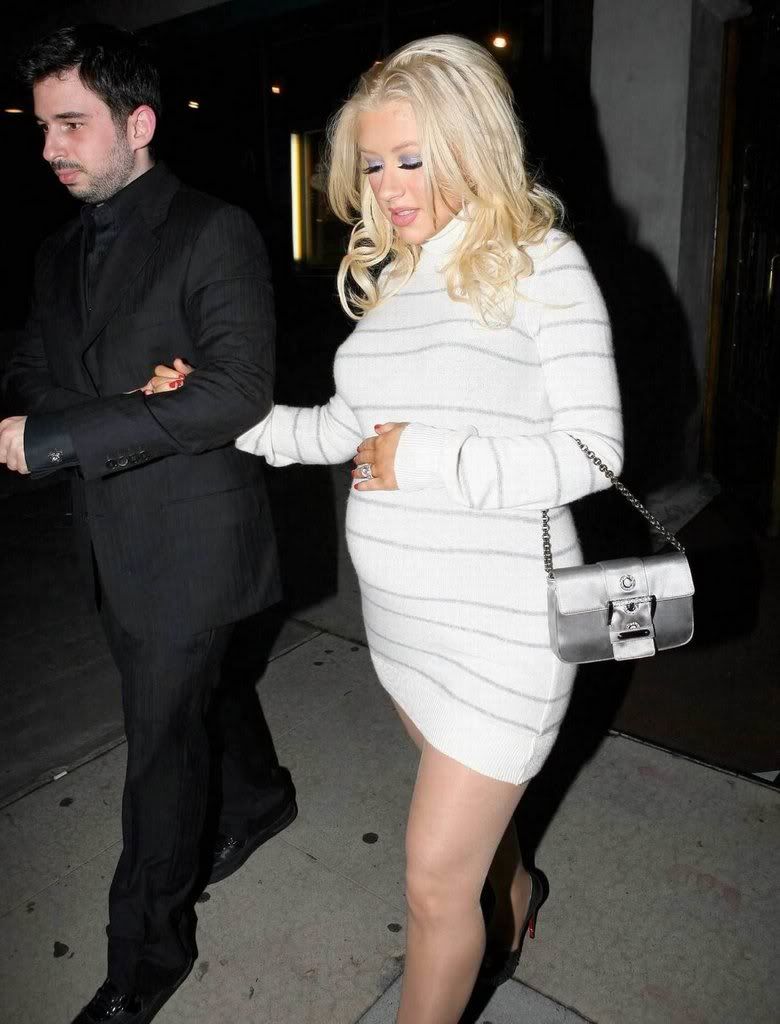 Click the pictures if you dare.

Never thought I'd see the day happen. I mean Christina was always seen as the trashy one compared to her 'innocent' rival Britney Spears and then marriage to

Jordan Bratman

made Christina turn her life around into a classy respected diva. Whilst Britney went from innocent to trailer trash, Christina went from trailer trash to class act. I guess pregnancy makes her miss her scandalous moments. Oh well. And she was doing soooo well. Stay tuned.
Labels: ALICIA KEYS, CHRISTINA AGUILERA, MARIAH CAREY, MARY J BLIGE, RIHANNA, THE CHEETAH GIRLS
CONTINUE READING THIS POST ....
posted by Toya @ 8:03 PM |

Name: Toya
Home:
About Me:
See my complete profile


SUBSCRIBE TO MY RSS-FEED:

Contact Me
Email: toyasworld2007@yahoo.com
Navigation
DONATE TO THE CAUSE:
R&B Hotness!
Previous Post
Archives
Shoutbox
Fansites