Cutie

Chris Brown

attended the

Freedom United Launch Party

album last week and OH NO,

Superhead

has named him as one of her bedroom conquests in her new book. Read on .....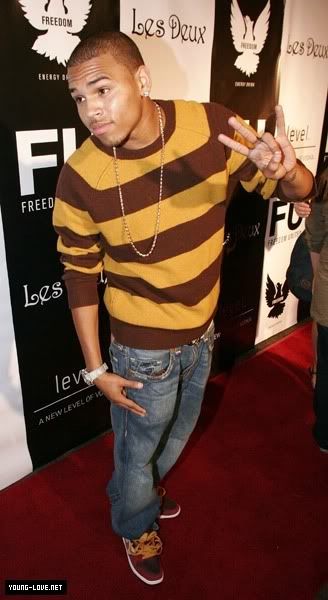 Here's how Superhead describes what she thought of Chris the first time they met:



He is beautiful and tall, with a smile that would melt any girl's heart, but he is young, very young. As we were being introduced in the midst of a crowded room, eyes on us, I was afraid to look at him. He had an air about himself that I couldn't comprehend. For someone so young, he carried himself like an experienced man … The young man had class and smarts - and by the end of the night, he had me.



Here's how she described their first night together:



He planted his lips on mine, and his sweet kiss extinguished my fight as I lay on my back, inviting him to mount me, to make love to me, to make it impossible to do without him from this night forward.





Slow and sensual, he moved inside me. Then I rolled on top of him, surprised by his size, unwilling and unable to handle it all. Our eyes were locked and fixed on each other as we explored each other's bodies and needs; I felt him and he felt me, and then it was over.





*GASP!*



He needs to RUN IT to the nearest STD clinic and get his dick tested ASAP!!! Not a good look for Chris Breezy. Can't believe he'd be so foolish to sleep with Superhead of all people. What the fuck was he thinking?

Last but not least,

J. Holiday

had an album release party for new CD

Back of My Lac

last night which dropped yesterday:




His new girlfriend model

Jessica White

(above) was also in attendance as well as Estelle and former American Idol cutie Jared Cotter. And speaking of Jared, he has a new job in presenting now. This week, he interviewed

Omarion

on

The Fuse.



Check it out:





Interesting. Stay tuned.