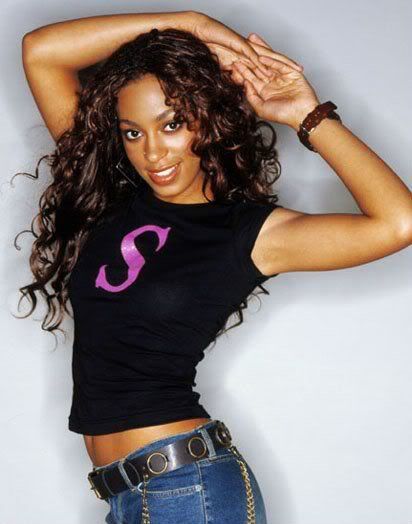 Beyonce's

lil sis

Solange Knowles

spoke exclusively with

ESSENCE

about her new album, her famous sister, plastic surgery (which she denies having) and motherhood.
And shockingly, she admits to DIVORCING

Daniel Smith,

the father of her 3-year-old son

Julez.

It's about time she set the record straight although it was painfully obvious from day one. She married and got pregnant at 17 so things were only set to go down hill from there. Although she denies the rumours that her father paid Daniel $1 mill to marry her, I DO believe he was put under pressure to make her his bride because

Tina

and

Matthew Knowles

believed it brought lack of integrity to the family name having an underaged daughter getting pregnant without being made an honest woman.
But what's also good to know is that as a young woman she stays grounded and levelheaded as well as civilised regarding her split with Daniel. They remain good friends and she deeply values her son's feelings and welfare since she's compromised with her baby's father that they both bring him up together. This is great because there are so many single mothers out there bringing their kids up alone. Some would say not all single mothers are as filthy rich or have the same privileges that Solange has but on an emotional level, all kids need both their parents regardless.
And as for the new album, she reveals that she's written most of it herself. She's worked with R&B singer

Bilal,

rapper

Q-Tip

and

Marsha Ambrosius
from
Floetry.
The new album is called

Solange & The Hadley Street Dreams

and she describes the musical direction as

"a melting pot of old sixties and seventies soul mixed with electronica".

The new album is expected to drop in the early quarter of 2008. Interesting, because Beyonce is also dropping an album next year as well.
TO READ THE FULL INTERVIEW, CLICK HERE.
Labels: SOLANGE KNOWLES