Tuesday, October 09, 2007
ASHANTI: AMERICAN MUSIC AWARDS NOMINATION ANNOUNCEMENT....
Ashanti

attended the

American Music Awards

nomination announcements, in Beverly Hills which took place today and she looked fantastic: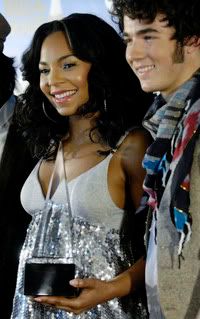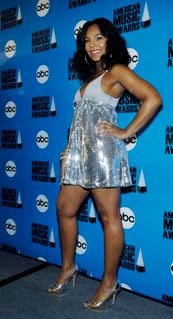 Justin Timberlake

and

Beyonce

(surprise surprise) led nominations for the 35th annual American Music Awards, which for the first time will allow members of the public to pick the winners, according to organizers earlier today. Timberlake and Beyonce will go head to head for favorite

soul/R&B album.

The Awards ceremony will take place at the brand new

Nokia Theatre

in downtown Los Angeles and will air

November 18th.

To see the full nominees list
CLICK HERE.
Confirmed performers include

Fergie

and

Rihanna

but a full line-up will be announced shortly.
In other Ashanti news, she has finally wrapped up the video over the weekend for her new music video

"Hey Baby (After The Club)"

featuring

Mario Winans.

The video was shot in Los Angeles with famed director Hype Williams during October 5 & 6. This will be Ashanti's 1st Single to her new CD "The Declaration", due December 18 (Universal). Though details of the video are being hold under wraps for production, it was confirmed that both Mario Winans, Diddy and a couple of other celebrities will have cameos in the music video and that the video is very different & sexy. Sources says the video will be sure to put Ashanti back on the map. The video is set to premiere at the end of the month.

NEWS SOURCE: DAILY ASHANTI

Labels: ASHANTI
posted by Toya @ 11:53 PM

|
Name: Toya
Home:
About Me:
See my complete profile


SUBSCRIBE TO MY RSS-FEED:

Contact Me
Email: toyasworld2007@yahoo.com
Navigation
DONATE TO THE CAUSE:
R&B Hotness!
Previous Post
Archives
Shoutbox
Fansites