Friday, August 31, 2007
BRITNEY SPEARS IS GOING HEAD TO HEAD WITH ALICIA KEYS....
Oh hell. This is going to be ONE HELL OF A CHART BATTLE. Much better than the current

50 Cent

and

Kanye West

chart battle. It has been announced today that

Britney's

as-yet-titled album is dropping

13th November 2007.

You hear that folks?
This is getting mad exciting. She will be competing with

Alicia's

As I Am

for the no 1 spot. So who do you think got this? And here's what will go down in Britney's VMA performance: The

New York Daily News

reports that

Criss Angel will guide the pop starlet in and out of a series of mirrors, making it seem as though she vanishes and then reappears several times, a source told the Daily News yesterday. Other dancers in the complicated number are being called upon to harness up for simulated flight, the source said.

And according to
Mediabase,
which monitors airplay, her new single

Gimme More

is already the

#80

song in America. That's crazy!!! Let the fierce battle commence!
Labels: ALICIA KEYS, BRITNEY SPEARS
CONTINUE READING THIS POST ....
posted by Toya @ 8:43 PM |

TODAY'S R&B CELEB SPOTTINGS ....
It's been quite a slow day for these latest R&B celeb spottings. I've been jamming like mad to the leaked

Kanye West

album - the dirty version. Good shit. I didn't even bother download

50's.

I'm sure my brother may want it but since he hasn't requested it then I won't even bother waste my hard drive space *lol*. Anyway, let's press ahead with this. On

28th August

Kelly Rowland

was spotted in the audience watching the tennis game at day three of

The US Open 2007

at the

Arthur Ashe Stadium

in

New York City:
But hell, forget about Kelly. The main question is, who is that fine ass dude that is sitting next to her? The former

Destiny's Child

singer is set to premiere her video

"Ghetto"

on

10th September

of next year. OK, I keed. But she will be premiering it in two weeks (hopefully) and even then, we shouldn't hold our breath. It's taken

7 months

for Kelly to get a second video and if this isn't the wake up call that Kelly needs, then what else can I say?
Mel B

and her hubby were spotted out twice in

LA

this week:


Mel hasn't received this much attention since her

Spice Girl

Wannabe

days. You know she gotta be glad as hell.


More pictures of

Beyonce

and

Jay-Z

at the

United States vs Uruguay basketball tournament

in

Vegas

this week:


As I said, slow news day. And I thought I may as well post the better quality versions since they came through. Stay tuned.
Labels: BEYONCE KNOWLES, KELLY ROWLAND, MEL B
CONTINUE READING THIS POST ....
posted by Toya @ 7:40 PM |

KEKE WYATT: MY WHITE MAMA USE TO CALL US NIGGA'S....
Keke Wyatt

is another one about to spew up more controversy. Not content with attacking

Beyonce

in her
ALL HIP HOP INTERVIEW
courtesy of being "just as yellow" as Beyonce and a "better singer" than the queen herself, the R&B lass yet dishes out some more shock quotes in her latest interview with

Essence.
In the interview Keke talks about her upcoming album

Ghetto Rose

and what we should expect from it as well as the incident at Christmas 6 years ago when she stabbed her husband in the neck. But a part of the interview that will have you raising your eyebrows is the bit where she says her white mama use to call her and her brother nigga's when they were younger - in fact, she used the word so much, they started to believe that it was their actual name. When she told her mama she can't be using the word, her mama replied:

"I don't give a damn. I say what I want to say. N---a ain't no color, it's an ignorant person".

I wonder if she had pure white children, would she have called them "nigga's". The 25-year-old also disparages at being compared to

Tiger Woods

but yet felt the need to split her blackness by ratio, which she claims is

25%.

I am at a loss for words, mainly by the comments about her mama and the "nigga" situation. And she also claims not to be affected by the n-word and that "nigga" only stands for ignorance. So much for being a true

"soul sista".

You can read the whole interview
HERE.
Labels: KEKE WYATT
CONTINUE READING THIS POST ....
posted by Toya @ 11:00 AM |

BRANDY: COMIN' OVER [NEW TRACK]....
Brandy

is featured on a new track called

Comin' Over.

She collaborates with unknown/upcomin' artist

Brutha:
It's okay. I wasn't even going to post this but again, it's something to tide us all over until her comeback next year. I am mad those latest Brandy snippets have not leaked yet.
Labels: BRANDY
CONTINUE READING THIS POST ....
posted by Toya @ 9:35 AM |

RIHANNA: ON THE SET OF "HATE THAT I LOVE YOU"....
Here are some pictures of

Rihanna

on the set of her new video

"Hate That I Love You",

her 4th single from her latest

Good Girl Gone Bad

album:
The track features

Ne-yo

and the vid is directed by

Anthony Mandler.

The scenes where she rocking the bra and the figure hugging knee-length skirt look vividly familiar, hmmmmm. And just like that familiarity, there was ALSO a Ne-yo connection. But you can't blame a chick for having an idol. As for Ne-yo's absense, I guess she was shooting certain parts of the video without him. I'm mad this isn't the video for

Breakin' Dishes.

This is the song needed to finish the album off with a bang. Word has it that after this and her European tour this fall, she is heading straight back into the studio to record her follow-up. In other Rihanna news, she has also denied dating

Shia LaBeouf

claiming that they

"hardly know each other"

and that they're just

"good friends".
Labels: RIHANNA
CONTINUE READING THIS POST ....
posted by Toya @ 7:50 AM |

ASHANTI: IRV GOTTI PUTS HER ON BLAST (SAYS THEY SLEPT TOGETHER)....
Yesterday,
a bitter Irv Gotti
went on the

Wendy Williams

show and put

Ashanti

on FULL blast. The former President & CEO of

"Murder Inc"

Records has admitted that his relationship with the R&B singer was more than just platonic and that they actually slept together.
But it doesn't stop there either. Irv claims they had sex whilst Ashanti knew that he was a married man! Apparently, he is pissed because when the Inc was going through financial woes, Ashanti didn't stick by the label or show support. Well, it's lame that he's coming out with this NOW. He aint saying nothing we didn't already know. *lol* Ashanti's upcoming album

The Declaration

has been recorded on

Universal Motown.
Labels: ASHANTI
CONTINUE READING THIS POST ....
posted by Toya @ 5:03 AM |

CHRIS BROWN: KISS KISS [EXCLUSIVE VIDEO PREMIERE]....
Chris Brown

finally premiered his 2nd video

Kiss Kiss

last night on

106 & Park.

The track features

T-Pain,

and of course he's in the video. By the way, Chris has gone the direction of his alleged crush

Ciara.

He actually co-directed the video:
Cute vid. Not as complex as

Wall To Wall,

but it had more of a natural vibe. The song is okay. After hearing it constantly, I am not really sold. Even though I haven't been overwhelmed by some of the material I've heard so far (though I like

You

and

Take U Down

), I still look forwards to his album

Exclusive

which drops

30th October.

Anyway, Chris is goofy as hell. Check out the vid.
Labels: CHRIS BROWN
CONTINUE READING THIS POST ....
posted by Toya @ 2:43 AM |

KEYSHIA COLE: PERFORMS ON YAHOO'S PEPSI SMASH....
I haven't posted a performance of

Keyshia Cole

performing her latest new single

Let It Go,

so here's one that she did for

Yahoo's Pepsi Smash:
Love her, but she's been wearing a lot of black as of late. Lighten up Keysh.

*EDITED TO ADD*

I just been told that she actually choreographed this performance. What a joke. I'm sure

Robocop

could have done a better job. But anyway, you can also download the HQ CD RIP of her 2nd single

Shoulda Let You Go

by clicking the above link. I posted this already I know but that was the radio rip. Damn Keysh, you sure do have a lot of things to let go of. Anyway, Keyshia upcoming album drops

25th September,

so mark your calendars.
Labels: KEYSHIA COLE
CONTINUE READING THIS POST ....
posted by Toya @ 2:26 AM |

BRITNEY SPEARS: GIMME MORE [OFFICIAL LEAD SINGLE HAS LEAKED]....
Britney's

official lead single has finally leaked. So much for next week *lol*. Anyway, the track is called

Gimme More

and it is a dance uptempo track produced by

Timbaland

protégé

Nate "Danjahandz" Hills.

The video for the track has already been shot and is currently being edited. This is the VERY track that she'll be performing at the

VMA'S

on

9th September

in Vegas:
This bitch is no fool. This beat is crazy! She is definitely stepping on the right track with this lead single. It's rectro but funky and has the 80's pop stamp plastered (this is the direction

Nicole Scherzinger

and

Jennifer Lopez

should have went for). This is EXACTLY how I felt when I first heard

Slave 4 U

(which was produced by the

Neptunes

). I think with a track like this, she is going to KILL IT in her VMA performance and I can't wait. Another track that has leaked from Britney's upcomin' album is
COLD AS FIRE
(EXCLUSIVE DOWNLOAD).

Another hot track BUT she sounds like a constipated 3-year-old. Britney's comeback looks to be on the up again. She has also worked with

T-Pain

on 3 tracks (T-Pain is man of the moment I see. He also features on

Chris Brown's

new single

Kiss Kiss,

another

Jive

artist. Chris debuted the video last night on

106

so that will be up shortly). Check out this extract from

MTV:
T-Pain says working with Britney Spears was relatively event-free. He was in the lab with Spears a few months ago — right in the wake of her head-shaving episode, although Pain describes the pop superstar as normal. So normal they were able to knock out three songs — "Cold as Fire," "Boyfriend" and "One of a Kind" — in a short amount of time.
When she met up with Pain in the studio, "She had a wig and cowboy hat on," he told us last week while in town for Screamfest '07. "She came in there, shook my hand and went right into the booth. She was smiling the whole time. In an hour we had a song. I sang it first and she sung over what I did ... in key and everything! Then did a whole 'nother song. She was about her business.
I came out the studio and ... across the street [were] people with cameras on top of the building and waiting for her to come outside," he continued. "I come out, they are like, 'Oh, oh ... stop.' I was like, 'What about me? I got hits".


Interesting.
Labels: BRITNEY SPEARS
CONTINUE READING THIS POST ....
posted by Toya @ 1:11 AM |

Thursday, August 30, 2007
JENNIFER HUDSON: NEW SINGLE UNVEILED?
Reportedly,
Jennifer Hudson

has worked with

Jim Beanz

(whoever that is) on her lead single which is called

Pocketbook

and it features rapper

Ludacris: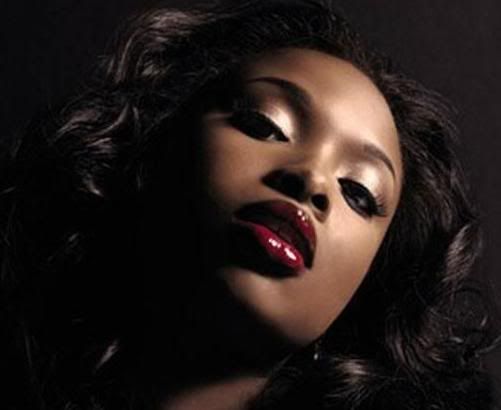 *COUGH*
Ya'll remember this?
*COUGH*

I guess someone told her ass that she can't be putting out some

Mary Poppins

shit because it just won't cut. Word had it that her album was

Dreamgirls part 2

sooooo .... she was made to re-record it. And it looks like she was told that she had to work with one of the hottest rappers out. That is, if her album is to stand a chance. Poo hoo. Shame on you Jen.

My boy

Dan

use to run the SOULBROTHA blog (one of my affiliates) and now has an R&B blog written in Spanish, so you may want to check that out especially the Spanish readers. BE SURE TO CHECK IT OUT!

Labels: JENNIFER HUDSON
CONTINUE READING THIS POST ....
posted by Toya @ 11:51 PM |

TODAY'S R&B CELEB SPOTTINGS ....
Yesterday,

Rihanna

arrived at

California Speedway's Running Wide Open party

hosted by

Jeff Gordon

held in

Hollywood, California: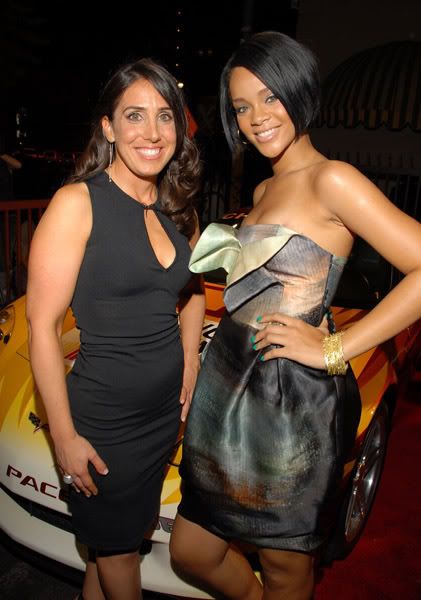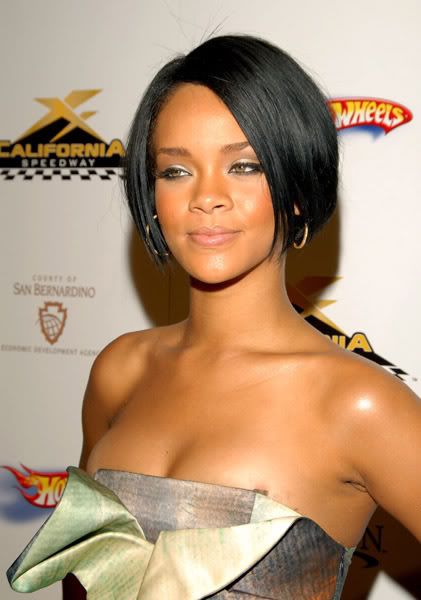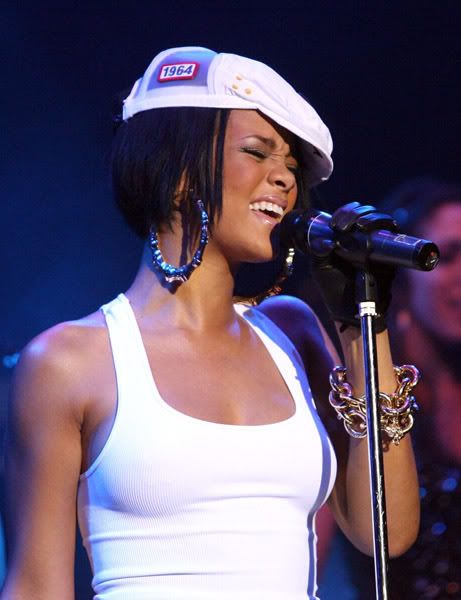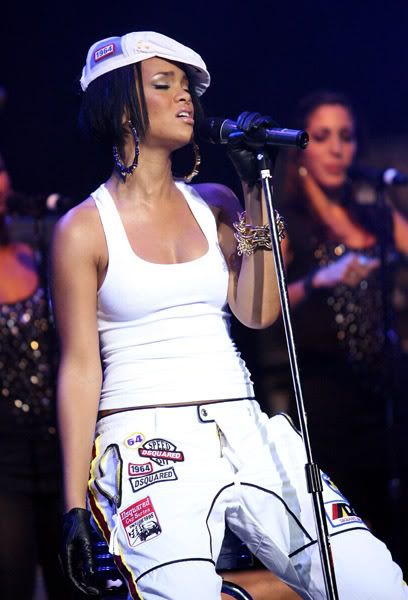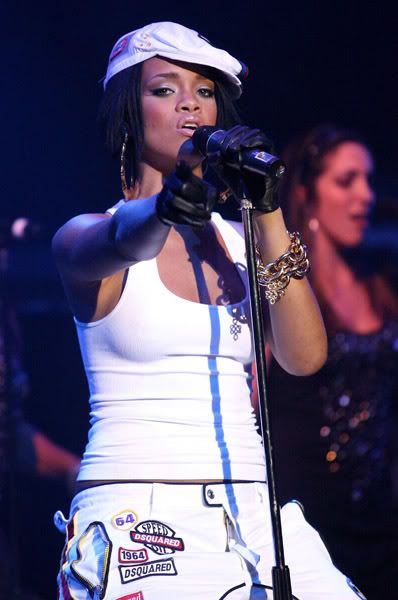 She chilled out with California

Speedway president

Gillian Zucker

and she also performed at the event. Nice flower nipple pads Rih-Rih.


Yesterday,

Beyonce

and her man

Jay-Z

attended the a match which saw the

United States

face

Uruguay

during the

FIBA Americas regional qualifying basketball tournament

to decide two berths for the

2008 Beijing Olympics, in Las Vegas, Nevada: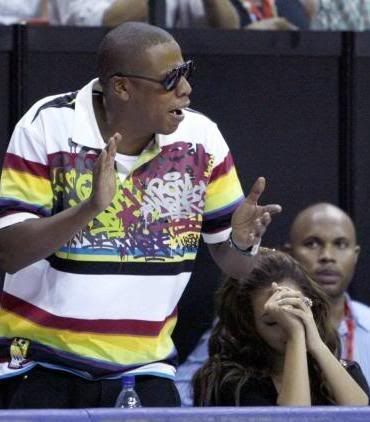 Hiding the thick oats-porridge glue Beyonce? I'd be embarrassed too. VERY embarrassed.
It was definitely an R&B haven when a host of R&B stars turned up at the opening of

Jermaine Dupri's

Studio 72

in

Tucker, Georgia

yesterday: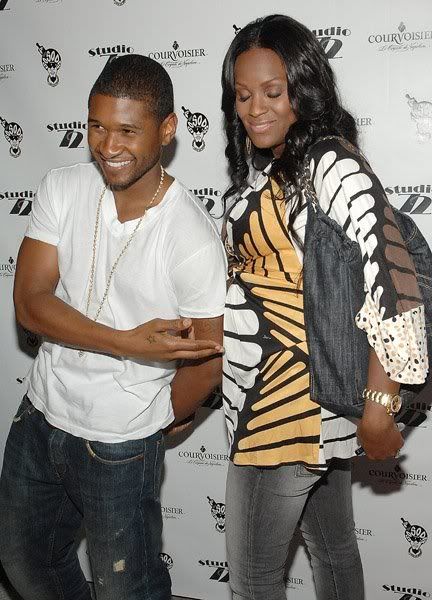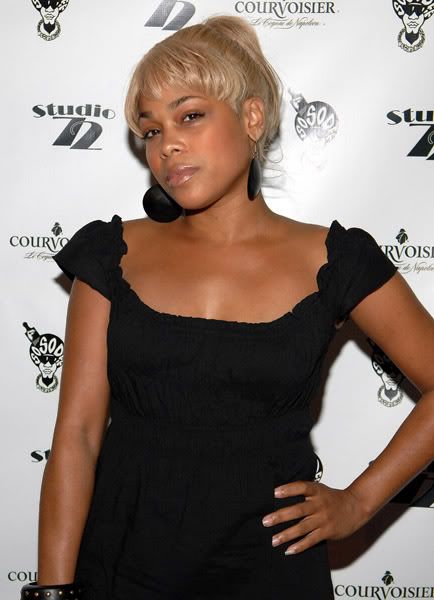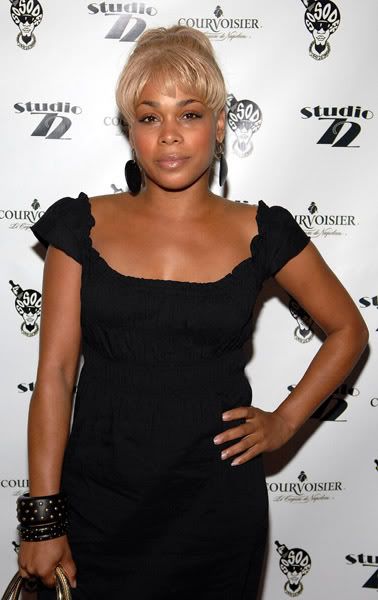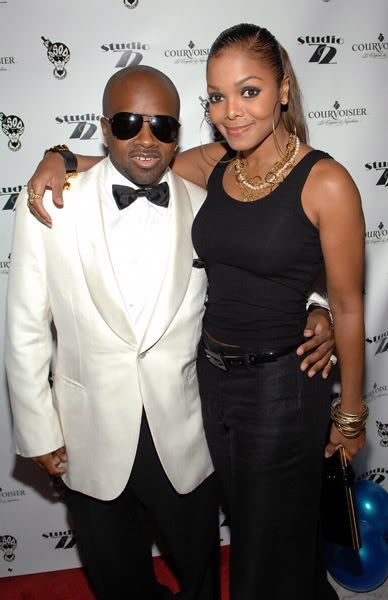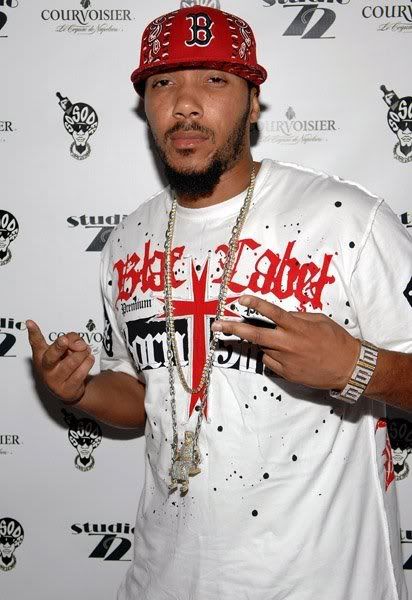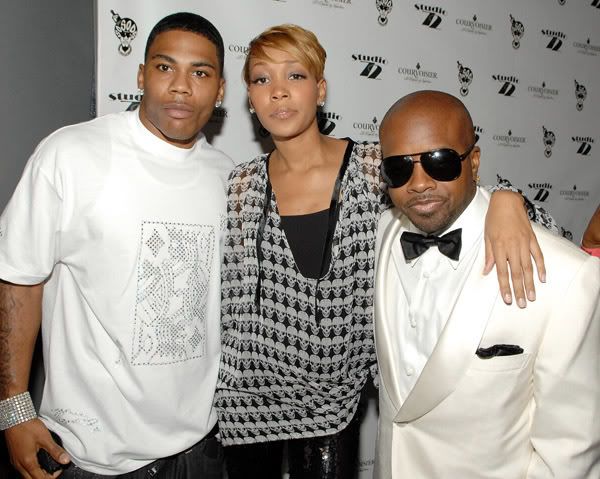 Usher

couldn't stop drawing attention to his wife's

Maneka Foster's

pregnant belly (top row). He seems really happy though and word has it that he's having another wedding ceremony just to make it official.

TLC's

T.Boz

(2nd row on the left) looks as sick as a dog. I know she got sickle cell and that but she looks bad and not in a good way. Plus, the one time she finally changes her hairstyle, even that doesn't look right. Shame. Lovebirds

Janet Jackson

and

Jermaine Dupri

show they are still going strong despite JD putting rumours to rest that the couple secretly wed.

Lyfe Jennings

showed his support.

Monica

also showed off her pregnant belly and
Nelly
seemed really fascinated with it. How long before he puts a bun in

Ashanti's

oven?
Blu Cantrell

is messy. And still, no improvement in her latest public appearance when she attended
California Speedway's Running Wide Open party

hosted by

Jeff Gordon

:
Labels: ASIA NITOLLANO, BEYONCE KNOWLES, BLU CANTRELL, JANET JACKSON, LYFE JENNINGS, MELODY THORNTON, MONICA, NELLY, RIHANNA, TAMEKA FOSTER, USHER
CONTINUE READING THIS POST ....
posted by Toya @ 7:15 PM |

Name: Toya
Home:
About Me:
See my complete profile


SUBSCRIBE TO MY RSS-FEED:

Contact Me
Email: toyasworld2007@yahoo.com
Navigation
DONATE TO THE CAUSE:
R&B Hotness!
Previous Post
Archives
Shoutbox
Fansites