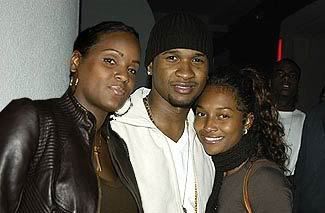 In an interview that

Maneka Foster

did with

Essence

last month, she DENIED messing around with

Usher

whilst he was dating TLC singer

Chilli.

But Chilli says they split because Usher cheated on her ass (and judging by this pic, Maneka could very well have been the other woman). The picture also proves that Maneka was trespassing on their relationship, and this goes BEYOND 2005 as she was claiming. Hot sugarty-damn. Check out this tidbit from the lying Maneka:
Essence.com: Let's address some of the rumors. Were you creeping with Usher while you were still married and he was still dating TLC's Chilli?
T.F.: No, it's not true. For the record, I was legally separated from my husband, to whom I was married to for five years, not 10 as many have reported. He knew Usher and I were dating, and he was dating other people. I don't understand why people act like it's a crime live, date and be happy especially once you're living apart and awaiting a divorce from your soon-to-be ex-husband. Also, it was the photographers who were creeping. Usher and I went to St. Bart's to celebrate my birthday in December 2005 and partied for five days straight all over the island. We weren't hiding! We didn't even know we were being photographed until we got back to the States. The funny thing is, my ex-husband was on vacation with his date in the Bahamas and having a good time. We were all chilling.
If you didn't catch this when I put it up last month here's
part one
and
part two
of the interview. Pictures paint a thousand words dear and there's just no denying it. Is it any wonder why folks are giving her a hard time? Chilli, Usher's mama, who else is going to become victim to this devious woman?
Labels: CHILLI, TAMEKA FOSTER, USHER