Tuesday, July 31, 2007
JENNIFER LOPEZ: EXCLUSIVE ALBUM NEWS ....
So yesterday,
Yahoo revealed exclusive information on Jennifer Lopez's new album.
The new album is called

Brave

and it will be released
8th October 2007.
The album is produced by

Swizz Beatz, Timbaland, Cory Rooney, Jermaine Dupri,

newcomers

Lynn & Wade LLP

and

Jonathan Rotem: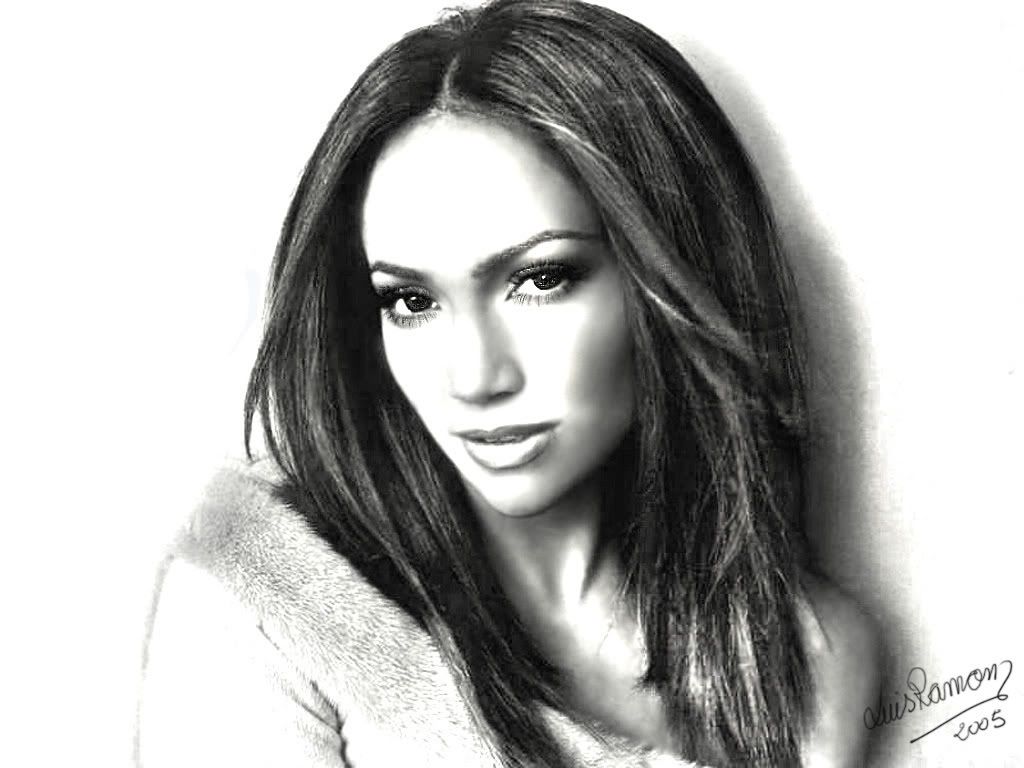 That sounds like ONE HELL OF A LINE-UP. I bet there are songs on that album that sound much better than
Hold It Don't Drop It
(which will be released

1st October 2007

). I just don't think that track is good enough to be a lead single and I don't think a hot video will make me change my mind about the song. But I will say one thing - a hot video is in deed needed to compensate for this lackluster sorry excuse of a track.
Labels: JENNIFER LOPEZ
CONTINUE READING THIS POST ....
posted by Toya @ 11:57 PM |

LETOYA LUCKETT: ON THE SET OF DIDDY'S NEW VIDEO ....
Letoya Luckett

will appear in

Diddy's

new video for

"Diddy Rock".

It's highly likely that she'll be playing the leading lady by the looks of things. She looks really pretty:
The shoot took place on 25th June 2007. I guess Letoya is keeping herself out there for when she drops her new album

Lady Love

in November. You can view more pictures of the shoot by
CLICKING HERE.
Over the weekend, Letoya also had a party to celebrate the one year anniversary of her debut album

"Letoya".

The party took place at a luxury yacht just outside of Houston: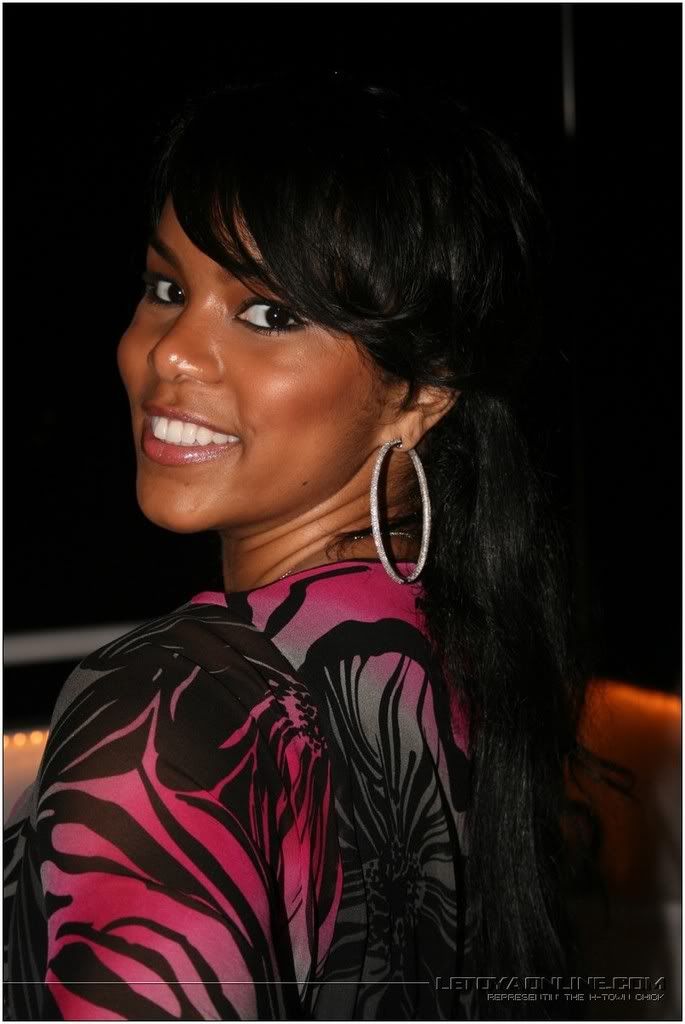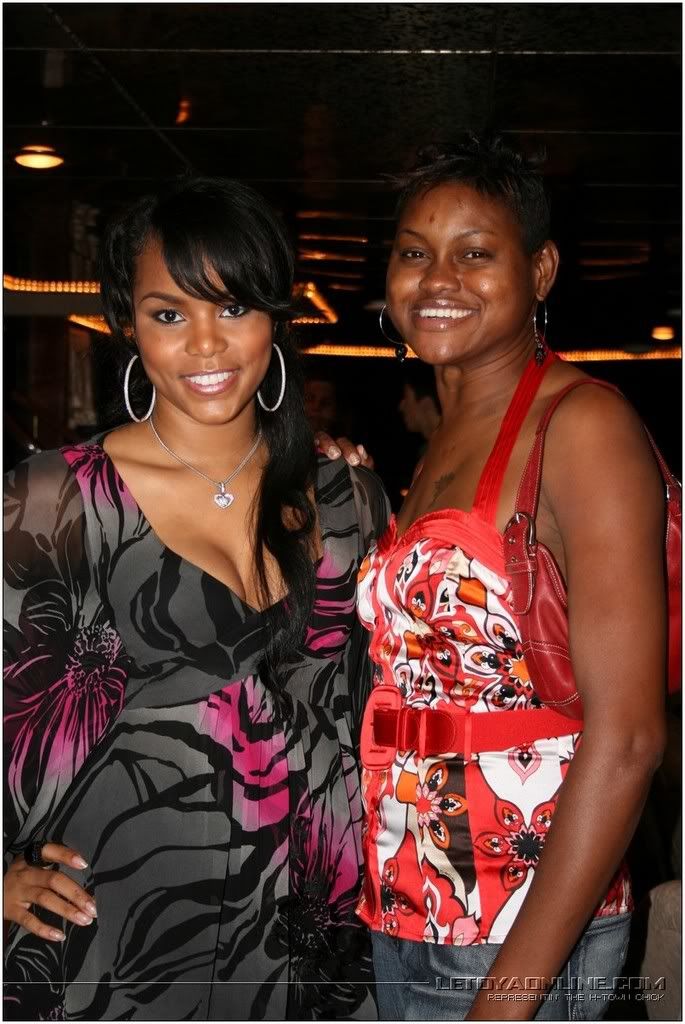 Letoya had all her friends and family turn up to celebrate. The picture at the bottom left hand corner sees Letoya and her younger brother

Gavin

just chillin'. Her brother also worked up some hot beats on her debut album. I think he did the intro (or outro or both). I wonder if he will do some mixing on her new album as well. CLICK HERE TO SEE MORE PICTURES.
Labels: LETOYA LUCKETT
CONTINUE READING THIS POST ....
posted by Toya @ 11:31 PM |

R&B ROUND-UP & MUSIC ....
ADDED -

Usher

says wedding will STILL go ahead .... bah! .... [READ ON]
1.

Maneka Foster

responds to rumours regarding wedding cancellation but STILL doesn't confirm shit ....
[READ ON]
.
2.

Maneka Foster

also shows what a true liability she is to

Usher's

career by sending blogger

Sandra Rose

a petty email ....
[READ ON]
.
3.

Usher's

papa is a crack daddy (hehehe, I love how
usherforever.com
has now turned into a hate site, hehehe) ....
[CLICK].
4.

Rihanna

is coming out with her own set of Um-ber-ell-a ella ella's, ey, ey, ey ....
[READ ON]
.
5. For those that didn't catch that latest

Teedra Moses

mixtape, then here's
YOUR LAST CHANCE.
So all of ya'll can stop flooding my inbox dammit!!!
6.

Angel Face

has just informed me that

Jennifer Lopez's

new single
Hold It, Don't Drop It
was written by upcoming R&B singer
Cynthia Lisette
who also sings background vocals on the track. Thanks for that tidbit Angel! I didn't know this.
7.

Toni's

lil sister

Tamar Braxton

is coming out with a new album on

J Records

next year and I can't wait. Her debut album was tha shiiizzz!

Get None

will always be my fuggin' jam!!!
[READ ON]
.
8.

Rihanna

has an official reggae remix of

Umbrella

which features

Shaggy

....
[CLICK].
9. Another

Rihanna

remix, not that anybody cares about the SUPER wacktacular

Shut Up & Drive

....
[CLICK].
10. Bonafide trailer trash at its finest. Can

Britney's

pants get any lower? I don't think the world can take any more vagina slips ....
[CLICK]
Labels: BRITNEY SPEARS, JENNIFER LOPEZ, RIHANNA, TAMAR BRAXTON, TAMEKA FOSTER, USHER
CONTINUE READING THIS POST ....
posted by Toya @ 6:38 PM |

NICOLE SCHERZINGER: GOES CLUBBING WITH WILL.I.AM ....
Yesterday, leading Pussycat Doll

Nicole Scherzinger

and her collaborator

Will.i.am

from the Black Eyed Peas were spotted leaving

Joseph's nightclub

and it appears that Nicole drank a little too much cider:
Will.i.am has worked on Nicole's upcoming solo album

Her Name Is Nicole

which drops
12th October 2007.
Labels: NICOLE SCHERZINGER
CONTINUE READING THIS POST ....
posted by Toya @ 6:19 PM |

JENNIFER LOPES: THE TONIGHT SHOW WITH JAY LENO ....
Yesterday,

Jennifer Lopez

did an interview with

Jay Leno

on his show and she looked really nice, in contrast with how she looked at her New York premiere a couple of days ago:
On the show, she talked about celebrating her 38th birthday and claims that her hubby didn't get her anything. She also celebrated her third anniversary which is a miracle regarding her track record with marriages. And she will also be performing her new single
Hold It Don't Drop It
at the

FASHION ROCKS

show in September.
Labels: JENNIFER LOPEZ
CONTINUE READING THIS POST ....
posted by Toya @ 6:06 PM |

THE INSPI(RED) EVENT ....
Spice Girl

Mel B

and her fiance

Stephen Belafonte

attended

The Inspi(RED) Event

which took place at

Mood Nightclub

on July 30, 2007 in

Hollywood, California:
Scary Spice stays rocking that tight satin but if you need to suck in that stomach for dear life, maybe satin just isn't your best friend (didn't she rock the very same dress in pink at the
Beckham
LA party last week?). Such material is one that should be worn freely and effortlessly and unless you have a
Jessica Alba/Kiera Knightly
type body, you should just leave it alone.
Socialite

Kim Kardashian,

Pussycat Doll singer

Melody Thornton,

rapper

Ja Rule

and

Diana's

daughter

Chudney Ross

were also at the event:


Labels: MEL B, MELODY THORNTON
CONTINUE READING THIS POST ....
posted by Toya @ 1:51 PM |

CASSIE: IS IT YOU (FULL HQ) ....
I posted the snippet to this new

Cassie

track
last week
and here it is in full. I already explained that

Is It You

is a track Cassie recorded for the

Step Up 2

soundtrack. Cassie also has a role in the movie:
I really dig the track. It's fun and catchy and leaves interest for her new album which is expected to drop in the early quarter of 2008.

Labels: CASSIE
CONTINUE READING THIS POST ....
posted by Toya @ 12:40 PM |

Monday, July 30, 2007
JANET JACKSON: NO LONGER ON SOUNDTRACK ....
According to

Jermaine Dupri,

his girlfriend

Janet Jackson

will no longer appear on

'Rush Hour 3'

soundtrack. He wrote the following message on his Myspace page:

"I ended up not doin' it 'cause the movie takes place in Paris and alotta [sic] the music didn't fit,"

he said in the post.

"So all of you lookin' for that Janet record, you gotta wait 'till she's finished with the new album, sorry."
In April, he posted a bulletin on MySpace.com announcing that Janet would have a single on the soundtrack.
COME IN HERE

MR MONTY!!!
My sexy cutie

Daniel

aka

Mr Monty

turned 19 last week Thursday:
No honey, I didn't ignore your email.

Fabizzle

sent me the new

Chris Brown

joint on Friday and I didn't see the email until Sunday because that is when I saw it. I didn't check my mail until late last week so soweee! But I hope you had a blessed birthday and many thoughts and dreams were with me *lol*. The love will NEVER fade out. REMEMBER THAT!
Labels: JANET JACKSON
CONTINUE READING THIS POST ....
posted by Toya @ 9:17 AM |

URBAN THOUGHTS: GETTING ENGAGED IS THE NEW TREND FOR BLACK CELEBS IT SEEMS….
So let me try and put this together. R&B singer

Usher

is currently engaged
(or no longer engaged)
to his stylist

Tameka Foster,

a woman who divorced her ex-hubby

Ryan Glover

not too long ago. Then reports were strife when
last week it was announced that Spice Girl Mel B is set to marry her new fella, director Stephen Belafonte
, a year after she and

Eddie Murphy

were in talks to get married. Eddie Murphy not wanting to be dethroned
decided to get engaged to his current girlfriend Tracey Edmonds.
Notice how ONE person in each relationship was married previously: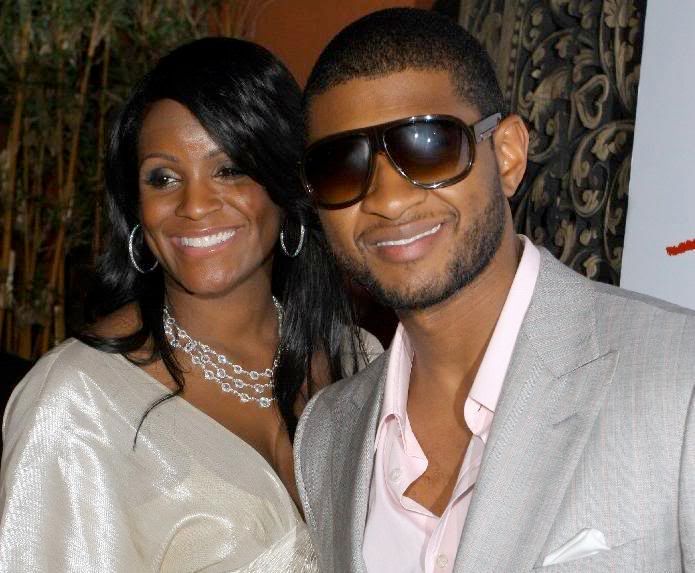 Marriage is something that shouldn't be taken lightly instead of treating it like a new pair of rockports that just got put on the market. And it appears that Usher has figured that one out for himself because over the weekend, the wedding didn't go ahead. It was apparently called off at the last minute. There have been many reports in the press dogging Tameka depicting her as a control freak with an attitude problem who has the singer right where she wants him. Well, if this wedding cancellation is anything to go by, I seriously doubt that now. For all we know, this could be a ploy to throw off the media to stop any kind of mass invasion. It was also revealed last week that Tameka was also a con artist who did time in prison.
Eddie hasn't dated Tracey for long. And Mel B hasn't dated Stephen for long either. So it sickens me that they're treating marriage as some vengeance ploy to show one another that they are well and truly over each other. I actually think Mel decided to get engaged to Stephen just to show Eddie that she's no longer stressing over him. However, it appears Eddie wanted to dethrone their happy news with his own, kind of like a tit-for-tat battle ground. And marriage shouldn't be used in this way at all. These people hardly know each other (1 year of dating is not enough time to know someone properly). I miss the days when you stay with someone for 5 years before getting hitched.
Mel should continue to enjoy her relationship without jumping the gun and if in the long run, they are still together, then sure, get married! Eddie is dog poo and should man up and take responsibility for his daughter, and I don't think this marriage will last (if they go ahead with it). As for Usher, canceling the wedding is a sensible move and should make great musical concept for that upcoming album which has no release date yet. According to
Sandra Rose
, Usher canceled the wedding because he was furious that Tameka spoke to the

National Enquirer

and shared the profits with her sister

Valencia Foster.

Now of course Usher will be mad at this considering that he has written open letters regarding his disdain at bloggers and the media for speculating on the state of his relationship with Tameka and the lack of privacy. But these celebs need to stop making spectacles of themselves with these premature engagements because they'll only end up with egg on their faces when it all goes awry.
Labels: EDDIE MURPHY, MEL B, TAMEKA FOSTER, TRACEY EDMONDS, USHER
CONTINUE READING THIS POST ....
posted by Toya @ 2:42 AM |

KERI HILSON ENDS RIHANNA'S 10-WEEK UK RUN AT THE TOP ....
Last week, Rihanna broke records when her track

"Umbrella"

made it a 10th week at the top in the UK singles chart. But who else other than another R&B starlet being the one to topple the R&B Bajan beauty?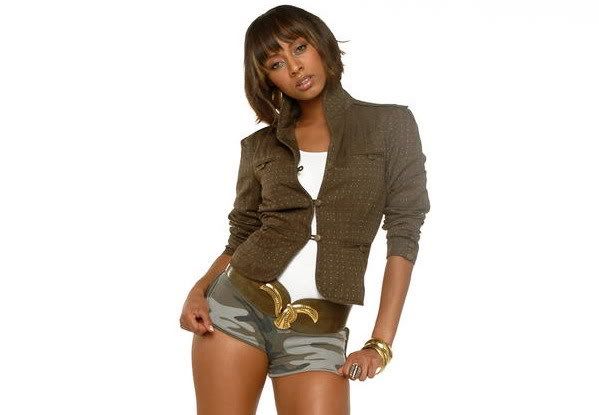 Yup, that's right, another short-haired R&B beauty -

Keri Hilson.

She actually features on

Timbaland's

latest new single

"The Way I Are"

and the track shot straight in at no 1 yesterday evening. Keri is a top class act. Congrats. Her debut album

"In a Perfect World"

is set to drop this fall which will be followed by possible lead single
"Happy Juice"
which features Snoop Dogg.

Labels: KERI HILSON, RIHANNA, TIMBALAND


CONTINUE READING THIS POST ....
posted by Toya @ 12:22 AM |

Sunday, July 29, 2007
CRAIG DAVID: NEW ALBUM WILL DROP IN NOVEMBER ....
Craig David

put up an
exclusive clip on You Tube this week.
He has revealed that his new album will drop in November. He says it's good to be back in London. He has since been spending a lot of time soaking up the
Miami night life
and sunny beaches: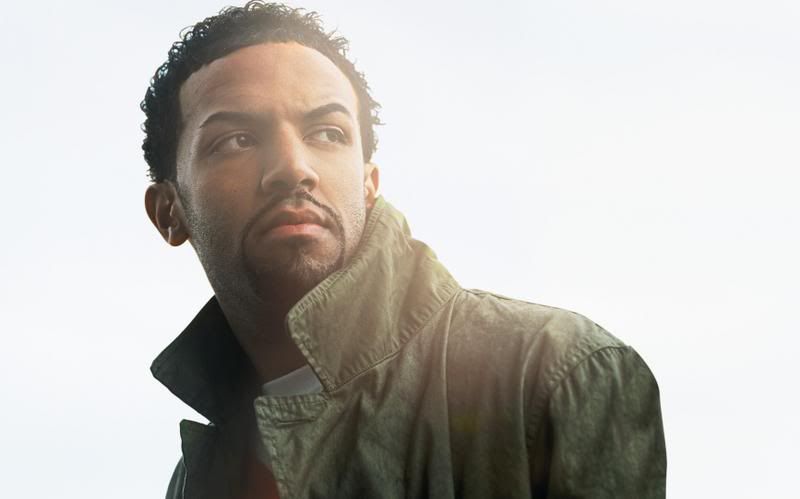 I'm mad he only gave 25 seconds after all this time away from the biz but it's better than nada I guess. Craig has been recording his new album stateside as well as Cuba and London. He will continue polishing up the finishing touches. I am really excited about this new album. I think his last album

(The Story Goes)

was mad underrated and is possibly his most personalised album to date. I loved that last album. I have to say that Craig is one of those few artists in R&B music who always stays consistent. Look forwards to the new single when it hits airwaves in September.

Labels: CRAIG DAVID
CONTINUE READING THIS POST ....
posted by Toya @ 11:26 PM |

ASHANTI: CANDIDS & RESIDENT EVIL 3 TRAILER ....
On 27th July, 2007, R&B songstress

Ashanti

was spotted in midtown Manhattan with a new look:
I usually admire this chick's style and will be the first to say this chick can usually dress her ass off but I'm not feeling her look or the hair this time round. Bangs simply aren't for everybody. In other Ashanti news, her movie is just around the corner. Inside this post, check out the trailer for her upcoming movie Resident Evil: Extinction. The movie is released on Sept. 21.
I previously written about Ashanti's role in the movie where she plays a character called Nurse Betty.
Her new album

The Declaration

is expected to drop this fall.
THEATRICAL TRAILER: RESIDENT EVIL: EXTINCTION
Labels: ASHANTI
CONTINUE READING THIS POST ....
posted by Toya @ 10:54 PM |

Saturday, July 28, 2007
CHRIS BROWN: KISS KISS (HQ 1:52 SNIPPET) ....
Here is a 1:52 snippet of yet another

Chris Brown

track taken from his new upcoming album

Exclusive.

The track is called

Kiss Kiss,

another song with content showing the young singers maturity. No, it's not the crappy version that's been floating on

You Tube

over the past couple of weeks. This is actually a high quality radio rip:
The song features rapper

T-Pain

and it sounds decent. Again, this track is produced by

The Underdogs.

I still pick Take U Down over this any day of the week but his new album is shaping up to be a good one. And all the tracks I've heard so far sound waaay better than the extremely amateurish

Wall To Wall.



Credit: El Chiko Kevo

Labels: CHRIS BROWN
CONTINUE READING THIS POST ....
posted by Toya @ 5:23 PM |

JENNIFER LOPEZ: HOLD IT DON'T DROP IT (FULL HQ)
Jennifer Lopez's

new single

Hold It, Push It

has finally leaked in full and high quality. I thought I would soften up towards the song once hearing it in full, but I just can't get into the song at all. It's weak and her vocals are much weaker than ever before:
The track is the official first single taken from her new album which is to be released later on this year. This is not a promising comeback by any means and she needs to come much harder than this, as this first single just isn't cutting it. Sorry.

Labels: JENNIFER LOPEZ
CONTINUE READING THIS POST ....
posted by Toya @ 5:19 PM |

RIHANNA STOPS THE MUSIC ....
I guess the aggressiveness of

Rihanna's

track

"Breakin Dishes"

had an affect on the crowd earlier this week. She played a gig in Canada and whilst she performed the track, a fight had erupted in the audience:
During mid-song, she told her band to stop the music and threatened to cut the show if those in the scrap did not stop. LOL! Breakin Dishes? Breakin' Fights more like. Check it out.
Labels: RIHANNA
CONTINUE READING THIS POST ....
posted by Toya @ 5:07 PM |

JENNIFER LOPEZ: EL CANTANTE NEW YORK PREMIERE ....
Jennifer Lopez

wore a salmon-coloured gown to her New York premiere of her latest new movie

El Cantante,

which looked nice. However, Jen's age was starting to show. Over the past couple of days she has been looking great but here, not so much: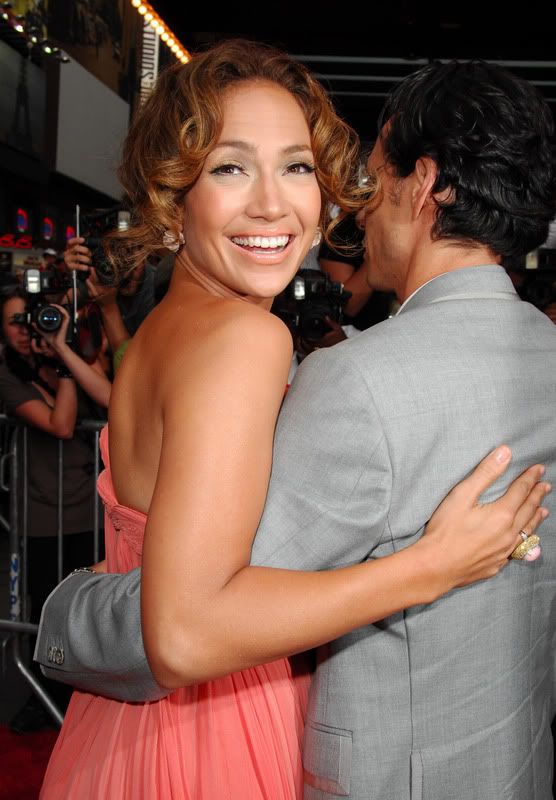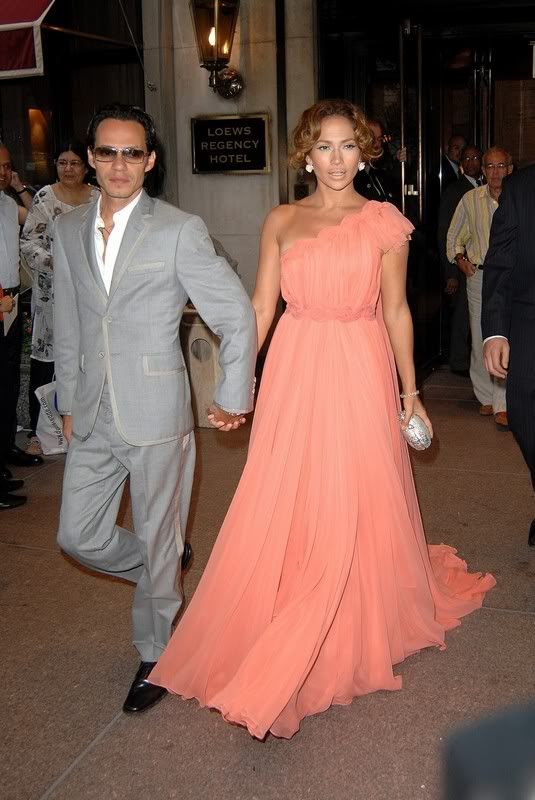 The make-up is ghastly! As her hubby
Marc Anthony
looks like death warmed over, maybe the rogue-looking troll is having an effect on why she looks so aged.
JEN ALSO PROMOTED THE MOVIE ON THE TODAY SHOW YESTERDAY:
I don't really care for her movies but I may just check this one out!
Labels: JENNIFER LOPEZ
CONTINUE READING THIS POST ....
posted by Toya @ 6:23 PM |

JENNIFER HUDSON: NEW FACE OF AVON ....
Our recent

Oscar

winner

Jennifer Hudson

has been endorsed by

Avon

to be the new face of their latest perfume

Imari Seduction:
Big things have been in the pipeline for Jen because not only is she shooting a new movie with

Forrest Whittaker,

but she's also recording her debut album which will be released on

J Records

next year. Jennifer also attended and performed at the

UJA-Federation of New York's Music Visionary Award

which honoured J Records boss

Clive Davis.

The pics are after the jump. Go get 'em girl!
JEN @ CLIVE DAVIS EVENT:
Labels: JENNIFER HUDSON
CONTINUE READING THIS POST ....
posted by Toya @ 5:55 PM |

TODAY'S THROWBACK R&B VID: DAYDREAMIN' - TATYANA ALI
Tatyana Ali

was a fresh-faced 19-year-old when she first shot into the R&B scene with her impressive debut album

Kiss The Sky

back in 1998. The first single was the fun and infectiously catchy

Daydreamin'.

After her stint playing

Ashley Banks

in huge US sitcom

Fresh Prince of Belair,

it was her co-star

Will Smith

who encouraged her to pursue a pop career, after an episode which actually depicted her singing talent. Tatyana went on to have hit single after hit single (

Boy You Knock Me Out, Every Time,

etc) but her sophomore album didn't see the time of day (maybe because her debut album only sold 293,168 copies to date, damn):
After appearing in a couple of cheesy movies, Tatyana seemed to have disappeared from the celebrity radar altogether and put all her concentration into her studies at Harvard University. So at the ripened age of 28, what is Tatyana up to now? Last year, I've read that she's supposed to be playing

Ertha Kitt

in her latest new movie role. Alongside Tatyana, another R&B singer

Monifah

is also supposed to be in the movie as

Billie Holiday.

The movie was supposedly based about old-time singers.

Kenya Moore

and

Angie Stone

were also reported to be in the movie, but since then I haven't heard anything about the project. There's been no confirmation of a musical comeback though but Tatyana still makes her presence felt at many celebrity parties and events from here on out.
Just over a week ago, Tatyana attended a fundraising event for New Orleans:
After all this time, she still looks fab!
Labels: TATYANA ALI, THROWBACK VIDEO
CONTINUE READING THIS POST ....
posted by Toya @ 8:45 AM |

Name: Toya
Home:
About Me:
See my complete profile


SUBSCRIBE TO MY RSS-FEED:

Contact Me
Email: toyasworld2007@yahoo.com
Navigation
DONATE TO THE CAUSE:
R&B Hotness!
Previous Post
Archives
Shoutbox
Fansites